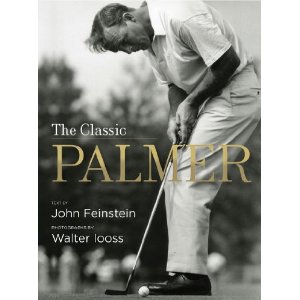 There is one point that I will argue, though few will disagree with me. Arnold Palmer has been the most important person in the history of modern golf. No, not Nicklaus, Woods, Ballesteros, Ouimet, Jones, Hagen, or Norman really come close. Yes, it is Arnie. John Feinstein's text and Walter Iooss' pictures thoughtfully combine in what amounts to a summary celebration of the man golfers lovingly call "The King" – Arnold Palmer.
In an age where current athletes seldom know or much less care about the greats in their sports, Arnold Palmer is still revered in the golf community. His life has been a great example of "the more you give the more you get."
We all have are Arnie stories. My first personal encounter with him was at Whitemarsh Valley Country Club in Philadelphia in 1963 as he was charging to the lead in winning what was then the richest tournament in existence. He was in the midst of a birdie binge and had driven within a few feet of me on the 14th hole and would make yet another birdie. In the midst of his round, he made eye-contact with me and all around me.  He made me feel as if I had a hand in his success and I was hooked as part of Arnie's Army. My Arnie stories go on, but let it suffice to say that he was and still remains the most charismatic athlete I'd ever encountered only Mohammed Ali compares to him in my lifetime.
The Classic Palmer is more of an essay by Feinstein of the prominence and importance of Palmer upon the game. It is also more of a keepsake than a book, but for those who never witnessed the Palmer power or charisma, the many wonderful Walter Iooss photos convey the dynamic Palmer magic. The focus of the book is upon Palmer the player and not the businessman, father, or husband. If you have followed the man, you know that much has been written about him. You will discover a succinct photo biography, but not anything new or particularly enlightening. Rather "The Classic Palmer" is a nicely illustrated, quick summation of the player and the immense impact Arnold Palmer had on the game. For today's reader with a short attention span, this  little book is the best and quickest way to begin to appreciate the golf force that has been Arnold Palmer. The piece retails at $19.95.