I am ridiculously spoiled.  Over the last several years I've played almost as many rounds at Bandon Dunes as I have on my home course, and I can't pretend to be objective when it comes to other golf resorts.  I've tried,I really have, but I am a deep-dyed Bandonista and cannot write about another resort without making endless mental comparisons, and even feeling slightly guilty and disloyal when I find something that I like more about the other place.
When the other place is Destination Kohler, there is a lot to like.  At first, as I tried to sketch out a plan for this review,  I thought I might be able to rig some sort of match between the two, since there are so many parallells:  both resorts are relatively new, both are in improbable  locations, both were built by successful and visionary businessmen, both have four courses, both offer links golf, both have helped to alter not only the landscape of golf but the mindset of golfers.
But any "match," any point-by-point comparison, would have been completely contrived, not to mention — given my partiality for Bandon Dunes– utterly unfair.   For me, Bandon Dunes is the premier golf resort in the world for a simple reason:  It offers true links golf in a glorious setting on the Pacific Ocean.   No matter how magnificent Whistling Straits might be — and it is magnificent — it is not a true links course.  It looks like one (the "American Ballybunion") but doesn't play like one.  Its turf is bent grass, not fescue, and the difference is, as the saying goes, the difference between a carpeted floor and a hardwood floor.
So Kohler, in my rigged match, would start with a disadvantage from which it would never recover.   Further, the many apparent comparisons, once you dig into them a bit, are superficial at best and often misleading.  Yes, both resorts are relatively new, and both were created by imaginative, risk-taking businessmen.  But Mike Keiser, of Bandon Dunes, was a self-made man who built a greeting card company from scratch; Herb Kohler belonged to a dynasty that for generations had loomed large in Wisconsin business and politics.  Keiser, from Chicago, searched  the country for a site to build a golf course.ending up in Oregon; Kohler converted a building that had once housed factory workers into a luxury hotel and built his golf courses almost in his back yard.   Keiser always put golf first, ahead of everything else that comprised the resort, and for years used a double-wide trailer as the "clubhouse" for his most highly-rated course; Kohler started with a hotel and built his first golf course in response to guest desire as expressed in answer to a questionnaire. Keiser was never interested in courting a professional tour event, believing that golf course design had gone way too far in trying to challenge elite players; Kohler frankly, and successfully, set out to land big events, and Whistling Straits, already the site of two PGA Championships, has been selected to host the 2010 Ryder Cup.
Apples and oranges.   Nevertheless, both places have earned a place in the top tier of American golf destinations, and I hope that my partiality doesn't completely taint my judgment.  I know it didn't taint my pleasure on a recent visit, my first, to Kohler.   In fact, I'd argue that having a point of comparison helped me notice some things that I might otherwise not have seen and appreciated.    In any case, here's how it went for me at Kohler.
The place. Thanks to Bandon Dunes, many golfers have discovered the beauty of Oregon's unspoiled South Coast; Destination Kohler provides a glimpse into the upper Midwest, where — at first glance — the clock seems to have stopped sometime around 1950, preserving a little piece of Americana that exudes a sense of pride and contentment.
Kohler, Wisconsin, about an hour north of Milwaukee, is a storybook village that could have been illustrated by Norman Rockwell.  Everything is neat as a pin and clean as a whistle.  The shady main street, Highland Avenue, that is festooned with American flags and buildings that belong to the Kohler Company.   The American Club, the focal point of the resort, is the centerpiece of the village.  Built of sharp-cut Kohler brick, with many wings and dormers punctuating the steep slate roof, The American Club could easily be mistaken for a  dorm at an elite college.  In fact, it was once a dorm for the hundreds of German and Austrian immigrants who worked at the Kohler factor.
Today, the re-purposed building provides luxury accommodations for resort guests, as does the Carriage House, another impressive brick edifice that houses the resort's spa.  A few steps farther along Highland Avenue one finds the Kohler design showroom,  where the full line of Kohler products, known world-wide for their "bold look," is on display.  For the visitor who hasn't given much thought to bathroom fixtures, who has failed to imagine the aesthetic potential of the basin and toilet, the showroom is mind-blowing.
Kohler, Kohler everywhere.  The Kohler company doesn't own the entire village, but the place assuredly has the feel of a well-run company town — a company that honors the past but has the drive, the imagination, and the wit to compete in today's global markets.   I mentioned Norman Rockwell, but he could never have conceived the sort of display that you will encounter in the modernistic, almost futuristic design center.  On a wall that must be 30 feet high, there is a display of toilets — toilets of various colors and aerodynamic design, well over a hundred toilets, asking to be to looked at as though they were all part of a monumental work of art.  Somebody at Kohler has an up-to-date sense of humor.
So this crisp little village turns out to be full of surprises, mixing nostalgia with cutting edge design, and offering a little parable in how the past can inform the dynamic present.
Accommodations. Destination Kohler has rooms for visitors in three different buildings — The American Club and the Carriage House (with spa) in the heart of the village, and The Inn at Woodlake (less pricey accommodations) located just short walk away, in the village mall.   Guest rooms in The American Club and Carriage House are, naturally, fitted out with state-of-the-art plumbing (showers with a multitude of heads, jacuzzi tubs large enough for a sumo wrestler).   The bathrobes provided are satiny and stylish.  The beds and linens are to die for.  There's beautiful old cherry panelling in the guest rooms and hallways of the older buildings, and, generally, the place makes you feel as though you are there to be indulged.
As it should, since Kohler is a full luxury hotel, catering to honeymooners, business conferences, couples seeking a romantic getaway, and folks who have come to pamper themselves at the spa or to enjoy not only the golf but the other sporting opportunities, like horseback riding and kayaking. Bandon, on the other hand, is set up for golfers who have probably spent the whole day on the links.  The accommodations have been designed with golfers in mind, with suites for foursomes, card tables in the common rooms, and showers as spacious as those in a club locker room.   There's a lean elegance in the appointments, and flair in the design of the cottages . . .  but if you want to be swaddled in comforts and wander down to breakfast in your gleaming bathrobe, Kohler is the place for you.
Dining. At the American Club, there are a couple of restaurants to choose from, but they're . . . well, Midwestern.  The food is good but not sophisticated, and the ambiance of the large dining room in the American Club, the Wisconsin Room, is staid and more than a little frumpy.   For golfers, the best places for a meal are the clubhouses at Blackwolf Run and Whistling Straits, where the fare is hearty and shows a fine disregard for calories.  We're talking bratwurst, creamy soups, and thick sandwiches at lunchtime, and a dinner menu where steaks loom large.
Since so many clubhouses are ostentatious heaps, monuments to the ego of the owner, it should be noted that the clubhouses at both Blackwolf Run and Whistling Straits are lovely.  They are both inviting, evocative structures.  Sited on a piece of high ground, and tucked into the flank of the hill, the log clubhouse at Blackwolf Run could be the hunting lodge of a German baron; the building overlooks the golf courses, with a small, cozy bar in addition to a full service restaurant.  At Whistling Straits, the clubhouse is a replica of an Irish manor.  Made of white limestone, with a black slate roof, it stands starkly, almost defiantly, against the open sky above Lake Michigan.   With its ample fireplaces inside (they're gas, alas), and a beauty of a terrace out back, this is a place you want to linger.
And yet, at Kohler,  golfers don't seem to linger.  Maybe I was there at the wrong time.  The tee sheets were full, but people seemed to vanish after the round.  The bar at Blackwolf Run was the most happening place I saw during my stay.  At Bandon Dunes, both the lodge and pub fill up in the evening with golfers who have their stories to tell, and I missed that at Kohler.
Golf. All four golf courses at Kohler were designed by Pete Dye, whom Herb Kohler regards not only as a golf course architect but as a great artist, a sculptor of landscapes.  He'll get no argument from me.  Kohler is a great place to see how the master worked in different landscapes, for the two courses at Blackwolf Run — the River and the Meadow — are classic parkland courses, and the two courses on Lake Michigan, Whistling Straits and the Irish Course, are mostly treeless, faux links courses.   (Blackwolf Run is a couple of miles from the American Club, with a shuttle on demand; the lake courses are a 15 minute drive from the accommodations.)
To play the four courses in succession, however, is to realize that even a designer as protean as Dye comes back again and again to certain features.  After four rounds at Kohler, I had come to expect on just about every hole some version of his famous sharp edges — a rock wall along a river or lake, a planked bunker, or, most frequently, a steep, almost vertical, grassy bank marking the division between fairway and bunker.  There aren't a lot of in-between areas in Dye's design; you're either in the safe place, or you're not.
And while all four courses are noteworthy, requiring all of a golfer's skills, there is a marked hierarchy in terms of interest and charm.   At Blackwolf Run, the River course is clearly the star; and the Irish Course doesn't hold a candle to Whistling Straits (to be fair, not many courses would.).   But anyone playing all four courses would do well to start with the lesser course; otherwise, you're in for a letdown.   Playing the Irish Course after Whistling Straits is like going to a karoke bar the night after seeing Les Miserables.  It's a lot of fun but it's not epic.
At Bandon, the four courses were designed by different architects, and a part of the fascination of the place is to see how differently they used similar terrain.  Further, the courses are so nearly equal in interest and appeal that a golfer can honestly say that his favorite course at Bandon is the one he happens to be playing at the time — a claim one cannot make at Kohler.
On the other side of the ledger, Kohler has both parkland and links,  and those sharp edges create many heroic shots — the do-or-die shots that can get the heart racing.  There is also the undeniable attraction of playing the holes that have been etched in the mind by watching the pros play them, even if you are playing from different tees.  Who doesn't want to see the bunker where Dustin Johnson came to grief?  And finally, while Whistling Straits is walking only (all courses at Bandon at walking only), golfers may and mostly do use carts on the other courses.
Briefly, here's what to look for on the Kohler courses:
A.  Blackwolf Run — Meadow.  A pleasant parkland course with several blue-ribbon par 4's, notably No. 2.  With its generous fairways, the Meadow is the most playable (i. e., the easiest) of the four courses at Kohler.  If I am lucky enough to go back to Kohler, this is the course I'd want to start on.
B.  Blackwolf Run — River.  The Sheboygan River winds through the course, and it is used brilliantly on 10 of the 18 holes.   On several, the golfer has no choice but to challenge it.  The greens are full of tricky weaves and shimmers, and there are shots a golfer will never forget — like the tee shot on No. 9, where one must choose between a safe play to broad inland fairway or an intimidating shot, carrying 200 yards of river, to a tiny sliver of fairway partially hidden by birches.   The River course made Golf Digest's list of toughest courses in the U. S. A.  Play if from the appropriate tees, or you're toast.
C.  The Irish Course. I repeat:  Play this course before playing Whistling Straits.  The best hole on the course might be the first hole, but there are other fine holes tucked among others that, for Pete Dye, just don't quite work.  The par 3's (except for No. 11, which has two of the most diabolical "coffin" bunkers you'll ever see) are bland on the front nine, and then there's a Dell Hole — a blind par 3 that comes off as a contrived, high-concept hole.   But the strangest thing about this course is the number of water hazards — what is all that water doing on a links course, even a faux links?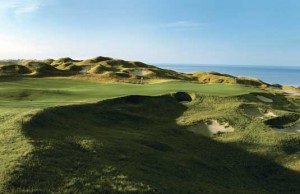 D.  Whistling Straits.  This course is a marvel.   For me, it was even more stupendous knowing that the whole thing was manufactured.  Thousands upon thousands of truckloads of earth were brought in to transform a flat site, and Dye succeeded in replicating the towering dunes of Ireland far more impressively than I would have dreamed possible.   On a clear day, with the wind blowing off the lake, this is one glorious place to play golf.   The 1000+ bunkers come in all shapes and sizes, and the the holes along the lake are unforgettable.   Yet the real measure of the excellence of Whistling Straits was 1) that the inland holes were in now way a let down so that the round felt seamless and continuous and packed with drama start to finish, and 2) while Whistling Straits might not be a true links, it is a rugged, cross-country course that makes the golfer feel that he is engaged in an adventure, competing not against Pete Dye but against nature and the terrain.  When you hit a ball off line and find it in a crazy lie, hung up in a clump of rough as high as you head, you don't feel screwed.  Or you shouldn't.   You can call it fate, or the rub of the green, or the will of the golf gods, but you must try to accept it — and if you do, you will understand how this marvelous track has opened your mind to a more encompassing idea of the game.
Parting thoughts. I had been wanting to go to Kohler since I first saw the pictures of Whistling Straits in the golf magazines.  Why it took me all these years to get there, I don't know, but I'm glad I finally made it.   I came away with awed respect for the talents of Pete Dye and a greater appreciation for the potential of plumbing fixtures.  I enjoyed being in the upper Midwest, where people had time to be polite and smiles seemed genuine.   I ate too many bratwurst and I am still water-logged from the time I spent in the jacuzzi tub.  I liked the open space, the deep and prevailing quiet, and the clock chiming the hours in the village.   I slept like the innocent.  Destination Kohler is a real place, with a spirit of its own, and if Bandon Dunes weren't unassailably at the top of my list of American golf destinations, Kohler would be.