Ollie Dunn returns as guest writer, this time describing his experience at the Canadian Tour Fall Qualifying School, played at Hidden Lake GC, in Burlington, Ontario, on September 19-22.  This was the major event on Ollie's 2011 schedule, and he provides rare insight into the mental state and conflicting emotions of a golf pro trying to earn his place on a bigger stage.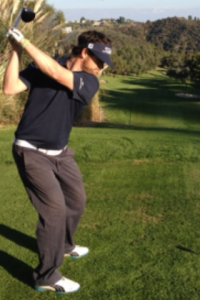 I sat stunned in a Russian-owned Laundromat in Burlington, Ontario, following the first round of the Canadian Tour qualifier. I'd just shot an 81 in what felt like a monsoon.  Outside it was raining hard.  I could think of many low moments in my career as a professional golfer.  I once shot an 88 in U. S. Open local qualifying, prompting the USGA to send me a letter verifying I was in fact good enough to compete in the following year's event.  In a Golden State Tour event after I had gotten myself into the hunt with a first round 69 I almost had a full-on panic attack, missing short putts until my entire body was shaking and my head was pulsing with fear and anxiety. While holding a one shot lead on the 18th tee, I hit my tee shot so far to the right it went soaring past an out of bounds stake I didn't even realize was there.
But on this day I was feeling the disappointment in a very different way.  Two thousand miles away from my pregnant wife and 3 year old son, the word dejected did not quite fit.  I had a sense of finality about my career, and gasp, my life that I had never before felt.  My play over the summer had been the best of my career.  I am a different breed of golfer in that I'd come late to competitive golf.  I turned pro at age 30.  After playing baseball my entire life and through college at Northwestern University I decided I could play this game instead.  Now I am 35, gasp again, playing with 25 year olds who have been playing competitively since they were kids.  I bring this up not only because it is a constant reminder of my place in the world but more because I have noticed a different attitude between these young kids and those of us who have come to the game later in life or through a different path.  The young guys are fearless and tournament golf brings about a sense of pressure for them that is comforting.  The older players, like me, oscillate between playing fearlessly and cautiously, letting the state of their game on that day dictate their attitude.
Playing baseball, the sport I started playing as soon as I could throw, I can remember being unaffected and in the moment as the pressure built.  The same was true when I played basketball in high school. In both those sports, I went through a natural progression that got me to a place where being on the field was like driving a car.  The process is akin to raising children.  You look at your 3 year old and then at a 15 year old and think there is no way I can be a parent to that adolescent monster. But you don't have to be a parent to that monster tomorrow.  Your child grows up and you grow up with him and when the time comes you are equipped to deal with the monster.
These young kids are equipped to deal with the monster but –to carry out the analogy– I have spent the better part of my career trying to tame the monster without ever learning how to change a diaper.  While I learned a lot in a short and intense period of time, I was basically unprepared to deal with the pressures of tournament golf when I turned pro.  In addition there are a slew of real world problems and pressures younger golfers don't have to deal with.  Never mind the logistical nightmare I face on a weekly basis scheduling my life around childcare and a wife who works full time.  What I am talking about is the mental stress of time going by.
In most careers, it is natural and necessary to think about your professional progress, but on the golf course it can be a disaster.  For me personally it becomes difficult, especially in the midst of a bad round, NOT to think about my place in the world and "idea" of a 35 year old struggling touring pro.  So in addition to all the sports psych mumbo jumbo of committing to the routine, staying in the moment, and making fearless swings-which I believe in 110%-players like myself have other pressures or fears standing as obstacles to playing high level golf.
That was why I felt so stunned at the Russian laundromat that rainy afternoon, because for the last 3 months I had played golf like I played baseball.  I had worked so hard on my mental game and it was paying off.  Really, for the first time in my career I was playing very consistent and very good golf.  More importantly the strategies I was using to deal with the stress were proving to be very effective and the game was feeling like less of a chore.  My scoring average for the year was under par and I was consistently cashing checks.  In 20 competitive rounds on the Golden State tour, Dakotas tour and U.S. Open qualifying I posted 14 at par or better and 8 in the 60's including a 62. Qualifying for the Canadian Tour was my goal, and I had raised enough money to pay the entry fee and make the trip.
I can't remember feeling more confident than I was on that Monday morning in Ontario.  The weather was bad, however, and my tee time was worse.  We played the front nine in high winds and spitting rain.  On the back the wind let up a little but the rain intensified.  Despite my umbrella and club cover and hundreds of dollars worth of rain gear I was soaked thru by hole 12.  Despite wearing rain gloves, my hands were, cold, slippery, and ineffective by the 15th.   Even so, it was possible to play decently.  My playing partner shot even par but I couldn't keep it together.
The woman who owned the laundromat yelled at me as I transferred my clothes from the washer into another washer that seemed to be disguised as a dryer.  She yelled at me again as I tried to put a toonie into the machine instead of a loonie.  In Canada you can get a handful of change that is worth like $17.  I couldn't figure out what coins to use, but I was thinking very clearly.  I was finished playing golf competitively.  I was going to finish the event and go home and get a job.  Maybe I could find what I was looking for in a different place.  Surely if I approached a different endeavor with the same amount of effort and relentlessness as I did with golf I would be successful and happy.  I was already happy, my family was happy, and I didn't want to lose that.  But I wanted professional satisfaction, not the kind of frustration I felt that night.
I went to the range the next morning actually feeling confident and having a rare moment of clarity.  It's not that hard to shoot 65,I thought.  The feeling was quickly dashed by maybe the worst warm up of my life.  I was hitting it left, right, fat, and skinny.  I literally had NOTHING.  I contemplated getting in my rental car and leaving. I hit a few putts then ran back to the range to hit 2 more shots.  I hit a snap hook and a block slice almost into the road.  A friend of mine was next to me, and from the twisted expression on his face I knew what he was thinking, "you poor sad little man".  I told him to play well and made off for the first tee.
No doubt I had a crazy look in my eye when I arrived to the tee.  My  brain was scattered and my heart was thumping.  One of the things I like to do to calm down is have conversations with myself.   That morning my conversation went something like this: Self, you have no idea what you're doing right now, you haven't hit a good shot since the 10th hole yesterday, scrap whatever you were doing on the range and just get as relaxed as you possibly can.
Nervousness gave way to a calm and I hit a decent shot. I mean it was left of the trees guarding the left side of the fairway but it was in play.  I hit my next one right of the green and hit a poor chip to 15 feet.  I fought back the urge to roundhouse kick my bag and stayed relaxed.  When I made the putt, I was on my way.
What ensued was the most laid back, stress free 66 of my life. Every moment of tension I countered by telling myself my goal was to be as relaxed as possible.  The highlight of the round came on the short par 5 14th.  I drove into the left rough leaving 205 to green guarded by water hard on the front, and I'd have to hit my approach into a hard right to left wind.  The lie was well below my feet and bad enough that I considered laying up even though I had a perfect yardage. After some deliberation I decided that this was a time to be aggressive.  I launched a 4 iron directly at the stick, the sidehill lie and the wind cancelled each other out, and it never left the flag, coming to rest 3 feet from the hole.  On my card I had 3 birdies to go along with that eagle and no bogeys (par was 71).
I gave some shots away but who cares? I was back into the event, somewhat, and more importantly, I wanted to play golf again.
The next day the tee times were moved up and players were going off both number 1 and number 10 because of the potential for weather that afternoon.  This irked me.  Those of us with late tee times on day 1 had to deal with foul weather-why shouldn't the leaders on day 3 have to as well?  The official reason was that the forecast was much worse on day 3.  In spite of my narcissistic feeling that I was getting hosed I did realize the tournament director did not have a vendetta against me. As a professional golfer, you just have to accept that sometimes the weather works in your favor and sometimes it does not.  Over the course of a lifetime or a year it all evens out.
In any case I did my best to approach round 3 with the same attitude as I did the day before and after blocking my opening shot from the 10th tee off the map to the right I strolled down the fairway as though my ball was in the middle of it.  I found my pellet and actually had a wide open look at the green.  A perfect 7 iron to about 15 feet and a holed putt got the day started with a birdie.  Another good round of 68 basically stress free.  I carded one bogey against 4 birdies.  The only downer was that I shot 3 under on my first 9 and had a good chance to shoot a great score.  Unfortunately I made 9 pars on the second nine.  Still, I had moved into the top 25 after being second to last on the first day and the impossible dream was still alive.
I was beginning to think it could happen and it would happen.  I started to imagine the phone calls I would make and the story I would tell my wife and friends, what an improbable comeback!!!! Then I looked at myself in the mirror and said,  Shut the bleep up, you haven't done anything yet.  You're not even close to where you want to be, get some control over yourself buddy.
In the sports psychology business this is called "story telling".  It usually occurs on the course but it can happen anywhere.  As your round is falling apart you begin to spin the tale in your head detailing the terrible shots you hit and the bad breaks you got as if you were talking to a friend on the putting green.  In most cases you repeat that tale hours later to people who have no desire to hear about the perceived injustices you were dealt on the course.  But we do it anyway, almost all of us. Somehow it makes us feel a little better to get it out.  In this case, though, I was getting way ahead of myself.  It could only do harm. The trick is to catch it early and get focused on something that is happening at that exact moment.  So I picked up the book I was reading and got lost in it until I fell asleep.
I knew I needed to shoot something in the 60's to have a chance at qualifying.  There were 14 spots and ties available.  The ties aspect makes the target number very difficult to judge.  Sometimes 14 people on the button make it through, sometimes one player makes a late bogey and ties 10 other players for that 14th spot getting them all in.
I just knew I needed something low.  I started well but couldn't make a putt.  I had one birdie on the front 9, a kick in from a foot after my only really good wedge shot of the week.  After a ten foot downhill putt for par on 9 and my first and only fist pump of the week, I made the turn at one under for the day and one over for the week.  Even though I missed some birdie opportunities on that side I was feeling quite confident.  I had shot 33 on the back each of the previous 2 days and felt decidedly more comfortable on those 9 holes.  Still the pressure of needing to make birdies began to build, and it was hard not to press.  I left a 30 foot birdie putt about ten feet short on 11, a  three putt bogey would have knocked me into orbit.  I holed the ten footer, internal fist pump.
I made a par on 12 followed by a good approach on 13 to about 20 feet directly above the hole.  It was a straight down hill putt with a foot of break from left to right.  I hit it purely, best putt of the day no doubt.  I had time to think about it because it was moving so slowly.  When it was 3 feet away, it was in the center, and then it started wobbling a touch to the right.  Hold your line hold your line, please go in you mother 3$#$%#$#$!!!!!……..
In the last 5 inches it drifted another degree, and even though it was barely moving, going perfect cup speed, the ball rolled over the right edge took a slight peek in the hole and ever so slowly hooked left around the back of the cup and out. Stomach punch.
No worries.   The reachable par five 14th was next and I smoked a drive right down the center.  192 to the hole with water short and wind blowing hard from right to left.  I waffled on the club selection, I if I hit a draw with a 7 iron it was enough but if I missed it at all it was wet.  The 6 was the club unless I hit a draw in which case it would sail well over the green.  That was not a good spot with a green sloping severely from back to front.  Of course the water short of the green was no good either.
I hit the 6 and cut it a little bit too much.  The ball was up in the air but because it was cutting it was fighting the wind and losing energy.  Anyone who plays a lot of golf knows the feeling, staring at the pellet hoping against hope that somehow it will clear the hazard, all the while knowing with 100% certainty that it will not.  The golfer knows how the shot was struck, can feel every little nuance of the club to ball relationship, and knows the balls fate well before splashdown.  Its rather amazing actually considering we are hitting a tiny ball with a club to a target hundreds of yards away.
On that shot I knew.  I was not surprised to see the splash, and I immediately weighed the consequences. Was it over? Did I still have a chance? Of course I did.  I dropped, wedged onto the green, and had an experience identical to the one on the 13th– downhill putt, perfect speed, in the hole until the last second.  It curled out resulting in the familiar punch to the gut.
It was the first bogey of the day.  I recorded good pars on 15,16,17.  The wind was blowing hard and these typically easy holes were not playing that way.  18 is another par 5 with a very narrow green, reachable in 2 but playing dead into the wind.  I thought maybe an eagle and an even par finish for four rounds would give me a chance to move on.
After a good drive I was left with 225 dead into the wind.  I hit a perfect shot, a missile hybrid that fought through the breeze and came to rest 15 feet below the hole.  I told myself that I deserved to make the putt and went through my routine.  It was a decent putt that missed on the low side.
When the score were posted it didn't matter.  Even an eagle would not have mattered.  I missed qualifying by 3 shots.  Exactly 14 players had made it, shooting 2 under par or better.  Even after I signed my card and realized that I was going to miss, I felt a sense of pride that wouldn't allow me to go to a bad place.  I wasn't able to come all the way back but for the last 3 days I hade ridden a wave of euphoria.  Playing in the moment and playing well can make you feel on top of the world, this game can do that to you.  I had done something that I hadn't thought was possible.  I'd seen other payers pull off comebacks from deep in the pack but I wasn't convinced that I could until that moment.
The feeling didn't last long. Reality slapped me like a brick in the face as I drove to my hotel.  I had fallen short.  I was going home to my family with no status, no money, and no plan for what was next.  Back to square one.  I had felt ready to do anything, I would work anywhere and quit playing golf- but how could I do that now? How could I throw away years and years of hard work now?  Since turning pro my life had been an up at dawn, grind it out, pride-swallowing affair, but I was finally getting somewhere.  The 81 aside I had played great golf from May through September.  I had finally been playing the kind of golf that could win tournaments.  The last 3 days just highlighted it for me, I love playing golf and I did not want to quit when I was playing my best.  It sounds stupid just writing it.
Just then my father called. He had been following on line and saw that I had missed.  We talk frequently, especially during a tournament and always if I am playing well.  Because I was in Canada I hadn't talked to him or anybody. The text messages came flooding in when I mounted the comeback, but my dad isn't much of a texter so we hadn't communicated since I crossed the border.  My father isn't an overbearing sports dad, but he is fanatical and he lives and dies with every shot and every round.  I can only imagine his pain and suffering following an 81 and the roller coaster I put him on that week.  He told me how incredibly proud he was of me for battling the way I did.  I began to tear up.  I fought back the man cry for a moment and then I just gave in.  All the emotions from the week and all the feelings about the future came pouring out of me.  There I was, a 35 year old man sobbing on the phone in a rental car thousands of miles from home.  This game can do that to you.