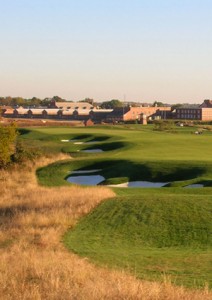 Here in Northern Virginia, where developers have succeeded in covering much of the landscape with their favorite materials — asphalt and vinyl — a core golf course stands as kind of  preserve, a place where Nature somehow survives.  Without waxing poetic, I'll just say that Laurel Hill, in Lorton, Virginia, provides the sense of space and serenity to do good things for your psyche if you will just let it.
I'm still in the getting-to-know-you phase of a relationship with Laurel Hill,  a course that's only a half hour away from where I now live.   Designed by Bill Love, Laurel Hill is owned and operated by Fairfax County.   It's not exactly unknown (GolfWeek ranked it No. 14 on the list of top munis) but it hasn't attracted the kind of notice it deserves, either.  It may not have the storied history of great munis like Bethpage Black or Torrey Pines, but it belongs in their category.  Hole for hole, it's every bit as good as Harding Park (better, I'd say, but I don't want to sound intemperate).
No doubt I am still a bit starry-eyed at finding such a splendid track close to home, but here's my take on Laurel Hills.
The story:  When Lorton Prison closed in 2001, a parcel of 2300 acres was handed over to Fairfax County with a mandate to maximize "the use of the land for open space, parkland, or recreation."   Lorton was known as a tough place — overcrowded, dangerous, rife with all kinds of tensions.  Some of the old prison buildings have been restored as the Workhouse Arts Center, and the golf course was built on a section of the property previously used a dairy farm.  Long ago, inmates provided the labor, and some farm structures — sheds near the 11th tee, a silo near the 1st green — remain standing.  On the 10th and 11th holes, the course runs close to prison buildings that are still surrounded by high wire fences, with guardhouses looming over all.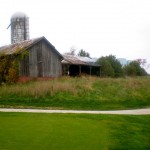 The site:  Surprisingly hilly for land that was a dairy farm.  The property is criscrossed by small streams, and architect Bill Love negotiated successfully for additional land to keep the number of demand caries with reason (the course as built has six demand carries, none of them severe).   Love has made imaginative use of the topography,  but this course is a tough walk.  Some portions of the site are wooded, and there are wetlands.
The design:  Love was asked to build a course that could host significant tournaments, and he delivered.  Even though the course is only 7010 yards long — not terribly long by present standards — most golfers will come away with an impression of its scale.  It feels BIG.   Three of the par 4's (the 3d, 6th, and 17th) are closer to par 4 and 1/2.   The 15th is a 600-yarder and wide to boot; the golfer who traverses it will think of words like "tundra" or "steppes" or "South Dakota."  And by the way, the 15th is on a part of course that used to be a shooting range; three tons of lead were removed from the embankments behind the old targets.  There is also length in the par 3's, where there's no getting around it — you have to hit long shot or else.
The bunkering is top of the line, for a muni.  I don't mean to sound snooty, but we all know that bunkers cost money and local governments tend to be stingy (when it comes to golf course).  Usual result: shallow bunkers, and few, set off by half-assed shaping.  At Laurel Hill, it's a different story — there are  well over 100 bunkers, many of them deep and sizeable, and they're artfully set into the land.   Fairways are especially well-bunkered; most fairways are invitingly wide, but there's a bunker just about everywhere that you might be tempted to cut a corner.  There's one unforgettable bunker, a little round pot bunker, in the middle of the 3d fairway, just where you'd like to hit your drive.   For my taste, a few too many of the bunkers are round or roundish, but that's the quibble of someone who's been spoiled by seeing those lacy-edged, natural-looing bunkers built by Coore-Crenshaw and Tom Doak.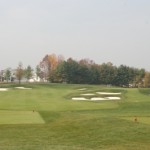 Most of the holes take their shape from the forms of the land, moving naturally through the hilly terrain.  Love took care to avoid those unnatural fall-offs that are so common on hilly course, the places where a graded fairway just drops off into a brushy oblivion.  The playing areas of the course blend so naturally into the native terrain that you can walk the whole layout without being conscious of any cut-and-fill.
The weak point of the design:  the sameness of the green surrounds.  This is partly a matter of course set-up, but basically if you miss a green pin-high, you are going to have to chop your ball onto the putting surface from the frog-grass.  Nothing wrong with having to play this shot, but it gets monotonous.  This course calls for great variety in the full shots.  In the small shots, not so much.  To temper this criticism, I should note that Love has left an opening to every green; play short, and you'll have to fashion a shot off the short grass.
The siting of the greens, however,  is inspired.  At Laurel Hill, you play approaches to greens set in bowls, or on knolls, or against the horizon, or dramatically below you.  Some golfers might complain that there are a few too many shots uphill (by my count, there are 4 of these), where the bottom of the flag isn't visible, but tough s***.   You can't change topography. If you don't like uphill approach shots, you won't like Augusta National or Shinnecock Hills.
Most of the holes at Laurel Hill are out of sight of one another, so that you have a sense of being in your own little kingdom.  In an area as densely populated as Northern Virginia, this is a luxury.  And it is a handsome kingdom, too, with natural grasses and wetlands along its edges.  In just a couple of places, the course seems a little busy (the nest of bunkers on No. 18, for instance), but I come away from Laurel Hill with the sense of Bill Love as a designer who prefers to work in broad, bold strokes.  He has the wherewithal to build golf holes that seem not to be placed up the landscape but to emerge from it.  And he also has what I consider a requirement in a golf course architect — the kind of daring, or imagination, that can impart a sense of drama to a golf course and make a round feel like an adventure.
The routing.  Brilliant on the front side.  After opening with a strong par 4, the sequence goes like this:  medium length par 4 requiring precision; big and brawny uphill par 4; drop shot par 3; tricky par 5 with a green positioned to tempt big hitters; kick-ass, dowhill par 4 that's 500 yards from the tips; drivable par 4 with the green sitting on a knoll; long downhill par 3; double dogleg par 5.  This nine is a thriller from start to finish.
The back nine doesn't measure up to this start.  Holes 10-13 are the weakest on the course — not bad, but they're ordinary.  Holes 10, 12, and 13 are short to medium par 4's that play more or less the same.  No. 11, a par 3, is of interest because of its multiple tees, which can change the angle of approach by almost 90 degrees . . . but it's still a garden-variety par 3.
Ah, but the finish is grand!   No 14 is a classic uphill one-shotter, 218 yards from the back tees, and the green is wickedly tiered.  Then comes the monster 15th, 612 yards long and uphill to the green.  16 is a pretty downhill par 3, a mid-iron shot, with water along the left of the green; 17 is another ripsnorter of a par 4, 493 from the tips; 18, a par 5 with the green tucked behind the pond, is richly furnished with hazards, a chart-your-own course hole.    You must do so with precision.  There are lots of ways to make birdie here, and even more ways to make bogey.
"Variety," wrote C. B. Ma cdonald, the first man to call himselkf a golf architect, "is not only the spice of life but it is th very foundation of golfing architecture."   Bill Love has absorbed that principle.
The greens.  Most are on the large side, many have distinct tiers.  Leave yourself on the wrong tier, and you might be looking at a circus putt.  Honestly, I dion't always understand why Love placed those tiers where he did; the 3d hole is a long uphill par 4, and it will be all that most golfers (including me) can do to reach the green in regulation.  But at the very back of the green, there's a step up to another level . . . why?  This hole already has plenty of "resistance to scoring."
The greens have been fast when I've played Laurel Hill.  Since I don't always carry a Stimpmeter, I can only guess that their speed was 11 or 12.  Faster, for sure, than most greens on public access courses.  It's not easy to get the speed right on long putts.   And there aren't many straight putts — even the 4-footers tend to have some movement.   When I play there with my buddies, we ring up more than the usual number of three-putts.
One pal of mine, a guy who holes his share of putts, couldn't get anything close to the hole on his first trip to Laurel Hill, but he had this to say:  "I can't remember the last time I misread so many challenging putts."
The facility. The clubhouse, as you might expect, is hardly up to the standard of the golf course (I have tried, and failed, to understand why so many clubhouses are so wretchedly unimaginative, inside and out, so lacking in character and appeal, as though builders had no choice but to reproduce the same bad design over and over and over).   It's not a place where you'd want to linger after a round.   But there is a generous practice range, a short game practice area with a bunker, and a large, tiered putting green that seems to roll at about the same speed at the greens on the course.
When I checked internet reviews, I found a number of gripes about the service at Laurel Hill; my own experience is that the staff is a actually a little more gracious than at other local munis.  Last time I was there, I had to wait maybe five minutes to check in because the computer was down; when it was back up, the pro charged me and my group the twilight rate because of the inconvenience.
Expect a round to last 4 and 1/2 hours, maybe longer.  It's a tough course, and difficult greens always add to the length of a round.  The marshalls try to keep things moving.
The maintenance is good, especially considering the volume of play.  Fairfax County regards this course, rightly, as the best of its munis and tries to maintain it accordingly.
The numbers. Laurel Hill has five sets of tees.  Distances and ratings are as follows:
Black:  7010 yards     74.6/145
Blue:  6730 yards       73.3/142
White:  6386 yards   71.7/129
Fee for a round in prime season (April-October) is $89 weekends, $74 weekdays.  This includes cart rental and a small bag of range balls.  Off season rates are $79 and $64.