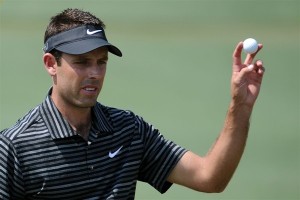 Man o man o man o man o man o man o man o man.  That's eight men, the number who held at least a share of the lead at the 2011 Masters.   And there were three or four hovering within a shot or two. If this wasn't the wildest Masters Sunday ever, I want to know what tops it.  For excitement, brilliance, heartbreak, and sheer suspense, the 2011 Masters was the bomb.
It was also a dead accurate representation of competitive golf at the highest levels.  In a nutshell:  With Tiger Woods unable to dominate as he once did, the doors are flung wide open, and the golfers ready to step up come from every continent in the world.
When Woods got off to that blistering start, making the turn in 31, I'm sure that I wasn't the only one who thought, Here he comes.  He's gonna do it again. He was putting beautifully.  Then, after having to wait on No. 12, he missed that 4-footer.  He hit a great tee shot on 13 but couldn't take advantage.  Missed a makeable birdie putt at 14.  But I confess I thought he was still going to win the tournament when he hit his approach at 15, watched it in flight toward the flagstick, did that little twirl with his club, and started walking.  How may times have we seen it?  Tiger on the prowl.
Then he did the unthinkable.  He missed the 5-foot eagle putt.   Maybe it didn't matter, but at that moment the tournament suddenly seemed to belong to . . . whoever could claim it.
There were Aussies in the hunt — Ogilvy cruising under the radar, making 5 birdies on the trot; Jason Day, coming up big on the final two holes; Adam Scott, back from the ashheap with hie deadly long putter.  There was a Korean, K. J. Choi, moving along as steadily as a little tank.   There was his playing partner from South Africa, Schwartzel, holing out from all over the place.  There was the big-game player from South America, Angel Cabrera, hitting every fairway and missing every putt and still hanging around (he's got to be the fastest player out there and I thought it probably hurt him; he looked impatient all afternoon long).  From Europe, there were England's Luke Donald and Northern Ireland's Rory McIlroy.  The only continent that seemed under-represented was North America, though Bo Van Pelt, who finished as the low American, did himself proud with a pair of eagles on the back nine.
It was dizzying to try to keep up. But Adam Scott looked as though he was going to pull clear when he made a monster par save at 15, birdied 16 to get to 12 under, and hung on.  Then his playing partner, Jason Day, birdied the last two holes and he, too, stood at 12 under.  Then Scwhartzel topped them all with birdies on the last four holes.  He didn't even need the last one, but ran it home anyway.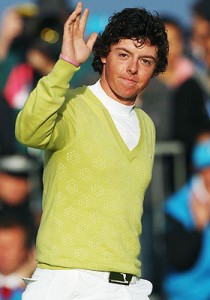 It was a tremendous closing performance, but as the dust settled, I wasn't thinking about him.  I was thinking of McIlroy.  Watching him triple bogey No. 10 was almost too harsh to bear.   Just hours before the round began, a friend said to me, "It's wonderful how much McIlroy has grown as a player."  We both thought McIlroy was going to win.  After three days in the lead, it did seem that McIlroy was ready to win a major, particularly when he finished off Saturday's round with a burst that put him 4 shots ahead.
But it has to be gut-churning to step onto the tee on Sunday and know that Tiger Woods, among others, have already chewed deeply into your lead.   By the 5th hole, it was obvious that McIlroy's beautiful timing was just a touch off as he hooked his drives and flared his approaches.   The young man who hadn't three-putted once in the previous days now missed a couple of little ones.  It was slipsliding away on the front nine, and then  . . . aihee!  It was all gone after the 10th.
I hope he bounces back, and soon.  He brings a fresh face and fresh energy to the game.   May the road rise to meet you, Rory McIlroy.
The last word goes to Jack Nicklaus, who was celebrated all week as the hero of the 1986 Masters.  Some old hands might recall that international tensions ran high during that tournament, and that Jack's victory (and Seve's disaster at No. 15) was hailed with cheers of U. S. A., U. S. A. In his post-round remarks 25 years ago, Nicklaus spoke out on the subject, with a clear vision of where the game was headed:  "Golf has become a world sport," he said, "and we shouldn't try to stand in its way.  We should try to help it."