So what are the ten biggest Michigan golf stories of 2013? Funny you should ask. This is what I've come up with, but not in any particular order. And remember: "To err is human; to forgive, divine."
Fourteen-year-old qualifies for U.S. Amateur. Battle Creek's Andrew Walker became the fifth-youngest golfer to ever play in the Amateur after qualifying at Forest Akers West with 71-69. Walker didn't make match play at famed The Country Club in Brookline, MA, but he endeared himself to the local golf gallery and the national media. He was also the GAM's Junior Player of the Year.
2. Tom Werkmeister wins the Michigan Open. Kentwood's Werkmeister became the first amateur since Bob Ackerman III in 1975 to win the Michigan Open. It was an outstanding year for Werkmeister, winning the GAM Mid-Am for a record fifth time while continuing his dominance of West Michigan amateur golf by winning all four "majors" on the Grand Rapids golf calendar.
3. Brian Stuard finishes second on the PGA Tour. Jackson's Stuard earned the biggest check in Michigan golf history by taking home $648,000 at the PGA Tour's OHL Classic Mayakoba in Mexico in November.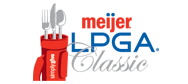 4. The LPGA announces a return to Michigan in 2014. Fourteen years after the final Oldsmobile Classic in East Lansing, in November the LPGA announced  plans for the inaugural Meijer LPGA Classic to be held August 7-10 at Blythefield CC outside Grand Rapids.
5. Tom Doak receives Golf Architect of the Year honors. After being inducted into the Michigan Golf Hall of Fame in May, Traverse City's Doak capped the year by being named the top architect by both Golf Digest and Golf Magazine. His new courses at Dismal River in Nebraska and Streamsong in Florida have drawn wide acclaim. Incidentally, Doak's Christmas card announced he'll be doing a new second course at Forest Dunes GC  in Roscommon.
6. Michigan Golf Hall of Fame finds a new home. After vacating donated office space last fall in Troy, the MGHOF was back in storage until Ferris State University agreed in November to be the new permanent home and relocate it to Katke Golf Course sometime in 2014 or early 2015.
7. You can never be too rich or too fat, when it comes to golf grips. The Michigan-based SuperStroke company became the industry leader in the wildly popular oversized putter grip sector, most notably used by Jason Dufner in winning the '13 PGA Championship.
8. Brian Cairns wins his third Michigan PGA title. A closing 3-under-par 69 for 7-under-par 209 earned Cairns the Gilbert A. Currie Trophy for the third time in his career (1996, 2000 and 2013) and a $6,000 first-place check. In November, Cairns came up short in his bid to claim a card on the PGA's Champions Tour.
9. Sherrie Steinhauer claims Wendy's Charity Classic in Jackson. In a LPGA Legends event, Steinhauer takes home $16,000 after shooting a 4-under-par 68 and winning in a playoff against Christa Johnson. During her stint on the LPGA Tour, Steinhauer won eight tournaments, including the 1992 du Maurier Classic and the 2006 Women's British Open.
10. Duo garners national senior recognition. In the January issue of Golf Digest out this month, Michigan's Mary Jane Anderson Hiestand and Bill Zylstra are listed as top ten honorable mentions in its senior amateur women and men U.S. rankings. Zylstra topped Golfweek's senior amateur rankings in 2013 while Hiestand also competed in the prestigious Senior Women's Invitation Match in Dallas, rubbing elbows with honorary starter George W. Bush.
Images courtesy of the Golf Association of Michigan, the Michigan PGA, SuperStroke, LPGA, and Mary Jane Hiestand