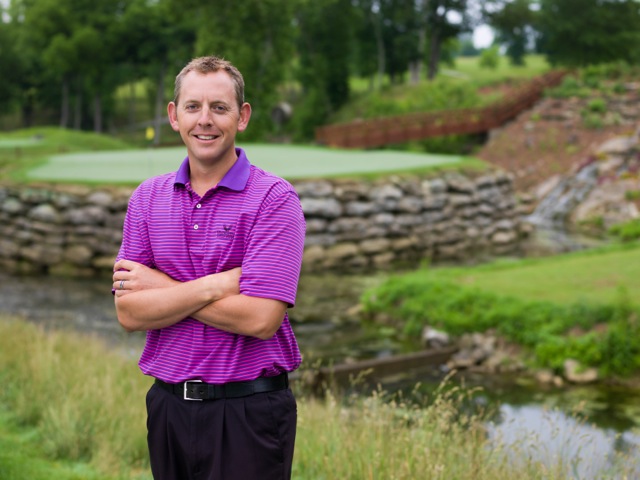 When the PGA Championship returns for the third time to Valhalla Golf Club in Louisville, KY, the golf world will witness a notably different golf course than what was seen at previous championships including the 2008 Ryder Cup Matches. Owned by the PGA of America and designed by Jack Nicklaus, Valhalla underwent a year-long, multi-million-dollar renovation in 2011 that touched on virtually every aspect of the golf course and its infrastructure. Overseeing the massive project was Course Superintendent Roger Meier, a 17-year GCSAA member. Meier came to Valhalla from Chariot Run GC in Indiana where he was the superintendent for five years. He arrived at Vahalla in September 2010 following a difficult and stressful summer in Louisville and then later encountered one of the area's wettest springs on record prior to the 2011 Senior PGA Championship in May. In the words of the PGA of America's Kerry Haigh, Meier overcame the obstacles due to "his outstanding scientific knowledge of turfgrasses involved." With a BA degree in turfgrass science and management from SUNY Cobleskill, Meier is married to Carrie and they're the proud parents of son Ryan, 12, and daughter Emmie, 6. Meier was interviewed by The Grain's Terry Moore.
How did you get into the business and what do you like about it?
My family moved from Long Island to upstate New York in Trumansburg where we lived right off a 9-hole golf course. So I became familiar with the game very early and fell in love with it. In fact, I started working at the course at age 13, washing carts. And when the course decided to expand to 18 holes, one of the Board members offered me a job picking up rocks on the new nine. Later, the superintendent offered me a job.  To me, there's not a better office working outside with the elements and Mother Nature. And from the perspective of environmental stewardship, it's an awesome industry.
Completed in 2012, Valhalla underwent a massive renovation in terms of hole alterations, new greens, irrigation and bunkers. That's a major amount of change.
It was a lot to embark on. The number one focus centered on the putting surfaces, a golf course's biggest asset. But at the same time, we looked at the total infrastructure, including drainage, the irrigation system and the practice facility. Today, the practice facility has over 53,000 square feet of teeing space and has a much better flow to the first tee which is a major improvement. And the improvements to the bunkers have been exceptional. We've lined 90% of the bunkers with the Better Billy Bunker system and it's been amazing what that product has done for drainage and labor savings from washouts. Overall, it was a massive undertaking that required much outside labor but it all worked out fine.
Talk about the major decision of replacing Vahalla's greens with the T1 bentgrass.
It was a tough decision but we relied on some notable agronomists to guide us including those from the PGA of America and the Jack Nicklaus Design Company. In fact, Jack Nicklaus's Jon Scott and I knew each other when I used to work at one of the TPC courses and Jon worked at the PGA Tour. So we rekindled our relationship when he showed up here at Valhalla. Jon was very helpful in our decision because he has so much experience in Asia where the T1 is popular. But several courses in Kentucky and Virginia also used it successfully and I networked with their superintendents. After we reviewed our options and all the information, going with T1 was a no-brainer.
Since the proof is in putting, how have the greens responded?
We reseeded the back side greens in November 2011 and the front greens in the spring of 2012. Even though it's been two years plus on the greens, in my opinion they're still somewhat immature. I really think you need to get to the five year mark for true maturity. But that being said, the greens are beautiful and roll fantastic. We have no issues with them. And the T1 is so versatile in terms of cutting height.
Talk about a few holes that are personal favorites for spectators and viewers besides the closing holes.
Valhalla is such a spectator-friendly golf course. I always suggest spectators stand on the mounds behind no. 3 green, a wonderful par-three. From that vantage point, they can watch the third green which has some wonderful hole locations, they can watch the drives off the drivable par-four 4th hole, and they can also watch from the distance the shots as they come back down on the 5th hole. Likewise, you can do the same thing on the mounds behind the 7th green to catch the action of several holes.
What advice would you lend a fellow 8-handicapper in order to play Valhalla?
Don't always assume you need to hit a driver. Even though it can be a long course for many players—depending upon the markers—there are a number of lay up shots off the tee. There's definitely strategy and forethought required for many tee shots. You have to be in the right position off the tee in order to hit the correct iron shot.
What are a few things about you that might surprise people?
I like to fish as much as golf but there's not much time of late for either. I guess that's why the off-season and the winters months are enjoyable. Growing up in upstate New York, I learned to ski and I enjoy that sport. If someone invited me on a ski trip to Vail next winter, I'd jump at it.
Do you have some pet peeves in terms of course etiquette?
It's always the simple things: replace divots and repair ball marks. It only takes two or three seconds and it can make such a big difference and makes the game more enjoyable, especially for those players behind you.
What's the most valuable thing you've learned in your career?
This profession is about people. I haven't gotten to where I am today without mentors and a lot of people who have assisted me along the way. I have a fantastic staff and team. I believe you're only as strong as your weakest link, so you have to have everyone hitting on all cylinders. At the end of the day it's all about people.
For more preview stories of the 2014 PGA Championship at Valhalla visit:
The Grain: 2014 PGA Championship Issue
Image courtesy of the GCSAA.