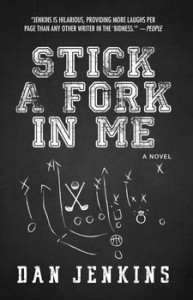 If you're in a funk, then go out and buy Dan Jenkins latest novel, "Stick a Fork in Me." It's a romp and will deliver a tonic of laughs and amusement.
This is the legendary sportswriter's 21st book and his 11th comic novel. At 88 years of age, Jenkins ably demonstrates he's hitting it long and straight and not moving up to the senior gold tees. With his wicked wit and laugh-out-loud lines, he's still reaching the par-fives in two.
The novel is about Pete Wallace, a native (like Jenkins) of Texas where he graduated with a degree from "Texas College of Fine Arts & Ranching" and where "the owls hump the chickens." After a successful stint as football coach, Wallace moved up the ranks as an athletic director. Now AD at Western Ohio University, Wallace speaks to readers, taking them "behind the scenes of a life of a dutiful athletic director."
The setting allows Jenkins to lampoon a host of characters and institutions, most notably big time college sports and football, "the undercard of the NFL."
He's joined by his golf-loving but cantankerous wife Glenda and his long-time deputy assistant, Rita Jo Foster, "a blue-eyed blond who can hold her own with those smokin' hot babes on Fox News." There's lively encounters with coaches, administrators, faculty, boosters, trustees, pampered athletes, students and media members. About his often impolite comments and observations, Wallace admits, "I sometimes say things to see if I can give a coughing fit to a politically correct disciple. It's a hobby."
About "left-loon professors and students," he wishes them a special kind of torture: "lock them in a room and make them listen to rap till they beg for mercy." (By the way, Earth's fate as a planet was doomed on, according to Wallace on "Feb. 13, 1979—the day rap went mainstream.")
Fortunately, some pithy and funny golf lines work their way into the book, most notably when Glenda can't understand why after Western Ohio is admitted to the Big Ten, her husband isn't being rewarded by a membership at Augusta National. "Glenda, you don't ask to join…you have to be invited to join," says Pete. "So find somebody to invite us," retorts Glenda. "I don't know anyone who knows a member—I guarantee you if that person ever existed, our butts would be worn out hearing about his round."
On that note, I love this rejoinder by Pete after hearing Glenda go through her latest round of golf: "I'm gonna have to have caddie fees." (I'm borrowing that line this season.) Another favorite is Pete's comment about teenagers: "Love means never having to say anything you can text first."
As Jenkins' alter ego, Wallace has favorable things to say about a Big Ten school in Ann Arbor: "I wouldn't mind losing to Michigan fairly. I'm an admirer of Michigan. Great helmets, great history."
But such compliments are not Wallace's (or Jenkins') stock in trade. Far better to expose hypocrisy, greed, and folly with satire and caricature. Suffice it to say, big-time college sports and society in general allow for plenty of scoring opportunities. In Jenkins' deft hands, "Stick a Fork in Me" is a winner.
Stick a Fork in Me is published by Tyrus Books and available via Amazon.