A few weeks ago I visited the National Museum of African American History and Culture in Washington DC. In the backdrop of today's headlines marked by racial strife, Confederate statues, NFL player protests during the national anthem, and the like, it was a valuable and helpful opportunity to see these issues and others framed in the broad and illuminating scope of American history.
Situated on the National Mall and in the long shadow of the Washington Monument, the Museum is an exhaustive and painstaking examination of our country's African American experience and heritage. In part, it was gut-wrenching and painful to be reminded of a dark and shameful history—that's still with us today— of racial discrimination and tyranny. But it was also inspiring to witness the brave deeds, continual struggle and contributions of pioneers, notables and freedom fighters. Truly noble and free countries don't hide and bury parts of their history. As quoted on the Museum's website, this is "a people's journey, a nation's story."
In my brief four hour visit of the Museum, which is expertly organized and curated by the Smithsonian, I took special note of chiseled words on mammoth walls, historical facts and quotes, Michigan references and some telling golf exhibits and photographs, including one depicting a three-time Mr. Golf of Michigan. Here's my journey:
"If the Bill of Rights, or the Declaration of Congress are of any validity, we beseech that we as men, as we may admitted to partake of the liberties and unalienable rights therein held forth."
—Rev. Absalom Jones, 1799
"We called it and we considered it true marriage, although we knew well the marriage was not permitted to the slaves as a sacred right of the loving kind."
—Thomas Jones, 1857
"After the men were all sold they then sold the women and the children. They ordered the first woman to lay down her child and mount the auction block; she refused to give up her little one and clung to it as long as she could, while the cruel lash was applied to her back for disobedience. She pleaded for mercy in the name of God. But the child was torn from the arms of its mother…."
—Henry Bill, 1849
"Our union friends says…we are fighting for the union…very well let the white fight for what the[y] want and we negroes fight for what we want…Liberty must take the day and nothing Shorter."
—A Colored Man, New Orleans 1863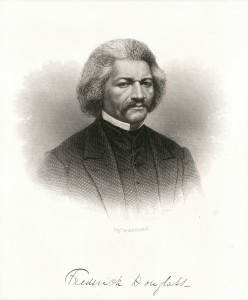 "You say you have emancipated us. You have and I thank you for it. But what is your emancipation? But when you turned us loose, you gave us no acres. You turned us loose to the sky, to the storm, to the whirlwind, and worst of all, you turned us loose to the wrath of our infuriated masters."
—Frederick Douglas, 1876.
Michigan and Jim Crow Laws
In a state by state listing of Jim Crow laws—those enactments curtailing the rights of African Americans by separation in housing, voting, education, inter-marriage etc—Michigan was not cited. There's Maine, Maryland, Mississippi and Missouri and dozens more but no Michigan.
Stereotypes
"The whole idea of a stereotype is to simplify. Instead of going through the problem of all this great diversity—that it's this or maybe that—you have just one large statement; it is this."
—Chinua Achebe
In a section about "Minstrelsy": "Minstrel shows were musical theatre that mocked African Americans, depicting them as fun-loving, musically-inclined, but inferior people…"
From the Library of Congress, an illustrated scene, taken from an advertisement of the Homestead Tobacco Company labeled William H. West's Big Minstrel Jubilee, depicts 13 African Americans dancing and carrying golf clubs with this offensive (but not in its day) caption: The Golf Crazy Coons: We're 'one up' on the links of minstrelsy.
Emmitt Till Memorial
A revered and somber place in the Museum, the Emmitt Till Memorial honors Emmitt Till, the 14-year-old Chicago youth murdered while on a family holiday in Mississippi in 1955. Afterwards, his mother insisted that her son be displayed in a glass-topped casket, so the world could see his brutally beaten body. Till's murder became a rallying point for the civil rights movement. In the Memorial room where no photography is permitted, that same casket now rests, donated by the family, "to help millions to understand and believe that racism, the Jim Crow system, was alive and well in America back in 1955."
On a wall inside the Memorial, there's an October 1955 poster on loan from the Library of Congress by the Grand Rapids, Michigan branch of the NAACP inviting citizens to attend a mass protest meeting about the Emmitt Till murder and listen to Emmitt's mother and other witnesses.
Before Tiger
With photos of Charlie Sifford, Lee Elder, Althea Gibson (who was also a tennis star), John Shippen, and Michigan Golf Hall of Famer Calvin Peete, the museum's popular sports exhibit celebrated the achievements of these pioneer golfers who "demonstrated mastery of their sport before Tiger Woods's emergence."
Bobby Jones Golf Course scorecard
After African American golfer Tup Holmes was denied access to the public Bobby Jones GC in Atlanta, he brought a legal suit that reached the U.S. Supreme Court, which was successfully argued by Thurgood Marshall. The court's decision in 1955 desegregated the public courses in Atlanta which led to desegregating all public places in the city.
Michigan's Andrew Walker
Now playing for Michigan State University, Battle Creek native Andrew Walker was a perennial All-State golfer, being named Mr. Golf in three consecutive years. He's also known for competing in the U.S. Amateur at The Country Club in Boston as a 14-year-old, becoming the youngest African-American to ever play in the tournament.
In a museum section called Cultural Expressions—with a 360-degree photo montage that's continuously on a loop—I caught an image of Walker sporting his trademark straw hat. A similar image is seen here. I later thought: Both Emmitt Till and Andrew Walker were 14 when their names reached national prominence, one tragic and one triumphant.
To write this piece, I took a number of photos on my iPhone to serve as my notebook. Later, I emailed a few of the quotes and images to my friend and golf companion who serves as a pastor of a local Catholic parish. His pithy reply nearly said it all:
"Makes me want to take a knee."
I didn't ask him if it might be done in prayer or protest. Or both.
For more information about the NMAAHC visit www.nmaahc.si.edu
Images courtesy of the Golf Association of Michigan (1), Michigan Golf Foundation (1), and the NMAAHC, (2) Alan Karchmer and Douglas Remley (Smithsonian).