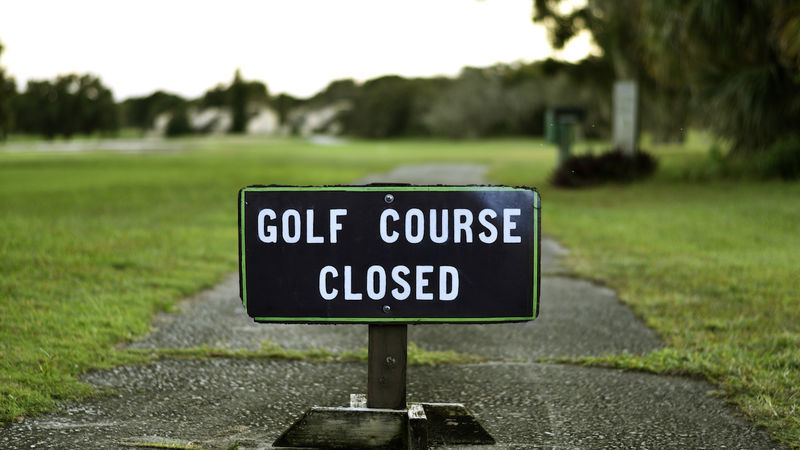 The last time I played golf in Michigan was March 19 at The Meadows at GVSU. We had a foursome and we all observed "social distancing" and other precautionary measures. However, a few golfers couldn't resist tapping in a "gimme" and retrieving it with their bare hands. I always subscribe to the axiom, "Never putt a gimme!"  Doubly so in the midst of a pandemic. Other than that, it was a pure joy to be outside, getting some exercise and feeling spent after walking 18 holes. At the end of the day, I had walked 19,000 steps. Slept well, too!
This past Wednesday, I tried to practice putt and chip at nearby Indian Trails GC in Grand Rapids. But alas the entrance's gate was closed and locked. I sulked a little thinking my solitary practice session would be akin to a walk in a park or throwing a frisbee outside. But I don't find fault with the Governor's order. She's doing the best she can under these dire circumstances for individuals and businesses—including golf courses. Besides, it's always better for elected officials and public health experts to overreact when calling for protective measures.
On Thursday of this week, the Office of the Governor clarified the earlier "stay at home" order for golf courses, stating in a Q & A section, "course employees are not considered critical infrastructure workers. As needed, however, golf courses may designate workers to leave their home for work if their in-person presence is strictly necessary to conduct the minimum basic operations listed in section 4(b) of the order. Minimum basic operations do not include serving members of the public."
Although that slams the door on the public playing of golf, courses may elect to have needed superintendents and key maintenance staff report to work.
By the way, Ohio's Governor made a different decision, treating golf courses as an "outdoor activity" and therefore they may stay open if they so choose.
************
Although Golf Channel's Brandon Chamblee has kept his hands away from his nose and mouth, he didn't keep his foot from finding his mouth. In a lengthy interview (10,000 words!) with Golfweek, the always verbose and opinionated Chamblee got into a rant about golf teachers and some of their "flawed philosophy." But he really stepped into it when he then went on to say, "…and these philosophies finally got !#%1@ -slapped by reality."
Brandel later apologized saying on Wednesday in a Tweet: "I sincerely apologize for an unfortunate choice of words in the Golfweek interview. While the phrase was meant to mean harsh criticism, seeing words in black and white make you realize different contexts. Either way this was a poor choice of words that is offensive and I apologize."
A couple thoughts. Chamblee was smart and sincere in apologizing quickly given the situation with domestic violence in society and sports in general. You just don't use that phrase in public discourse especially on a well-known golf website. At the same time, I always separate premeditated remarks from spontaneous and off the cuff ones. Chamblee was too loose with his tongue. But this wasn't a written treatise or calculated opinion piece.  There's a big difference between the two situations.
It recalls to mind Golf Channel's Kelly Tilghman's similar furor twelve years ago. During a January 4, 2008 PGA Tour Telecast and in response to co-anchor Nick Faldo's joke that younger players should "gang up" on Woods, Tilghman replied "Lynch him in a back alley." Again, it was not premeditated and not scripted. It was an poor use of words given the ugly history of lynching against African-Americans in this country. She apologized but was still suspended for two weeks. On a related note. Golfweek editor Dave Seanor was fired a week or two later when he approved a cover of the magazine with a hangman's noose. Instead of lowering the temperature of the fire, he threw gasoline on it. Sorry to say for Seanor, a good man who used to work in Detroit, his premeditated actions cost him dearly.
In short, Chamblee apologized and I'm good with that. 
************
A family and historical perspective on the current health crisis. As many of you readers know, the last great pandemic occurred in 1918 with the "Spanish Flu." A very deadly strain, it killed 40-50 million people world wide and over 650,000 Americans. My wife's grandfather, Charles Reynolds of Grand Rapids was a victim of the virus after he enlisted in the Army in Aug. 1918. Our family historian, Deb Moore wrote the following notes about him: 
"In November, Charles Reynolds contracted Spanish Flu and was transferred to the Mobile Hospital at Camp Crane, Allentown, PA. His fever rose to 107 degrees and his mother and two sisters made the train trip to visit him in the hospital. According to one of his sisters, "To relieve the fever, the doctor made a cut inside his nose, which induced bleeding which eventually broke the fever." In December, Charles was transferred to USA Debarkation Hospital #3 in New York City to recuperate. He was discharged from the Army in May 1919, having served nine months in basic training and sickness."
image courtesy of Golf Channel