A few years ago when I arrived at the Masters, the first place I visited was the new patron sitting area on the hillside overlooking the par-three 16th hole. For some reason, I'm always curious to discover and assess the many tournament and course improvements made over the past year.  Many of them are never announced or commented upon by the club. After some storm-damaged trees were removed (at least that was the official Augusta National explanation), this large grassy area afforded wonderfully elevated views of not only the 16th green but also views of the 15th fairway and green, the 17th tee and also the par-three 5th green. The spot now lends an amphitheatre atmosphere and drama to the 16th hole. It's simply an ideal place to sit and watch the colorful Masters pageantry.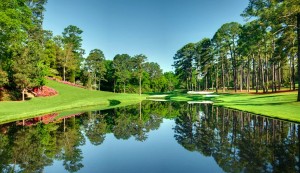 Accompanied by a fellow golf writer, I expressed aloud my surprise that in the course of less than a year's time—and more likely in less than nine months—this area had been so transformed you'd swear it had been there all along. "How does Augusta National do it?" I asked. Just then a woman sitting to my right perked up and chirped in, "Well, it's the climate zone. Everything grows so fast here in the South." Introducing herself, she said she was an avid gardener and horticulturist from Minnesota. "In my state, it would take several years for an area like this to appear so natural and intact after so much landscaping. But in this climate zone with so much sunlight, heat and humidity, grasses and shrubs just thrive and grow so fast."
Recently I chatted with Dr. Greg Lyman who lives in Lansing, Mich., and who serves as the Director of Environmental Programs for the Golf Course Superintendents Association of America. "The woman was absolutely correct. Augusta, Georgia obviously sits within a climate zone with a much longer growing season than in the Midwest," said Lyman. He even referred me to a website for the U.S. National Arboretum which listed the "plant hardiness zones" for the country. On that list, I found the area for Augusta to be in Zone 7 whereas Minnesota and Michigan fall into Zones 4 & 5 respectively. The difference in number of "growing days" for plants is considerable between these zones.
"But there's also the added advantage of the club being closed from roughly June to October," said Lyman. "With Augusta National's sizable staff and resources, changes and improvements to the golf course are all well-planned and orchestrated. For the hillside area at the 16th hole, I wouldn't be surprised if the superintendent and staff accelerated growth by laying down sod for the entire area." Lyman said sodding the area would enhance how the grasses would "knit together" and give a more finished appearance. "There are such high expectations for everything done on the golf course and property at the Masters," said Lyman. "It's really extraordinary how it's all carried out."
Rest assured there will be new improvements and landscaping found at this year's Masters. As always, "ground under repair" signs won't be necessary.
Read all of our great stories on by TheAPosition.com writers as we cover The Masters:  http://www.theaposition.com/partner/the-masters
Image courtesy of the Masters