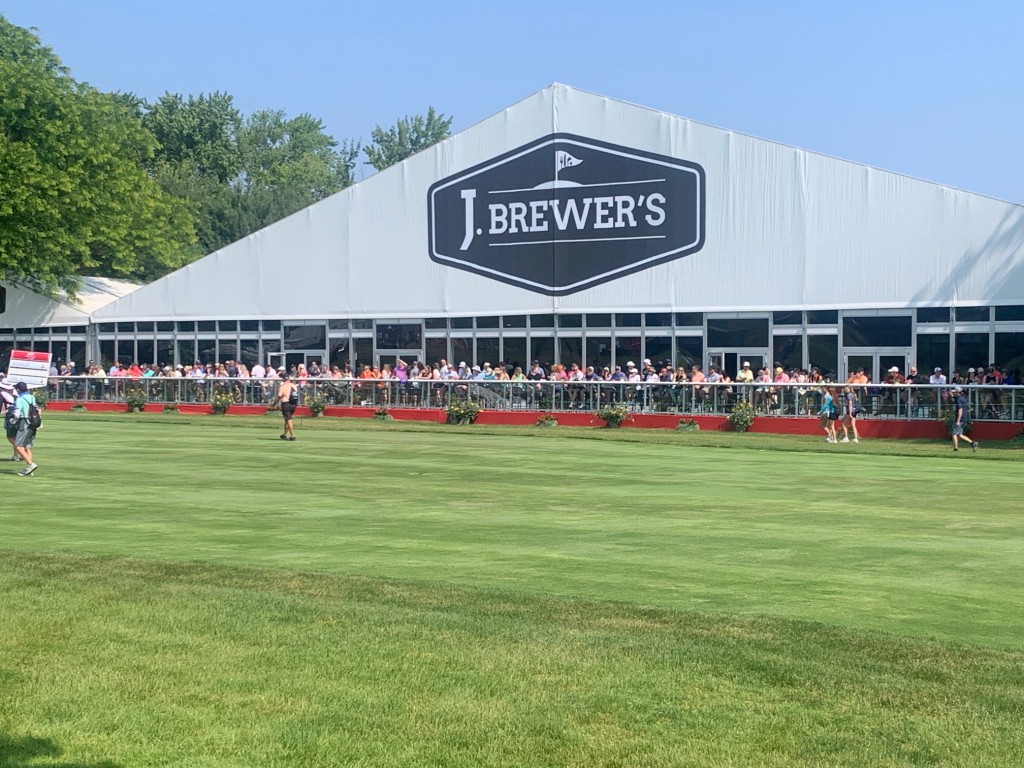 (Grand Rapids, MI) For media, it's always nice to have a "home game," like the one for me last week with the Meijer LPGA Classic for Simply Give at Blythefield CC outside Grand Rapids. 
Since its debut in 2014, the tournament has matured into one of the best on the LPGA circuit. Its community feel reminds me of the old Buick Open. It's well-run, accessible to spectators, and has a big local sponsor who knows and caters to its customers. Besides offering up the best LPGA players, there's much to like when attending the Meijer LPGA Classic.
Here are some observations and reflections from the week:
Outside the ropes, the newest addition to the tournament was the clubhouse which was expanded to allow for locker rooms and cart storage below. Before, the grounds had separate buildings for the pro shop-locker rooms and the main clubhouse. Now it's all one building. 
One member said the one visual advantage of the old building which housed the pro shop, cart storage and locker rooms, was that building hid the parking lot. Now the parking lot is fully exposed. One possible fix is added landscaping with fast-growing shrubs or evergreens. But other than that, the area around the putting green and new clubhouse looks great.
Unlike the PGA Tour, the LPGA Tour really comes to town with its best players. Only a few stars skip a tournament. This wasn't always the case at the Buick Open or at the Champions Tour stop at Egypt Valley. At Blythefield, spectators were treated to watching well-known and established players like Brooks Henderson, Lexi Thompson, Lydia Ko, Minjee Lee, Jennifer Kupcho (defending champion) and Atthaya Thitikul.
Checking the LPGA stats beforehand, I made sure to watch China's Xiaowen Yin. An 18-year-old rookie, Yin is the longest driver on Tour, averaging 282 yards off the tee. She earned her card after two wins last year on the Epson Tour, including one in Battle Creek. She started competing as a 13-year-old. Yin is tall and has an upright swing like Scottie Scheffler and crushes the drives, often being 30 yards in front of her playing partners.
My wife and I followed her for several holes and noticed a man intensely watching her on every shot. I later confirmed he was Yin's father. In fact, he prayed while she hit every shot. Probably he was praying for his talented daughter to hit more fairways as she lags in that category, ranked 139th and missing fairways a third of the time. But she's a future star.
As noted local PGA teaching pro Ian Hughes told me last week, he urges his students to attend the Meijer and to better appreciate the tempo of LPGA players. Unforced and effortless power is how to sum up their swings. One friend of ours hadn't noticed before how players tee up their drives drive. That's an advantage of attending a tournament like Meijer; you observe stuff you can't always pick up on TV. Players tee it high and hit up on the ball at impact, just what teachers like Hughes recommend.
As one of the gem courses in west Michigan, Blythefield was in fine condition and bolstered by pleasant weather. It's a good course to watch and follow players. And if spectators wanted to take a breather, there was the Conagra Public Viewing Deck which offered terrific and up-close views of the 17th green and 18th tee and also the 8th green. It was an ideal place to have a modestly-priced lunch. Like the Masters, there's no price gouging at concessions. 
With that in mind, Meijer is a dream title sponsor for being a company that can leverage its corporate clout with some of its many brands to help support the tournament.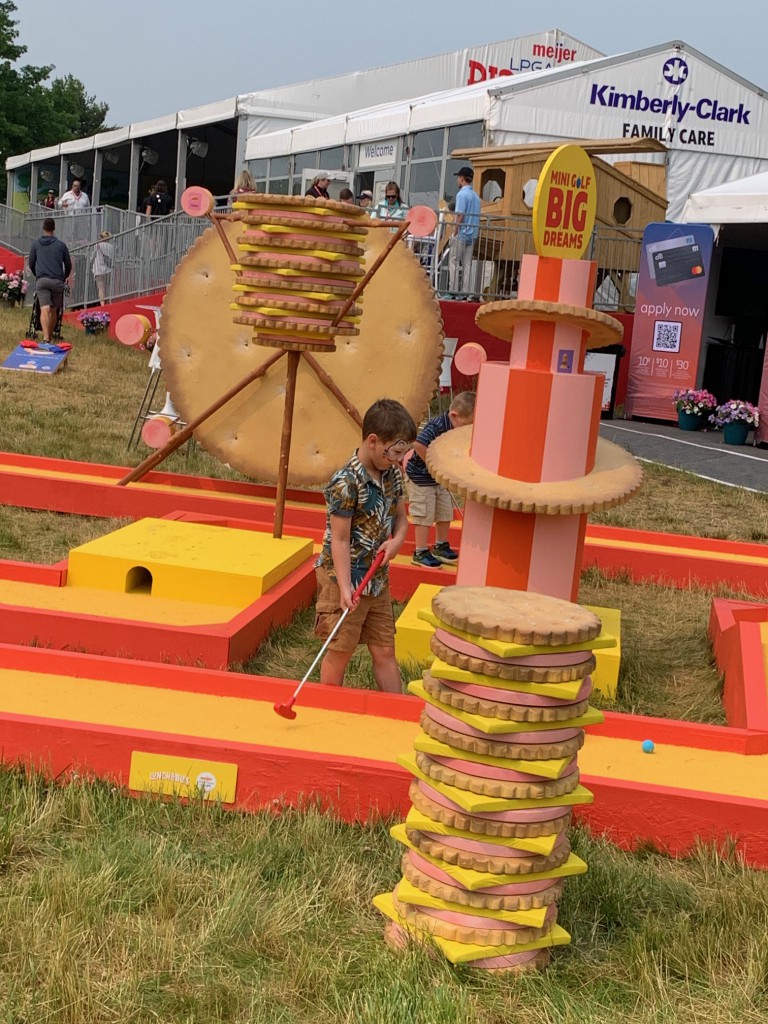 In a nod to families, Meijer continued to offer a Discovery Land for juniors as well as the Kimberly Clark Care Center with changing and nursery stations. Not surprisingly, we saw lots of families with strollers on the course.
A special and higher-priced ticket offered the J. Brewer's and Frederik's hospitality suite along the fourth fairway. Named after Meijer founder Frederik Meijer and Joseph Brewer, the financier who purchased the land that Blythefield Country Club is built on in 1920, J. Brewer's/Frederik's entertained patrons with an all-inclusive premium food and beverage offerings curated and prepared by local minority-owned restaurants. And it offered views of action on an outside deck.
On Saturday, the back tee at the 229-yard par-three 13th hole was used. This is one of the most scenic par-threes in the state as drives carry over the pristine Rogue River. Area anglers regard the Rogue as a premiere fly-fishing river.
In a neat touch, Golf Channel's Tom Abbot called some live action from a kayak on Saturday.
On TV telecasts, I hadn't noticed how the LPGA allows the use of range finders. This is a smart move to speed play to determine yardage. The PGA of America does the same. Now the USGA and the PGA Tour must get on board.
I find it odd that so many players like having the bulky yardage books prominently sticking out their back pockets. I guess they're not as noticeable on the PGA Tour whose players are required to wear pants with their larger back pockets. But as my loving wife reminded me, why am I looking there in the first place?
When you're having fun at the Meijer LPGA Classic, one's mind tends to wander.