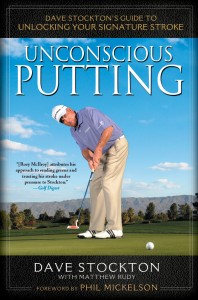 My pick for the best golf instructional book of 2011 is Unconscious Putting: Dave Stockton's Guide to Unlocking Your Signature Stroke (Gotham Books.) Two autumns ago, I said Stockton, a two-time PGA champion and former Ryder Cup captain, was the game's teacher of the year after successfully re-tooling the putting routines of Phil Mickelson (who wrote the book's foreword) and Michelle Wie, both of whom highly praised Stockton for working with them. This year, Stockton and his sons Ron and Dave Jr. (the nucleus of Stockton Golf) are again in the news for helping more than two dozen tour players including Rory McIlroy, Martin Laird, Justin Rose, Yani Tseng, Morgan Pressel and Suzann Pettersen. The winner of 11 tournaments on the PGA Tour and 14 wins on the Champions Tour, Stockton remains one of the game's true gentlemen and ambassadors as well as one of its most insightful instructors. Recently, he spoke at length with me by phone. Here is Part I of our conversation.
What's your assessment process for evaluating your students' putting?
Well, it usually doesn't have anything to do with their physical stroke. I study how they approach and walk up to the putt. I can tell right away from how they step up to a putt if they have a good chance of making it consistently. Rory McIlroy was one of the very few players who was too fast in his routine. He walked up to the putt too fast and I knew he didn't have a clear view of what he was trying to do. The only drill I had him do was practice putts with just back of his left hand and then have him hit the end of the club I placed in front of his left hand. I also wanted him to have better visualization: walking up to the putt, seeing the line, expecting to make it and just let it go. So when you watched Rory in the U.S. Open it was as if he didn't have any pressure with his putts.
You also worked with Suzann Pettersen, the star of the recent Solheim Cup, right?
Yes, Suzann flew up to see me in Savannah where I was playing in the Champions Tour's Legends event in late April. The session we had took about an hour and a half. I sized up her problem within 20 minutes or so and then gave her some guidelines and tips. I also spent some time on chipping because I'm a believer that chipping—like the putting stroke– is dominated by the left hand. In putting, the left hand doesn't break down or flip; it's the same stroke with the low chip shot. They're both controlled by the left hand. That's why I think so many people have trouble teaching golf because they're trying to make the short game a miniature full swing. I don't believe that; the full swing is completely different than putting. Anyway, the next week Pettersen finished third in a LPGA event and then two weeks later she beat Cristie Kerr in the match play.
The reason why some of our players really do well right off the bat—say the next week at a tournament—is that they get into their putting subconscious and not "try" so hard.
Talk about the importance of simplifying your thoughts when putting.
Let me relate a story. One year at the Masters, I had lunch with Byron Nelson and I asked him what swing thoughts he had in 1945 when he won 11 straight tournaments and 18 overall. He told me with a big smile on his face, "You know, Dave, I was in west Texas practicing for the West Coast swing and I found something in my swing that felt good to me and that was my swing thought for the year." I said, "Byron, you're kidding me—just that one thought all year?" And he said right back, "Yes, I used to go to the range and loosen my shoulders and legs and hit a few balls and then I just went out to play with that single thought." Heck, that year at the Masters I had a good tournament finishing in the top five but I had to keep track of six or seven swing thoughts for the round whereas Byron used the same one thought for the entire incredible year!
But to me, that's what good putting comes down to—it's simplifying the process where you see the line and then roll the ball down that line. No practice strokes, no trying, just putt the ball. What happened to Ed Sneed and Scott Hoch at the Masters, infamous victims of missing short crucial putts? Both got out of their routines on short putts. Under pressure, you must stay in your routine and do what you've been doing.
What's the advantage of focusing on a spot one inch in front of ball during the stroke?
Too many players are so ball-fixated that when they stroke the putt they instantly recoil after hitting it. Instead, you want to focus on putting through the ball. Visualizing a spot one inch in front of the ball will train you to putt over that spot and complete your stroke. This method also helps players not to watch their putter in their stroke.
You don't need these giant check lists that some people have in their putting routines. I watched Phil Mickelson go through his routine and before putting he was looking at his hands and at his putter and I said to him, "Phil, what are you doing?" And he said, "I'm making sure my grip is square to the face of the putter." So I shot back, "Doesn't Callaway put your grips on right?" And he laughed because he knew what I was getting at. If I place my thumbs down the shaft of the putter, I know my grip is square and I could putt in the dark with it.
Speaking of Phil, what was your reaction to him going to the belly putter?
I was shocked. I didn't know he was going to it. In fact, I went to TaylorMade and asked them to make me a belly putter so I could work with Phil on it. I wanted to get an idea of what Phil was doing. He's adept with it up to about ten or 12 feet. He doesn't like missing the short ones and that's what drove him to try it. I can't blame him for that. No one wants to miss short putts. But the belly putter's been more of a challenge for him on the longer putts. I think he's going to stay with it the rest of the year. My question is will the USGA revisit the issue of making the long or belly putter illegal. I don't think they will but the discussion will come up again now. I'm in the camp that I don't how you can anchor your arm to your body in the putting stroke. Gee, I'm from the era when they outlawed Sam Snead's croquet stroke and that was more of true stroke than ones taken with the belly or long putter. I do think if someone has the yips, the belly putter is a great way to go. And some of the younger players are using it not because of nerves but because they like how they can roll the ball. PGA Champion Keegan Bradley, who uses one, had a lot to do with Phil using it now. I did try the belly putter myself and had to make an adjustment as where I anchored it but once I found it I putted well with it. I picked it up pretty darn quick.
Talk about your father, Gail Stockton, and how he was such a major influence on your game and putting.
Yes, my dad was a major influence. Funny thing, my dad never allowed me to read golf magazines or golf books. But in doing this book with Matt Rudy (Golf Digest writer), I discovered my dad largely learned the game from Alex Morrison who wrote a book in 1940 called Better Golf Without Practice. Morrison taught Masters champion Henry Picard and also helped Ben Hogan and Sam Snead. I started re-reading Morrison's book when we began "Unconscious Putting." Even now 71 years later it holds up very well especially in the short game area. In fact, some of the drills talked about by Morrison still work today.  Years ago, I collaborated on the Sybervision golf series, featuring Al Geiberger's swing, and I did the putting section. And all I did was putt and let people see and hear me sink putts. It was more about instilling positive images and visualization than technique. I feel the same way about putting instruction. I just don't believe there's one method for everyone. All of my putting tips and philosophy came from my dad and I never really changed anything over the years.