"These greens are so fast I have to hold my putter over the ball and hit it with the shadow." —Sam Snead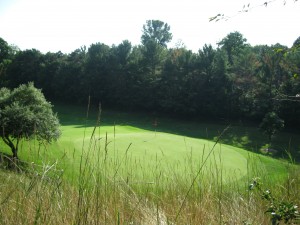 Well, the greens last week at pristine Traverse City Golf & Country Club weren't that fast but they were definitely the best greens I've seen this year. Thanks to Superintendent Steve Hammon and a supportive membership, the conditions at TC G & CC were exemplary. After playing it with friends Jack Berry and John Jessup, we all remarked afterwards what an enjoyable playing experience was found here. Designed by Tom Bendelow, it's a layout conducive to diverse member play, eminently walkable and thankfully void of penal attributes common to many modern designs. As someone said during our round, "This is a course you can grow old on and have no regrets."
A Grand Rapids native and Michigan State graduate, Hammon is the Past President of the Michigan Golf Course Superintendent's Association. He's also a fine golfer although finding time to play now goes with the territory. But his playing sensibility informs his philosophy and practices on course maintenance.  He realizes that private club golfers expect fast and true greens on a regular basis and not just for certain club events. That's why Hammon and his staff roll the greens daily allowing green speeds to average 11 on the stimp. Hammon uses a True-Surface green roller which is custom-designed to fit on a triplex green mower thus making it easier and more convenient for staff members to use.
It's been a few years since I last played Traverse City so I had forgotten what a fun and sporting test it delivered. John and I played the back tees and at a par-71 and 6330 yards it posed a well-balanced and friendly challenge. In particular, the four par-threes were all stout and required well-struck shots. The 189-yard seventh hole is a feisty one-shotter with its elevated green perfectly nestled into a hillside.
Due to deft tree removal and trimming over the years, the fairways are now healthier, more generous and offer multiple lines to the greens. At the same time, the shortish 9th and 10th holes are still well-guarded by pivotal trees that require prior deliberation on the tee box. And being an aquaphobe, Mr. Berry relished a layout with only a few water hazards. In terms of aesthetics, the course is beautiful with the lush fairways and greens contrasting with golden native grasses.
In a time when so many private clubs in Michigan have struggled, it was refreshing to learn Traverse City is prospering, adding 35 new members in the past year. Head Golf Professional Roger Bliss attributes the club's "gift membership" initiative whereby prospective members are given two months (excluding July & August) free to try out the club before making a final commitment.  And the club's amenities are first-class thanks to a $3.5 million clubhouse renovation that was undertaken in 1998.
Situated on elevated terrain overlooking Traverse City, the club is affectionately known by members as the "Gem on the Hill." Not needing two months, I can safely say now it'll never be sued for false advertising.