(Editor's note: This is a guest column by John Allen)
Maybe it's after an injury, or a surgery, or just M.B.S (Multiple Birthday Syndrome)—but things are just not the same anymore in my, or your, golf game. Clubhead speed is down to 90 or less, hands do not grip so firmly, many shots are lower. Handicap is up and distance is down. Sometimes the knee or the back hurts.  The spine does not torque/turn as much. Putting lines are not seen as clearly.  Pants have shrunk, especially at the waistline.
The first challenge is always the same: denial.  As Bobby Jones once said, "The toughest part of the course is the six inches between your ears."  Our game is just telling us the truth. Things have changed.
The toughest hurdle is often the memory of how we used to do it, and facing we cannot do it that way anymore.  Turning the ball right or left, at will.  Hitting those high, soft irons.  Seeing the putting lines like they were lit paths to the hole.  Those were the days.
Well, get over it.  We aren't as good as we used to be.  But we can still be great at it, and have fun, too.   Things have changed, and so must we. 
Here's my humbly submitted list of suggestions to make golf more enjoyable in one's senior years.
Face the facts with a PGA Professional
First, find out where you really are.  Go to a PGA Professional and get some accurate swing analysis.  Obtain the data on your clubhead speed, launch angle, and swing plane.  Some  PGA Professionals use technology, some just use their eyes. But their assessment will be invaluable.
Learn your real distances with various clubs.  Most don't go as far as we think, and not nearly as far as we remember.  Forget the big numbers on the bottom of the club and focus on the degrees of loft.  Stop comparing your 7-iron distance with your buddy's.  Hit the 6-iron, get on the green and make the birdie.  When buddies are paying off the bets for your "skin," you won't care which club you used to do it.
Clubs
If your clubs are more than three years old, consider buying new or newer "used" ones, budget and spouse permitting. We've changed.  The clubs have changed, and they get better every year. Get rid of your 3-wood and all irons below #4, maybe even below #6.  Most of us aren't good enough to use those anymore.  Substitute some hybrids for those lower numbered irons. 
Some manufacturers are helping us make this change. Many are now producing the "3-HL" fairway metal—it's really a 4-wood loft, but it allows us to think we're still hitting a spoon.    Higher lofts make it easier to hit it straighter, with better accuracy.
Also, get rid of those scotch blade irons.  Strong perimeter weighting is essential.  It helps to compensate for weaknesses and those off-center hits.  
Forget any prejudice against "Game Improvement Clubs." Do we want to "improve?" Well, that settles that.
We do need at least three wedges—maybe four.  One of "normal" loft, one "in-between" gap loft, and a sand wedge with so much loft, flange and bounce that anyone could get out of a greenside bunker with it. You're missing more greens, and good scores depend on getting up and down, now more than ever.  
Putters are highly individual choices, but most of us now do better with one a little longer (35") so we can stand taller and go easier on our backs.  Most of us also do better with a perimeter weighted putter head (thank you, Karsten Solheim), and with an aiming device—a line, dot, two balls, something, anything to help us put the ball in the center of the club face.  Experiment with several, and then use the one that works best for you.  But, if you're still using that Bullseye model you had in high school, it's time to retire it. Unless of course, you remain a deadeye with it.
Shafts
Most of us don't think much past "regular" or "stiff."  And many shops do not stock much more.  But most of us should not be using either of those. 
When we were little kids, some of us used "ladies" clubs.  One of my first sets of used clubs were Wilson Patty Bergs.  More flex and less weight than what were then "normal" (i.e., men's) clubs.  They worked better then, because, as kids, we had less strength and a slower swing speed.  Sound familiar now?  Back to the future.
The two principal variables are flex and weight.  If you're not using an "A" flex and a weight of 50-55 grams, you should try them.  
Grips 
Despite being the only direct connection between us and the ball, grips get almost no attention.  Most of us are still using whatever grips put there by the manufacturer when we first bought the clubs.  Thus, most of them are "standard" diameters (usually about .600"), standard weight (50gm), plain rubber composition, and usually a common color like black.  We do not often change them and hardly ever clean them.   
We are often surprised to learn that there are hundreds of different grips, with dozens of configurations and specifications, in every color of the rainbow.  Two of the most important variations are diameter and tactility.
Diameter can vary to include both less than "standard" (.600"), and greater.  Narrower grips (usually about .580") promote an easier release but are sometimes more difficult for weaker hands to hold firm enough.  Wider (or thicker) grips commonly come in at least two variations:  Mid-size (+1/16") and Jumbo/ Over-size (+1/8"). The bigger ones are much easier to hold, especially for fingers with a bit of arthritis.  
We all know nothing feels better and gives more confidence than a new set of grips.  Like the smell of upholstery in a new car.  That is why we should change/ renew grips about every 20 rounds or so.  
If not new, clean is the next best thing. When did you last clean your grips? Between grip changes, we should clean the grips every few rounds, just like we clean the clubs. All it takes is a spot of dishwashing detergent and warm water, with a nylon brush.  
Balls
Those Pro-Vs and "Tour" balls are not for us. Most of us need something with less spin, softer feel, and greater distance. 
Try a low spin and "soft" ball to learn the difference. Titleist AVX, Velocity, or Taylor Made Soft Response are examples.  For a player with a slower club head speed, softer balls go and roll farther, and still handle well around the greens.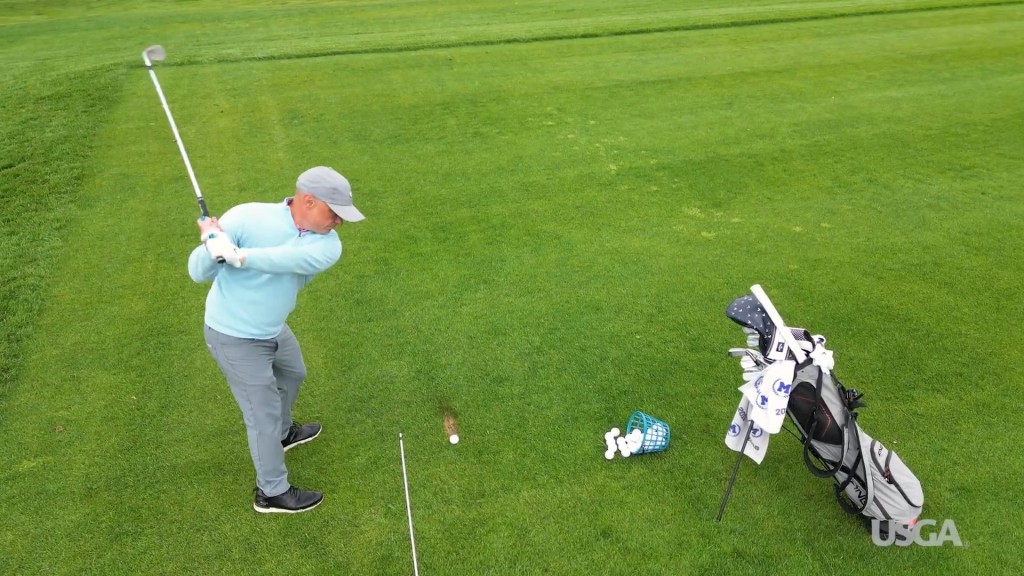 Practice  
We're not going to win the long drive contest.  Our saved strokes must come more from around and on the green.  
Half the shots for a golfer (even the Tour Pros) are from 90 yards in. Putts are 20-25% of the shots, on a good day.  What does it say about where to spend your practice time?
We should spend most of range time with the 9-iron, wedges, and putter.  If we can pitch, chip and putt, we can compete with anybody.
We should also "warm up" before we play.  Just 10 or 20 swings can make a big difference, loosening up those tired muscles, and learning which swing we are using that day.
If the "warm up" is not available, then we should chip a few balls, and putt a few.  At least get a feel for some club, and impact on the center of the club face.  We should never allow that first tee shot to be our first shot of the day. 
Tee It Forward
It's no fun banging away with a hybrid for our second shot on most every par-four, nor to need a hybrid on most every par-three.  Wouldn't we like to hit some irons to more Greens-in-Regulation (GIRs), and have some birdie putts every round?  
The solution is easy—Tee It Forward!  Move up one set of tees.  The USGA, The PGA, Jack Nicklaus, everybody is asking us to do that. The round is faster, and most importantly, it's more fun.
Our net score will not change.  The new World Handicap System will adjust for that, so we can even play our buddies who are using the middle or back tees, and it will still be fair to everybody.  Yes, by Teeing It Forward, we will lose a few shots off our "usual" handicap, but one's round will generate more smiles.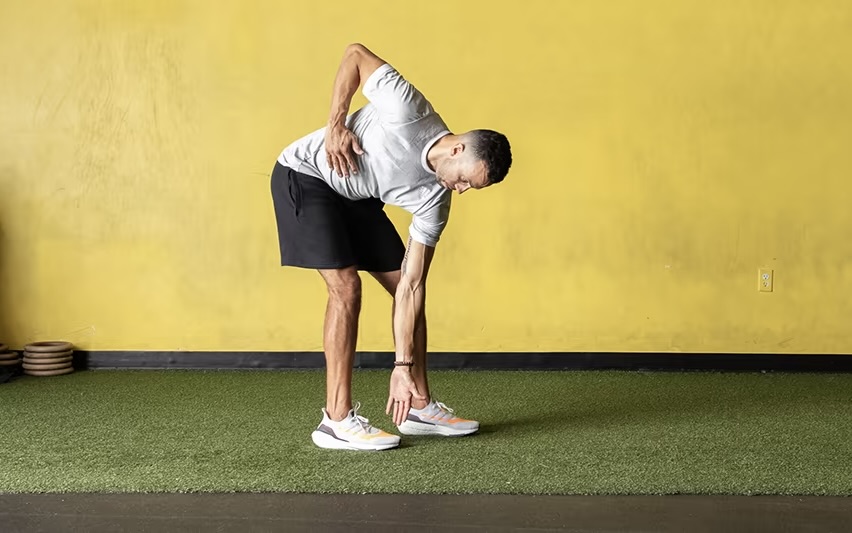 Stretch the Body Daily
Ever read those articles by Tom Watson or Gary Player about how they stay competitive in the later years?  Both say the same thing:  The most important part is to stretch every day.  
This isn't a lengthy and daily trip to the gym. It's not running miles, nor lifting weights.  No, it's just stretching the body, especially the legs and back every day.  
All it takes is 20-30 minutes on the floor while you watch the news each morning.  Three or four painless exercises will do the trick. 
Try it for a week, and see if you don't feel better. See your turn and swing arc improve, too.  
There you have it, my thoughts on dealing with aging and golf. Embrace them and the game remains challenging yet more enjoyable.
A senior golfer at Kalamazoo Country Club, John Allen has served 20 years as a Golf Association of Michigan (GAM) Governor, and 36 years as an USGA and PGA Rules Official.  A member of the Kalamazoo Golf Hall of Fame, he's also a trial lawyer with Varnum LLP.
Images courtesy of John Allen, Callaway Golf, Ebay, USGA