So Father's Day is approaching and you've yet to come up with a gift. Well, as the old joke goes about the federal government, I'm here to help.
Here are a few considerations: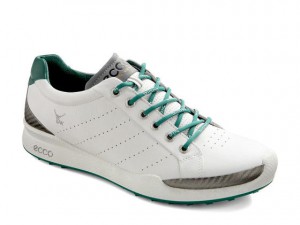 ECCO Golf Shoes: These are the most comfortable golf shoes I've ever worn. Earlier this year when I was in Florida, I tried out ECCO's BIOM Golf Hybrid shoe and I was hooked right out of the box. They're comfortable, stylish, lightweight, and have a snug but not tight fit. When I returned to Michigan and started playing again in our wet spring, I was leery about wearing them, given the small molded nubs on the soles. Silly me, they performed just fine. Looking at the soles more closely, ECCO ingeniously designed these gripping nubs with hundreds of traction angles. I also like the breathable and soft Yak leather that's Hydromax-treated and thus water repellant. If I had to nitpick about the BIOM, the leather seems to stain easily but that's also a downside on selecting the white model. On the plus side, I love how the shoes came with an extra set of laces, of another color no less. Nice touch.
Founded in 1963 by Denmark's Karl Toosbuy, ECCO's core principle is "the shoe must follow the foot." It may not be as pithy as "form follows function" but it's in the same league. Such philosophy is also why the company scanned more than 2,500 feet (as in toes, not inches) to arrive at BIOM's optimum anatomical shape. Such attention to detail and rigorous research is why ECCO is now a worldwide force in the footwear industry and no longer needs a sock-less Fred Couples at the Masters wearing its brand to get noticed. Let's just say on the company's behalf, "many customers will follow this shoe." For more information, visit www.eccousa.com.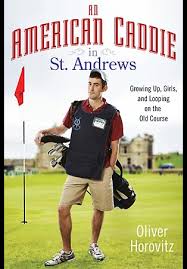 Golf books: Books are always a safe and popular choice for the literate golfing dad in one's life. I would recommend two. One is An American Caddie in St. Andrews by Oliver Horovitz. As an ex-caddie (Mill Creek Park GC in Youngstown, OH) I was a sucker for the subtitle: "Growing Up, Girls, and Looping on the Old Course."  I also once played in a match at the Old Course at St Andrews and was fortunate to have a terrific caddie who steadied my game and guided me along the storied links to a memorable victory. So I was predisposed to relish this lively, informative and humorous book. In a nutshell, the young author chronicles his year at St. Andrews that includes not only a "gap year" at the famed university—before enrolling at Harvard—but also a season as an official caddie at the Old Course. Along the way, he helps train and school a bevy of attractive young co-eds— the entrepreneurial Model Caddies—on the nuances and precepts of toting a golf bag for hire. Not surprisingly, Horovitz, a standout golfer, becomes smitten in the process. He's a solid and nimble writer with a genuine talent for sharing comical episodes as well as caddie and golf insights. With an acute gift for dialogue, Horovitz delivers a fast-pace and entertaining read, deserving of a generous tip by the reader. Published by Gotham Books.
The second recommended golf book is The Fundamentals of Putting by Frank Thomas and Valerie Melvin. From their visits and presentations at several West Michigan Golf Shows, I've known and admired these knowledgeable people for a long time. I pay attention to what they say and write because it's backed up by science and research as well as practical experience. An outlier in the golf industry, Thomas spent 26 years with the USGA as its Technical Director while later serving as chief technical advisor to Golf Digest and the Golf Channel. A former editor of Golf Science International, Melvin is a co-founder with Thomas of Frankly Golf and played golf internationally for her native Scotland. If there is ever an audio version of this book, I hope she lends her charming voice to it.
Based in part on the authors' Certified Putting Instructor (CPI) curriculum that's been adopted by seven PGAs around the world, The Fundamentals of Putting could be compared to taking a fun summer course at one's local university (St. Andrews?) or library. It's thorough, well-organized and the lessons are imparted with a minimum of numbing scientific jargon and nomenclature. And although a little thing, I love the larger type. Considering that 40-45 per cent of one's golf score is made up of putts, it's imperative that new students to the game—as well as PGA instructors—focus more on putting and less on trying to hit a drive 300 yards. As the authors state, "Putting is a skill we have ignored because it is not promoted by golf instructors nor is it as sexy as driving the ball a long way." So here's a book for golfers and teachers alike who want to be more anchored in their understanding of putting and its many facets—fitting, ball position, grip, styles, green reading, practice regimens and much more. In a clear, comfortable style, Thomas and Melvin prescribe some sure-fire principles for more consistent putting that can be best summarized as "Lock and Rock" and "Let it Happen."  Accordingly, the left brain/right brain dichotomy remains in play on and off the putting surface. To order, visit www.franklygolf.com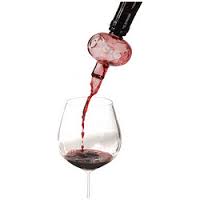 Soiree in-bottle wine aerator: Know a golfer who appreciates a decanted glass of wine but doesn't want to be a snob about it? Well, this nifty, compact and well-designed product is a perfect gift. The Soiree is a glass aerator that fits directly into just about any bottle of wine. Its 5-ring gasket provides an easy, drip-free fit and the handmade glass insures purity in taste and a natural wine treatment. The design of the glass aeration chamber features dimples that gently infuses the wine with oxygen, enhancing its taste and bouquet while saving time and fuss without a full-size decanter. I don't know how it works, but it does. In fact, I experimented with several different glasses of wine—all in the interest of product testing, of course—by using and not using the Soiree. There was a marked and favorable difference in the aroma and a more mellow taste of the glasses poured with the Soiree. Hey, it's not Consumers Reports but it convinced me of the product's mettle. It also comes with a handy drying rack and stand which makes it easy to clean and store. Bonne soiree means "good evening" in French and that's what I had after using this product. For more information, visit www.soireehome.com