Due to a tip from Betty Richart, a member of the Michigan Golf Hall of Fame, I learned how Mary Jane Hiestand, another member of MGHOF, competed in a memorable international team event this summer where she even rubbed elbows and swapped baseball stories with a former President of the United States. As they say, here's the rest of the story.
A three-time Michigan Women's Amateur champion, Hiestand played in the 26th annual Senior Women's Invitation Match (SWIM)—a prestigious three-day Curtis Cup-type competition between top senior women amateurs (50 years and older) drawn from North America (NA) and Europe. In fact, Hiestand competed last year in the event which was held at the Golf Club de Geneve, in Geneva, Switzerland.
This year's edition was held on July 17-19 at Dallas, TX with Brook Hollow Golf Club serving as the venue. Brook Hollow is where NA player Carolyn Creekmore, a former USGA Senior Amateur champion and a 2010 Texas Golf Hall of Fame inductee, is a member. She's also a frequent playing companion of another celebrated Brook Hollow member, George W. Bush, the 43rd President of the United States. Due to their friendship as well as "43's" strong interest in international team matches (he was at Medinah last year for the Ryder Cup), President Bush took a personal interest in SWIM.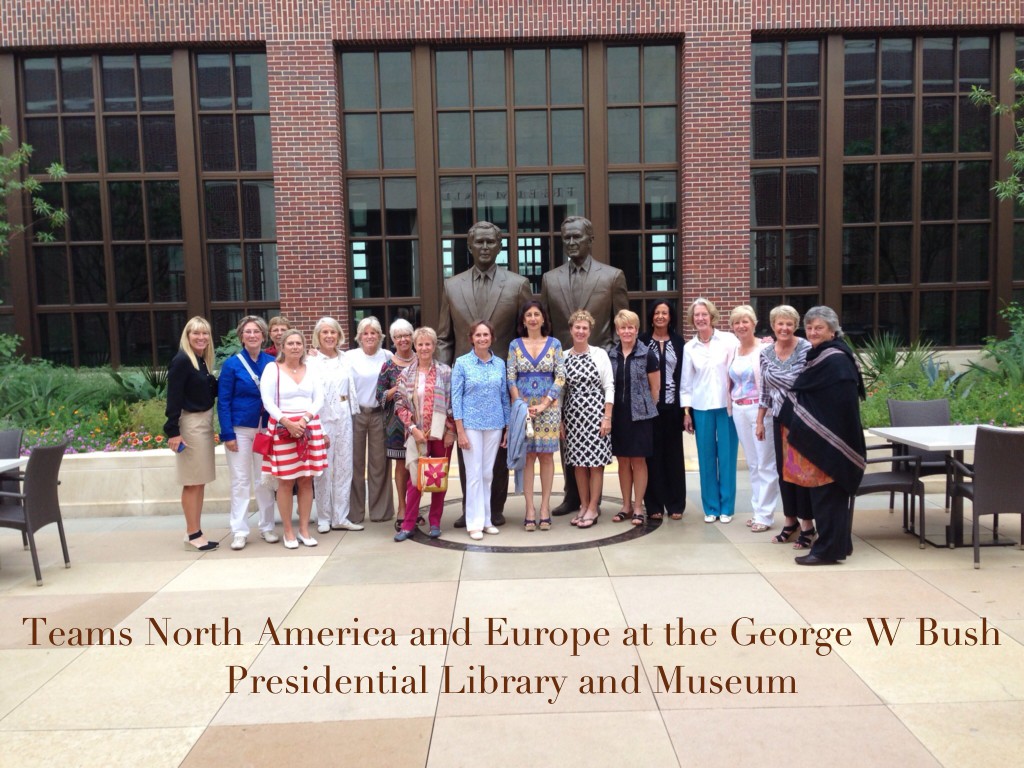 The week's festivities began with a visit to the new George W. Bush Presidential Library and Museum. After team members toured the museum, they were invited to a private dinner and Q & A with the former President upstairs at Café 43. As Hiestand entered the elevator for the upper wing, she noticed a most familiar face. "I walked in and there he was," recalled Hiestand. "I said, 'Hello, President Bush, I'm Mary Jane Hiestand.'" Later, she had the good fortune to be seated at dinner next to the President.
"We talked a lot about the golf event and then luckily about baseball," said Hiestand. "Being a big Tigers fan, I apologized to him about that. But then he exclaimed, 'Hey, I love Verlander!  He's the best pitcher I've seen in a very long time.' " Hiestand summed it up by saying, "An exciting evening was had by all."
Two evenings later, the opening ceremonies of the matches were held at Brook Hollow and again the President was in attendance. Team photos were shot as well as individual keepsake photos taken with the former Commander in Chief. To cap it off, there was a team dinner with the President in a private room at the club. "As it turned out, this was also the night of the Major League Baseball's All-Star game," said Hiestand, "and I ended up being his eyes and ears about the game."
In the course of the competition, Hiestand reported the President was a "real cheerleader for both teams," watching a number of the matches and being an avid observer. In a touch of class on the first day of the competition, he personally greeted each player on the first tee.
Hiestand's highlight, besides the outcome of the matches, occurred on Thursday afternoon following the morning matches when she joined a foursome with the President. "He's a pretty good player and loves to needle his opponent," said Hiestand.
Oh yes, and what about those matches? The NA team prevailed and retained the Cup in a convincing 10 1/2 to 5 1/2 point margin. The NA now leads the Europe 14-12 in overall matches.
Hiestand played very well, ending the week undefeated with two wins and a halve in her three matches (foursome, four-ball and singles.) Indicative of how the NA captain valued her game, she was first off in foursomes and four-ball and anchored the final singles match. Her victorious team mates were: Taffy Brower, Mary Capouch—Captain, Carolyn Creekmore, Nancy Fitzgerald, Diane Lang, Therese Quinn, Anna Schultz, FeeFee Tingley—Co-Captain, and Corey Weworski.
Europe's team members were: Mimmi Guglielmone (Playing Captain, Switzerland) Dominique Pelzer (Co-Captain, Belgium), Virginie Burrus (France), Catalina Castillejo (Spain), Francesca Cristillin (Italy), Sheena McElroy (Ireland), Guenda Moavero (Italy), Casilda Castillejo Oriol (Spain), and Marie Christine de Werra (Switzerland.)
Let's see now: private museum tours, intimate dinners, talking golf and baseball with the President, and spirited and winning international team competition at a top-shelf venue. Now that's what I call a good week, Mary Jane.  And Michigan golf is proud of you.
Images courtesy of SWIM