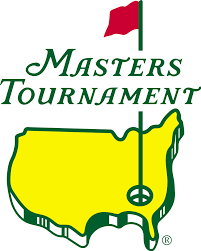 Tuesday
Rain is expected so the traffic getting to the course was extra heavy. Probably no play this afternoon. Tiger played nine holes yesterday with Couples and J. Thomas. Couples said he was "bombing it." At 11 am, is his press conf. He'll officially announce his plans. Big question: will his legs hold up for 72 holes, assuming he makes the cut?
Jon Rahm drew some laughs in his presser when asked if he's ever received advice from Tiger about playing Augusta National. "No." Years ago he asked Tiger about he handles chips on different lies. "It's all feel; you stay shallow," Tiger answered tersely. Then Rahm recalled Tiger giving buddy Justin Thomas a  "dissertation" about playing Augusta National.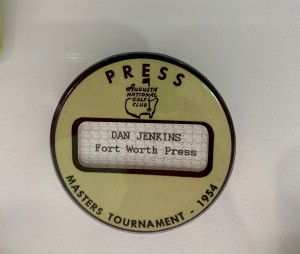 Wednesday
The Masters does a stellar job of preserving its history including those notable golf writers—like Dan Jenkins—who covered 68 Masters.
Thursday
As Brook Benton used to sing, "A Rainy Night in Georgia" has caused tee times to be pushed back 30 minutes today. Over an inch of rain overnight. An unlike a PGA Tour stop, the ball will be played down. No "lift, clean, and cheat" at the Masters!
***
Another Masters tradition: The scoreboards around the course today list in order: Masters defending champion, the US Amateur champion (Michigan's James Piot), the US Open champion, the Open Championship champion, and the British Amateur champion.
PS British Am champion Laird Shepherd won after once being down by 8 holes and 4 down with 4 holes to go. Won on the second playoff hole.
*** 
I caught up with James Piot after he signed his card for 81 today: "Obviously, I'm disappointed with my round; I just didn't have my stuff. But hey, I'm at the Masters." When asked how were his nerves on no. 1 tee, he said: "Better than expected. It was much worse when I was at Bay Hill—more nervous there." ….On his triple bogey on 13: he said he hit a poor drive (into the penalty area) and then hit a poor approach shot (his 4th) into Rae's Creek. 
He also mentioned how much he enjoyed his playing group of Hideki Matsuyama and Justin Thomas. "Hideki's chipping was phenomenal." Despite having a sour taste in his mouth from his round, Piot was still upbeat and gracious. "It's awesome being here." He plans to eat and get some rest and then will spend some time at the practice range. Tomorrow is another day.
Some more quotes from James Piot after his round Thursday:
About the commotion of being at the Masters and playing behind Tiger Woods:
"It was really cool. Just all the people out there and you get in a zone. You kind of learn to block them out….Playing a public course helped me out because I would have buddies throwing stuff at me and yelling while I'm hitting balls. I don't notice the background noise and all that stuff. It was awesome today; it was unforgettable."
Friday
I spent 90 minutes at the 11th green and 12th tee. Didn't see anyone hit the 11th green in regulation. The tee shot at 12 is scary. I watched Spieth hit a decent iron on 12 yet a gust came up and he found the water. And his next shot, not fully committed, also found the water. Triple…About the tee shot on 12, always liked what Nick Price once said to his playing partners immediately after hitting his shot in a stiff breeze: "Now it's all in the hands of sweet baby Jesus."
***
Again, I caught up with James Piot, 23,  after his round today when he carded a two-over 74 and finishing 11-over for the tournament, missing the cut as an amateur and as the reigning US Amateur champion. None of the other five amateurs made the cut.
"I felt better today and was happy to get off to a good start with  birdies on the second and third holes," said Piot, a fifth year senior at Michigan State Univ. Asked what he took away from playing with Hideki Matsuyama and Justin Thomas: "The big difference between amateurs and Tour pros is the quality of their misses. They leave their bad shots in the right spots." 
Re Augusta National GC these last two days: "It's the hardest place you'll ever play." Looking back at the last two days, he's proud of his four birdies on the front nine today–at 2, 3, 7, and 8. "The whole week was incredible," said the affable Piot who's now headed for the RBC Heritage at Hllton Head, SC. Again, he'll play as an amateur this week then turn professional for the US Open in June.
Saturday
In the cumulative Masters stats after two rounds, the all-important Greens in Regulation (GIR) and Putting figures always stand out. Sergio Garcia and Tyrell Hatton co-lead in GIR with 80.6% (29 of 36) while leader Scott Scheffler is T-3 at 72% (26 of 36). In putts, Justin Thomas leads with 52 putts and Scheffler is T-7 at 55 putts, along with Tiger and several others. Also telling is Scheffler is T-6 in Driving Accuracy, missing only 5 fairways and is 14th in Driving Distance averaging  298 yards.
To some of my Michigan friends' delight it's cold here in Augusta. I've been out on the course and with the wind chill it's 47 degrees. Tough and raw day for golf. One green jacketed member complimented me on my rain gloves. They came in "handy" to ward off the cold.
Sunday
Key player stats after 3 rounds. In cumulative putting, Scottie Scheffler is T-1 with 82 putts, shared with Cam Smith and Varner III; In Greens in Regulation: Scheffler is T-2 with 38 out of 54; in Driving accuracy: he's T-5 with 38 fairways hit out of 54. All-around strong performance. So far.
Warm, clear day here with a little wind. Earlier there was an aerial banner overhead hawking "White Claw." Contrary to urban myth, the Masters doesn't control the air space.
Rory Mcllroy is chasing Scottie Scheffler in the words of announcer Colt Knost earlier today: "All gas; no brake!"
Prize money and memorabilia earned by Scheffler:
Money: $2,700,000 
Sterling Silver Replica Masters Trophy: Winner 
Gold medal: Winner
Crystal Vase: Day's Low Score (67), Round 2 
The 2023 Masters will be held April 3 – 9.