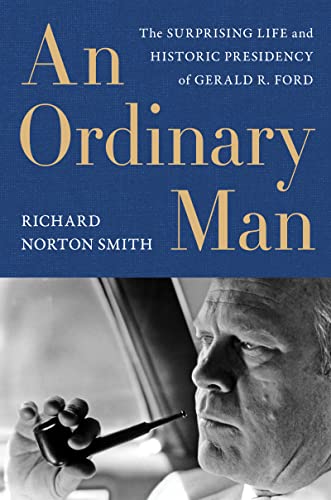 Being laid up with a bum kneecap, I've had more time to read of late, including books—even one with over 800 pages.
For me, it was a page-turner. It's An Ordinary Man, The Surprising Life and Historic Presidency of Gerald R. Ford, the definitive biography of Gerald R. Ford, the 38th President of the United States and the long-time Congressman from Grand Rapids, MI.
As maven readers of the Michigan Golfer may recall, President Ford had an early association with this publication when its first issue appeared 40 years ago. In the debut issue in April 1983, I published a hand-written letter from Ford, then the former President, congratulating me on it and promising me he'd be happy to talk to me about golf. (I had sent him a letter earlier that year making him an honorary subscriber.) It was quite a coup for this neophyte editor and Michigan Golfer. And yes, I did follow up with him later that summer for a memorable interview. More on that later. Back to the book.
An Ordinary Man is written by Richard Norton Smith, the highly respected historian of three other biographies, who also served as the Director of Gerald R. Ford Museum and Library in Grand Rapids and Ann Arbor, Michigan. In all, he was the director of four other presidential libraries. During his time in both Grand Rapids and Ann Arbor, Smith became a close friend of the Fords. To wit, he gave the eulogy at the funerals of both the former President and First Lady.
In graceful prose and with painstaking research derived from ten years of study, Smith traces the unlikely ascent of Ford, from his earliest days growing up in Grand Rapids, to his success on the gridirons at South High School and the University of Michigan, to his naval experiences in WWII, to his upset win in 1948 for the 5th Congressional seat where he beat the favored incumbent, and eventually to the ultimate hallways of power in Washington, D.C.
For a baby boomer and history buff like myself, I found this thorough examination of Ford's life and times captivating. It retraces some pivotal periods of our recent history: the JFK assassination and subsequent Warren Commission (on which Ford served); Vietnam under Presidents Johnson and Nixon; Ford being named Vice-President and then becoming President after Nixon's resignation, to Ford pardoning his predecessor in spite of its expected public and political fall-out; and to his two eventful years of a presidency marked by the fall of Vietnam and a struggling economy beset by a recession and inflation.
To these crises, Smith describes how Ford brought his disciplined work ethic, common sense, and genuine people skills to bear in meeting the demands of his responsibilities. A few salient quotes:
From his first days in Congress, Ford's secretary Anne Holkeboer described Ford's office routine as "he was there early and stayed late." He was a stickler for reading and answering mail promptly from his constituents. He instructed his staff to reply back to letters preferably on the same day but no later than 48 hours.
On this note, Norton recalls a marvelous anecdote about a constituent writing Ford about a missing government check which was subsequently hand delivered by the young Congressman. Then the story received an unexpected second life with the constituent's daughter eventually working for the Secret Service and being assigned to the President.
In the long litany of tense times as President in the Oval Office, Ford was always seen as "the most serene man in the room." Like all Presidents, the Grand Rapids native was tested many times. Those scenes are described in detail from various sources. 
Of course, the mentions of golf in the book caught my attention.
As Congressman, Ford played regularly at Burning Tree Country Club in Maryland. (He later told me he played once a week when he served in the House.)
Each chapter of the biography is introduced by a telling quote about Ford or from him. Here's one from Barry Goldwater in 1963 about Ford: 
"Any man who can take a thirteen on Pine Valley's number seventeen and come home laughing, to me, is the kind of fellow I will back."
In 1977, as former President, Ford scored his first and only ace at the Danny Thomas Memphis Classic in front of thousands of cheering spectators. 
"It's the best day since November," (when he lost to Jimmy Carter in the election) he boasted.
For twenty years beginning in 1977, Ford hosted a two-day charity golf tournament in his name in Vail, CO, which brought in Tour players and celebrities. It raised millions of dollars for various causes.
His son Steve, who got the golf bug late in life, played with his father when he was 92: "Everyone once in a while, he'd catch his drive pretty good and it would go 175 yards…and you could just see him bristle up like a big old rooster."
After reading An Ordinary Man, it renewed my admiration for Ford, not only as President but as a man of integrity, kindness and probity. There are countless examples cited in the book demonstrating these personal traits. 
Forty years ago, he took the time to compose a letter to me—as he did for thousands of constituents in his heyday—and invited me to interview him at his new home in Beaver Creek, CO.
Despite being put off by one of his staff members, I prevailed later that summer of 1983. Joined by my spouse Deb (and official photographer) I was granted a 30-minute interview at his home office. Ford was so gracious and relaxed that it certainly allayed some of my nervousness. (I wrote at the time: "I was quite busy trying to straighten my tie (quite a feat given I wasn't wearing one) and untying my tongue."
In that interview, I asked the President when he first started playing golf and where. 
"I started as a caddy for my father and uncle…when I was 12 or 13 years old I caddied at the Old Masonic course in Grand Rapids which is now Green Ridge. My father and uncle belonged there."
I related that I grew up playing at Green Ridge but never knew of his ties there. I did know he was later a member of Kent County Club which still proudly displays and preserves his locker.
Being a frequent playing partner of comedian Bob Hope, Ford couldn't resist making this quip when I asked him about his game:
"My game's getting better and the best evidence is I'm hitting fewer spectators," he said with a big smile.
Even the former First Lady Betty Ford could get in a golf zinger which I read at the time in the current Ford Invitational program:
"He's so optimistic and upbeat—except when he has missed a short putt—and then look out!"
Gerald R. Ford was an ordinary man who did extraordinary things and never lost the common touch. Even on the greens.
images courtesy of HarperCollins Books, Vail Daily and Deb Moore