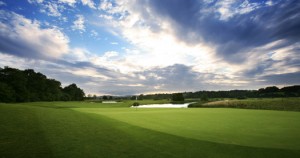 What we're going to see come October 1 is a golf-rich country hosting a riveting championship on a generally lousy golf course redeemed by a most clever finish.
There is nothing of Welsh-flavored golf at The 2010 Course, a glorified patch job engineered for the Ryder Cup.  Fourteen holes of dead-flat slogging through the rather aptly named Valley of Usk lead to some thumping good stuff: a four-hole finish that includes a drivable par-4 and concludes with a par-5 that can be reached, though not readily, in two shots, the second of which must fly a greenside pond.  There will be moments when decisions and execution down that stretch will mean much.  Risk/reward, hero/goat, defining swings.  It will be fun to see, especially for the loads of fans who will watch it all from the best seat in the house: the stadium-like rise that forms one side of the Valley.
It is a course that will never make anyone's best-of list, and if it goes onto the must-play list of some golfers, it will not be because it epitomizes Welsh golf, but because it had a moment's flare in the spotlight.  Upcoming U.S. hosts Medinah (2012) and Hazeltine (2014), along with past venues like Valhalla, The Country Club and The Ocean Course at Kiawah, have hosted plenty of U.S. Opens and PGA Championships.  For painfully obvious reasons, The Belfrys, K Clubs and 2010's of this world will never host the Open Championship.
There is nothing flavoring of Wales about the competition's host, the Celtic Manor Resort, either.  The very best that can be said of the resort's flagship hotel, a 350-room brute bristling with cherry-red faux awnings above each window, is that it's a fine chunk of infrastructure for a world-class pageant.
For Wales, though, it's all about the spotlight.  The Ryder Cup is An Event, and what it will do this time around is showcase Wales and its golf.
The countryside is beautiful, the people warm, and first-rate links golf is strewn liberally along its shores.  Aberdovey, Royal St. David's, Pyle and Kenfig, Pennard, Southerndown, and the jewel that is Royal Porthcawl will gain more notice over three days than they have in the 100 or so years they've been in existence.
The world is not getting a first-class golf course out of this contraption of a venue.  But Wales, its people, and its marvelous golf are all making their debut on a worldwide stage, and they will more than stand the scrutiny.
TheAPosition is a big fan of the Champions Tour.