Critics are typically charged with making judgments based on first or preliminary impressions. Movie critics don't typically have the luxury of watching films over and over to absorb their intricacies. Wine critics can render reviews after rifling through dozens of glasses in one sitting. Book reviewers have to process enormous amounts of material on deadline.
Similarly, many of my reviews here are based on single rounds or visits; I have a pretty good memory for golf holes and I strive to verify what I think I remember, but occasionally a course is so average I simply do not connect to it, and its memory becomes vague or, worse, suppressed.
That's the case with Craft Farms—I just really don't have much to say about it. Arnold Palmer's firm designed the original course over 20 years ago, now called Cotton Creek, and developed enough of a relationship with the owners to be invited back later to build an additional nine. In 1998 they returned for nine more holes, which brought the development to a full 36-holes.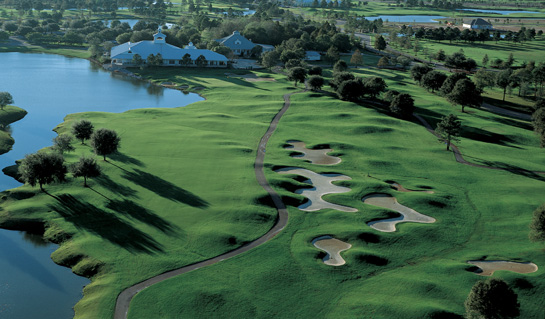 The land underfoot at Cotton Creek is spacious and even idyllic in spots—it could just as easily be in, say, Missouri as south Alabama—particularly the serenely wooded run from ten through twelve. But the holes are just as often typical, running through the center of the property's houses and retention ponds. There's quite a bit of water on the course and Palmer and Ed Seay are very fond here of positioning their greens up against it or just over it. The mounding—of the dimpled and chocolate drop variety—dates it and has nothing to do with the environment.
Cypress Bend is the newer of the two, and a touch more ambitious with the bunkering though the themes are largely the same: loaded bunkering, greens snuggled up against ponds and soft shaping around the putting surfaces. It's more open, which is nice, but I just can't get excited about any of it. (83, both courses)
Gulf Shores
Architect: Arnold Palmer Design
Year: Cotton Creek Course, 1988; Cypress Bend Course, 1998