Okay, we're not breaking any news here by recommending you listen to podcasts. Hell, while we're at it we might as well let you in on another little secret. "Um, there's this cool thing called the World Wide Web–check it out." Ignorance: We don't assume this about you.
Podcasts, after all, have become nearly as ubiquitous as blogs–who doesn't have one? But there's a reason they're so popular: they're the best damn fillers of empty time and head space (walks, workouts, car trips, massages) since…well…ever. And whether your interests are food, football, automobiles or anime, someone is out there talking, and talking, about it in a podcast. [However, if anyone knows of a good, in-depth non-instructional golf podcast, we're all ears.]
Yes, there's something for everyone in podcast land, a digital dialogue to scratch every peculiar itch and fetish. The Checklist, of course, has a few favorites of its own. The following are three of cyberspace's (or iTunes's) best podcasts that simultaneously entertain and inform and generally transcend the strict limits of genre. Check them out if you haven't already.

Mohr Stories–Comic, actor and all-around motormouth Jay Mohr of SNL, "Jerry Maguire", Jim Rome and Opie and Anthony radio fame takes you on hilarious and completely not politically correct digressions into the sidelines and frontlines of show business, standup comedy, addiction, racial stereotypes, scatology and anything else that happens to come up. A masterful storyteller and impressionist, Mohr's highlights include stories from behind the scenes on "Jerry Maguire," why he hates Jennifer Aniston, tons of Chris Farley stories (including the time Farley relieved his bowels from an upper story 30 Rock window) and a 90+ minute sit down with actor Eric Roberts. Yeah, Eric Roberts.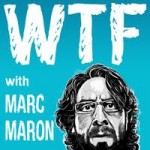 WTF with Marc Maron–We had no idea who Marc Maron was before this podcast came about, but turns out he's been a comic mainstay since the 1980's, alternately pissing people off or intimidating them for nearly 30 years. In other words, he's put in the work. With a career that long and connections to nearly everyone in the industry, there's something like a "6 Degrees of Marc" game to be played, and his podcast is a succession of lengthy heart to hearts with fellow comics during which the reformed Maron attempts to reconcile past affronts while coaxing his subjects to similarly spill their guts. This is a comic's comic podcast, but it's also one of the most entertaining and fascinating shows on the web whether you know anything about the standup world or not. Past highlights include revealing episodes with Robin Williams and Carlos Mencia on the topic of stealing jokes, roiling non-stop chatter with Richard Lewis, Patton Oswalt and Chris Rock, and, recently, an inside look at the life and times of Carrot Top.
B

eer Sessions–Beer may or may not be your thing, but if it interests you at all this is a must listen. For nearly two years Jimmy Carbone, owner of the great subterrenean East Village beer haunt Jimmy's No. 43, has hosted this entertaining and engrossing show covering the world of craft,  international, micro-, nano- and gypsy-brewed beer. Each week brewers, importers, writers and bloggers, and various other characters from world of beer join him in slightly inebriated discussion on everything from ingredients to production to taste. Though the focus in primarily on Northeastern beers but the show is a pure celebration of all things beer and the wandering conversations invariably extend to regional craft beers like Stone, Cigar City, Victory, Russian River and Goose Island, as well as the great Belgians, lambics, saisons, wheats and bitters of the world.