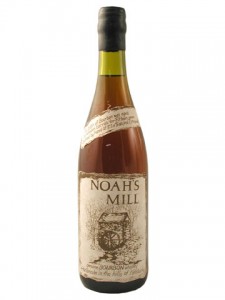 Noah's Mill "Genuine Bourbon Whiskey" Kentucky Straight Bourbon Whiskey
114.3 Proof, Kentucky Bourbon Distillers, Batch QBC N° 10-57 and QBC N° 12-15
The other day at one of the package stores I shop I noticed a few bottles of the Noah's Mill ($49). I knew I'd had it before but could not recall if I'd scored it or anything else I might have thought of it. Later I went back through my tasting notes and saw I'd given it a pretty big score about two years ago.
I'd like to think that bourbons that really impressed me, like the small batch Noah's had, would stay with me. This obviously hadn't, so I fetched another bottle, curious to see if the review would hold.
What was I thinking? The Noah's Mill is remarkable, clocking in at a jaw-dropping 114 proof but which so much depth and volume that the alcohol sits right in the pocket and doesn't overwhelm the whiskey.
Both bottlings, listed above, released a perfume of apricots and peaches, caramel, earth, spice and tea. Malt and cocoa and caramel come acrossa on the palate, leading to stone fruits, pecan and cotton candy flavors. The end comes wrapped in a slightly buttery, toffee, oak and lanolin finish peppered with some minty spice and a big rye kicker. Yeah, all that.
If there's anything lacking it's that last little bit of esoteric subtext, the mysterious ghosts you sometimes find but can't quite put your finger on that fill in the ether between the knowable parts of a great bourbon. At any rate, I won't be forgetting the Noah's Mill any time soon.
Note: Several more recent tastings don't hold up to this score. This has always been a sourced bourbon, to perhaps the recipe or manufacturers has changed over the last five years. The last bottle I had showed dusty and woodsy flavors with flabby off-notes on the finish. A more representative score of what's probably on the market now would be 3 or 4.
Score: 7