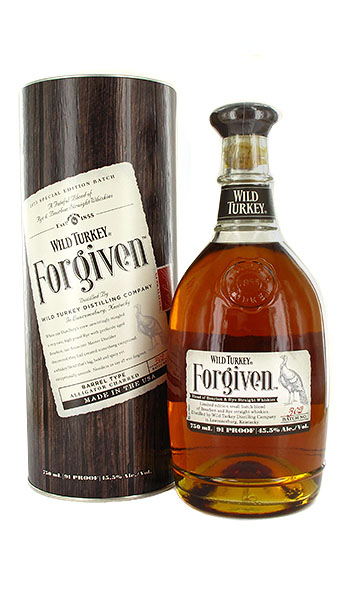 Wild Turkey "Forgiven" Bourbon Rye Blend
91 Proof, Austin Nichols Distilling, Batch 302
Some of the best inventions are stumbled upon by accident, right? X-rays, the pacemaker, LSD, Wild Turkey "Forgiven"…
Well? Supposedly this whiskey came about after someone in the warehouse accidentally dumped a bunch of 4-year old rye whiskey into a barrel of 6-year old bourbon, and when it was tasted, "Oops!" turned into "Viola!"
Or so the story goes.
If something like that did happen it would be understandable that corporate would want to try and make lemonade out of lemons. The industry, after all, is masterful at controlling message, spinning happenings into stories and stories into legends. But Forgiven is far from a "You got your chocolate in my peanut butter!" moment.
In this case, both the rye and the bourbon would have been better served on their own. The combination produces a whiskey that's slightly overripe and lacking balance. The nose shows floral, spicy/potpourri notes along with red fruits and  liqueur and notes of oxidation. Grass and pepper come in on the medium weighted palate carried on a layer of tongue-coating lanolin. Missing are both big, sweet bourbon notes and a bracing framework of good rye.
Give the folks at Wild Turkey points for going with this and showing the avid drinkers among us what can go right–and wrong–in the blending process. Why not, right? And if nothing else this particular bottling shows how corn, barley and rye interact, both in good and not great ways. Even though this bottling rates toward the shallow end of the portfolio, they are forgiven for experimenting with it.
Score: 4