Eagle Rare Single Barrel Kentucky Straight Bourbon Whiskey 10 Year
90 Proof, Buffalo Trace Distillery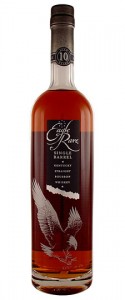 My first review of Eagle Rare on this site a number of years ago was blistering, comparing the bourbon to a soulless strip mall restaurant.
Since then I've probably consumed at least a half dozen more bottles, and I'll just say this: I was wrong.
Two things happened to change my view. One, undoubtedly my palate has evolved, though I doubt that much.
Second, my expectations have changed as the world of bourbon looks nothing at all like it did 7 years ago. Then, paying $30 for a cheesy screen-printed bottle of Eagle Rare could be viewed as a bit of a splurge. This was in the day when at certain times of the year you could find a bottle of 12yo Pappy, and sometimes the 18 or 20 year Pappy, on the top shelf of your liquor store and the only thing preventing you from buying it was that you weren't sure you were ready to plop down $80.
Those same bottles, as we know, are never seen on shelves anymore and can only be acquired for several hundreds–or thousands–of dollars in secondary markets.
Furthermore, 7 years ago there were more good available bourbons in the $20 range, like the 12yo Elijah Craig or the Weller Antique 107, making the Eagle Rare look overvalued.
Today, as Elijah Craig has dropped its age to around 7-8 years and the Weller 107 is impossible to find (at least in the Southeast), Eagle Rare represents one of bourbon's most available and affordable buys, holding steady around $30.
And my evaluation of it ("The nose gives up leather, caramel, dried apricot and a light smokiness. The palate is medium weight and dry with nice concentration and notes of berries, brown sugar and hard candy ending with hints of vanilla. And it's all wrapped up in a predictably tight and balanced package") sounds a lot better now reading back on it than I felt at the time.
Without changing, Eagle Rare both became a better bourbon to me and a better bourbon compared to what was similarly available in the market. So, time changes everything, and Eagle Rare, I owe you an apology. I'll be seeing you soon
Score: 5