Louisiana's new tourism slogan, "Feed Your Soul," seems right on the money to me, having just returned* from a southern tour of the state, packing on five pounds in as many days. And that's with a daily round of 18 holes. Facts are facts, and there's no getting around the statistic that Louisiana heaves in at fifth in the U.S. states' ranking of obesity. But what may be a problem for residents is a positive boon for travelers, since the eating is mighty fine in the Bayou State.
I'm certainly not complaining; the pounds will vanish now that I'm home and I took utmost pleasure in the varied acts of packing on the avoirdupois before, after and sometimes during rounds of golf. I was there to play five of the fifteen courses on the Audubon Golf Trail scattered around the state (five of them with accommodations and stay and play packages).
The Trail is named for John James Audubon, who did much of his pioneering ornithological work in the state, and also because all of the courses must have or be aiming at the ecological standards that confer upon them the status of an Audubon Cooperative Sanctuary. Part of the certification process involves wildlife and habitat management, so golfers can count on seeing as many birds as Audubon himself could have wished for, not to mention more than a few gators.
I landed in New Orleans and managed to launch my new dietary plan with a superb Redfish Bienville dish at Dickie Brennan's Tableau in the French Quarter. New Orleans is a jazz, blues and Dixieland town, which was certainly pleasant enough back at the Bourbon O' Bar at the Bourbon Orleans Hotel, at the confluence of Bourbon and Orleans Streets.
But I had a hankering for something more down home, a bit of squeezebox and Cajun wail, so I wasn't sorry when, after a round the next morning at the sparkling TPC Louisiana (fresh from the PGA Tour Zurich Classic), our group of golf writers hopped on a bus heading due west. Before we began the grand turnaround back to New Orleans days later we had cruised across the state on I-10 to barely 34 miles from the Texas border, and never too far from Gulf of Mexico breezes.
Making the Rounds
The historic district of St. Francisville in the West Feliciana Parish is two miles long and one mile wide. There's a lot of history here, not to mention classic antebellum houses and an Episcopal church and cemetery almost enveloped by ancient live oaks and Spanish moss. Tourists flock here for the sheer southern atmosphere and to check out the Oakley Plantation House, where Audubon lived for a time. (It's now within the Audubon Memorial State Park.)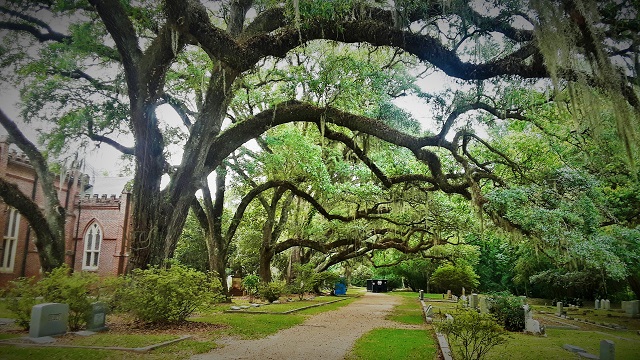 Audubon particularly liked to hunt for birds around nearby Thompson Creek. Golfers can hunt for birdies at The Bluffs on Thompson Creek and put up for lodging there as well. When new owners took over the course two years ago they immediately had to confront catastrophic damage from two major floods within a single year. The course is still recovering in a conditioning sense, but the bones of an Arnold Palmer signature design are still strong, particularly from the split fairway ninth hole on. There's a splendid view of an onsite chapel in the woods here, where many a marriage has taken wing.
Golf balls you hit, boudin balls you eat. We first ran into this local specialty at The Francis Southern Table & Bar. It's basically made from pork and rice sausage, although freed from its casing, formed into balls, then seasoned and breaded and, naturally, deep-fried. Goes well with deep-fried catfish and deep-fried shrimp all on the same plate.
As a craft beer nut, I'm happy to report I was washing down all these fine meals with a seemingly unending series of beers from independent small Louisiana brewers, from the long-established Abita to NOLA to relative newcomers like Urban South, Tin Roof, Bayou Teche, Port Orleans, Gnarley Barley or Crying Eagle, among others.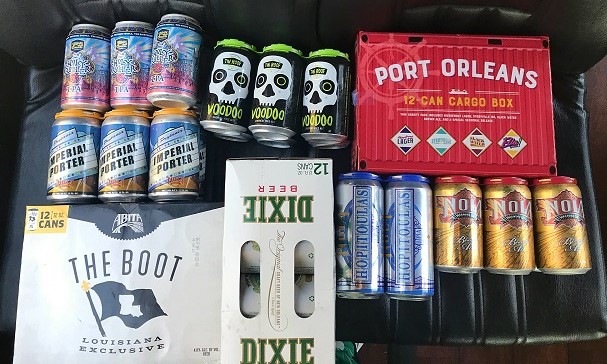 We played at the delightful Gray Plantation Golf Course in Lake Charles, a Rocky Roquemore design where lakes fittingly come into play on 11 holes, and two of the par-3s are island greens. It should be noted that there are plenty of other courses besides the Audubon Trail tracks to choose from in the state, including a resort-friendly Tom Fazio track at L'Auberge Casino Resort.
Everyone seems to know about the devastating effects of Hurricane Katrina in 2005, the seventh most-intense Atlantic hurricane ever recorded. Hurricane Rita seems to be the forgotten storm, though it's ranked number four. It followed Katrina by less than a month and piled on to its damage, particularly in Lake Charles, the state's fifth largest city, long an important petrochemical center.
There's little evidence of lingering harm today thanks to the economic bounty from L'Auberge and three other casinos (the Golden Nugget also has a golf course). We had another whiz bang meal at the L'Auberge's Jack Daniels Bar & Grill presided over by its rock star chef Lyle Broussard.
He brought out heaping platters of beef that might have daunted any dedicated trencherman, but also challenged us with fried oysters, bacon-wrapped Gulf shrimp and grilled redfish. Thanks to 26 beer taps on hand, I felt up to the task and later still managed to waddle over to the blackjack tables.
Les Bon Temps
We were lucky to have a double-dip of Cajun music the next day in Lafayette. The first helping was a hearty dose of fiddle and French accordion at the Mouton Plantation Bed & Breakfast, built in 1820 by Charles Mouton, son of the founder of Lafayette, Jean Mouton. Music is served up every evening along with Cajun hors d'oeuvres (crab pâté, anyone?), the house cocktail and a killer bread pudding.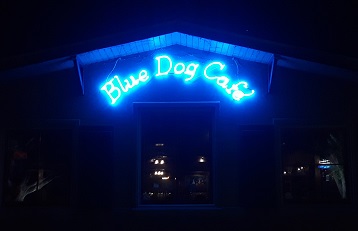 We went blue that night, first at the Blue Dog Café, equally a restaurant and art gallery filled with the works of the late George Rodrique (many, indeed, of blue dogs). Then we wandered over to the Blue Moon Saloon, happily enough for Cajun Jam Night. Even if one is reluctant to try a two step out on the floor it's impossible to stay still once the syncopations of Cajun music get rolling and it was rolling with a good dozen musicians, including two-time Grammy nominated Cedric Watson playing a fiddle with an infectious grin. Well, I suppose we were all grinning. Ça c'est bon!
It takes a certain amount of courage to name a golf course The Wetlands, but it helps if the architect is a graduate of Nicklaus Design and LSU and Frank Burandt scores on both counts. The course opened in 2006 and was deemed tournament ready from the start, hosting the then Futures Tour for four years in the Louisiana Pelican Classic. Liz Janangelo carded a 29 for nine in the 2009 tilt here.
I had no such luck, but certainly enjoyed the round on what is basically a wide-open affair, inviting players to grip it and rip it, as long as they keep an eye open for the marshy areas that run through the course, always agreeably festooned with cypress trees.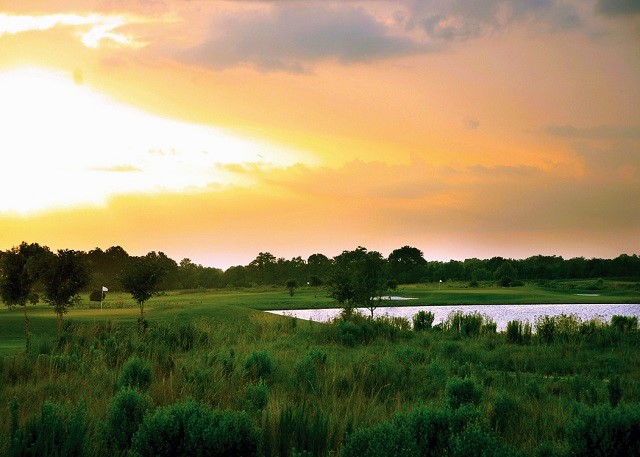 We played a scramble for our getaway round the next day at the Atchafalaya at Idlewild course in Patterson, which also opened in 2006, designed by Robert von Hagge. The course takes the native tree to heart, using 130,000 board feet of cypress for its Acadian-style clubhouse, and planting cypress stumps in the fairways for its distinctive 150-yard markers.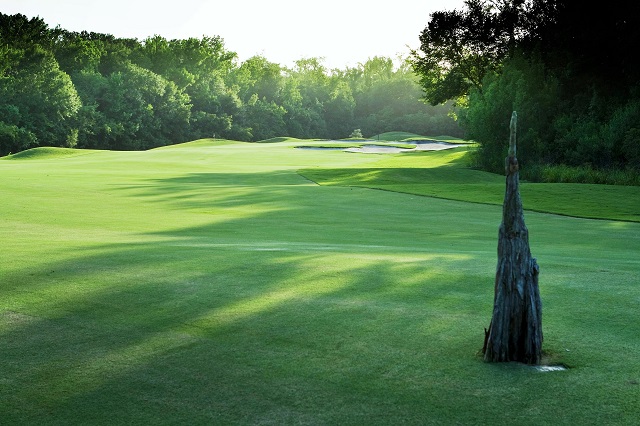 The course winds around five lakes and ten wetland areas, and the corridors are ripe with live oaks and endless ribbons of Spanish moss. There's a decent amount of elevation to deal with, but it helps appreciate the views of the Atchafalaya Basin, the nation's largest river swamp. The tees are named after indigenous animals. Only those who have OD'd on crawfish would play from the 7,533-yard Gator tees, when more forward options (Eagle, Owl, Otter or Turtle) are available.
Our visit took place in mid-May, and we wisely played all our rounds in the morning, before the heat rose into the 90s with considerable humidity to contend with as well. The bonus, besides tremendous value to be had with more than reasonable greens fees, is that the day stretched ahead with more eating and drinking to be done, or other places to visit—such as the craft distillery Bayou Rum in Lacassine or the McIlhenny Tabasco factory tour on Avery Island.
Then there was the houseboat tour we took from Lake End Park in Morgan City on our last night, along with a jambalaya feast for dinner. This cruise up the bayou, gliding along besides the ancient stands of cypress in the sweet evening air and shifting shades of crepuscular light, seemed like the ultimate grace note. I don't think it would be going too far to say that it fed the soul.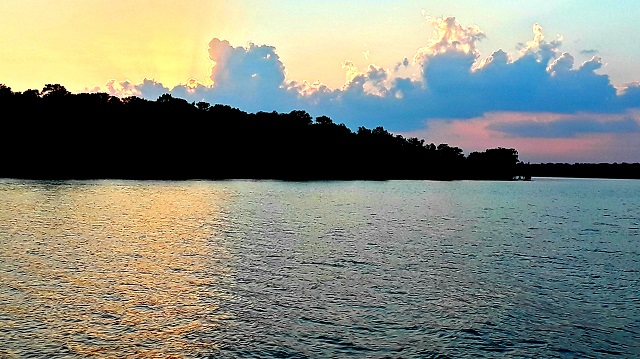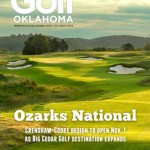 *[The PGA Tour Zurich Classic lets the good times roll in Louisiana each April, so here's one about my trip to the state in May, 2018, playing at TPC Louisiana, among other courses. The piece originally appeared in the June-July 2018 issue of Golf Oklahoma.]