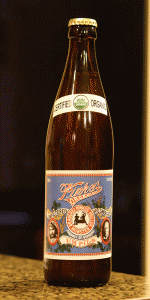 Well, maybe a pilsner is a good wintry choice, after all.  I know the Pinkus Ur Pils was my favorite at a tasting Saturday night at the Forty Putney Road bed and breakfast in Brattleboro.
Tim and Amy Brady hold the tastings every Saturday evening in the cozy pub of their 12-guest B&B, where they usually have two beers on tap and others in bottles.  Since most guests are from out of town, the couple rightly emphasizes Vermont beers, but they're more concerned with serving up seven different styles for a one-hour crash course in beer diversity.
The thirty-something young couple left their professional lives in New Jersey to take over the B&B at the end of 2007, and they're energetic converts to and boosters of the charms of southern Vermont.  But they're also beer nuts and evangelists for the best in the brewing arts.  They'll travel just about anywhere to try an unfamiliar brew, and then they'll post a video about it at their blogsite, "Here for the Beer."  (I wound up in one, "Tim and Tom Talk Trappist," a riveting essay on monastic ales.)
They're also key players in the first Brattleboro Brewers Festival, which will roll into town in late May, with two evening pub crawls on Friday and Saturday nights, May 21 and 22, the festival itself playing out from 1 to 5 pm on Saturday.
There were ten of us for the tasting this past Saturday, four couples staying at the B&B–three from Massachusetts just visiting for a getaway, and one from New Jersey, newlyweds as of the previous evening.
We started off with a hefe-weizen  and rolled right through to an oatmeal stout, five Vermont beers, two German, a nice trip. I'd had all the beers before, but hadn't sampled the Pinkus in a long time.  It was a pleasant reacquaintance.
There are a few novelties surrounding the beer.  The brewery, founded in 1816, is the only one of 150 breweries left in Munster, still family-run to the sixth generation.  It was the first to go all-organic, beginning in 1980, and is one of the few with a female brewmaster, Barbara Müller, at the helm.
And you don't see an unfiltered pilsner every day, either, since cloudy beers still give some drinkers the willies.  But it may be the beer's visual resemblance to a hefe-weizen that lends a zesty quality to the brew, not to mention the snap of the Tettnanger hops.  There's a surprisingly fruity nose to the beer, redolent of apricots, and the overall impression is of a sturdy, filling and yet refreshing beer, suitable for any tankard.
Name: Pinkus Organic Ur Pils
Brewer: Pinkus-Müller Brewery, Munster, Germany
Style: Pilsner
ABV: 5.2%
Availability: Year-round, in all but five states (AL, MS, NH, SD, WY)
For More Information: merchantduvin.com