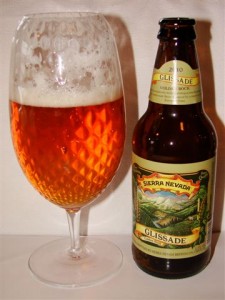 [Update: Glissade is, sadly, no longer being brewed. It has been replaced by Ruthless Rye.]
Back to Sierra Nevada already? Well, as I pointed out in my TAP Beer of the Week 2 entry, this pioneering microbrewery hasn't really made a false step in three decades of brewing.  About the worst the company can be accused of (and that with questionable accuracy) is playing it safe, gradually expanding its reach without greatly extending its basic product line.
Even that feeble barb is now out the window, as one new beer after another is pouring out of Chico.  (Cascading is probably a better word, since SN did much to popularize the use of the Cascade hop in west coast ales.) Many are seasonals or one-offs, but each can be expected to be sturdy examples of the brewing arts, as were the two new beers that joined the year-round portfolio in 2009: Torpedo Extra IPA and the Bavarian-style hefeweizen, Kellerweis.
The Kellerweis was proof enough to me that the brewery could successfully turn its hand to any style it cared to take on, and it has done it again with the new Glissade.  I'm also impressed that it brewed a pale bock at all, in a time when the fashion is leaning toward bigger, blacker, bolder, more Belgian, more bizarro. Not that I'm against drinking any of these, either!
Still, it's nice to revisit a somewhat quieter style, although at 6.4% ABV, there's nothing timid about Glissade.  It's called a golden bock, and the color is just that, almost gold leaf in a glass. Helles (or light) bocks and Maibocks are traditionally drunk in the spring, and the brewery has just that in mind, a beer introduced in winter that will glide right into springtime.
It certainly glides right across the senses.  The nose is sweet, bready, with a touch of fruit–lemon zest or pineapple that may be coming from the Aurora hops.  There's a nice zestiness in the mouth as well, the primary malt character mixing with a mildly spicy bitterness.
In short, Glissade is a sturdy if undemanding beer, with appealing subtleties that could be well-appreciated both before or during a meal.  It's working well in Vermont in February, where we still have a long glide to spring. [Feb. 15, 2010]
Name: Glissade
Brewer: Sierra Nevada Brewing Co., Chico, California
Style: Helles Bock/Maibock
ABV: 6.4%
Availability: Seasonal, nationwide
For More Information: sierranevada.com