With a computer besting its human competitors on "Jeopardy" and the ever-more-astounding assortment of golf simulators, launch monitors, and "motion capture" technology, one may wonder: Will a computer ever take a human golfer in a five-dollar Nassau? Will their Watsons replace our Watsons?
Nah. Like a lot of us human golfers, computers would outsmart themselves. Despite the technical sophistication of many training aids and other gizmos, golf remains an elemental undertaking, however difficult.
That's the appeal of the gift suggestions below. Not only do they trigger the "why didn't someone think of that before?" reaction, they're affordable, especially relative to, say, a golf simulator with a five- or six-figure price tag. They are also portable and – important to fellow golfers in the suddenly snowbound Northeast – can be used indoors and out. Plus, I like their names.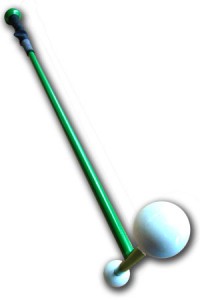 The Zoom Boom. In the absence of actually hitting golf balls, teaching professionals have long touted the value of simply swinging a golf club to maintain flexibility, tempo, and so forth. The Zoom Boom Swing Trainer takes the notion a step further.
It's a weighted shaft with two counter-balancing nodes that force hands and arms into the correct impact position as you make the swing. Heavy enough to provide a "golf workout" just by devoting five minutes a day, it's designed to prevent users from repeating swing flaws that may accompany just swinging a regular club.
"And there's no thinking or analyzing involved," says Lance McWilliams, the Texas-based pro who invented Zoom Boom. "You just swing the thing. It's also a great way to warm up for a round or, at this time of year, to winterize your golf game."
The Little One. The miniaturization concept has been tried in other ball sports: A smaller rim for honing basketball shooting, the rod-like Thunder Stick to sharpen baseball batting skills, even a smaller cup to refine putting acuity. Originally developed by "another frustrated golfer," Dan Bonomo, a decade ago, The Little One is a club with a head just slightly larger than a golf ball and the loft and heft of a 7-iron. The extra focus required to hit the ball boosts ball-striking consistency.
Bonomo founded Scottsdale-based PSP (for Pure Solid Perfect) in 2007 and recently paired with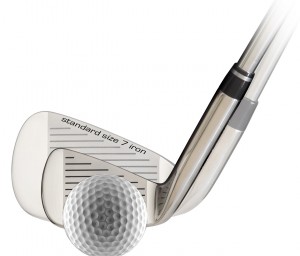 clubfitting pioneer Henry-Griffitts , who now carries The Little One in their fitting cart. (If you're already a Henry-Griffitts user, as I am, you can get a custom-fit model of The Little One using the swing specifications already on file in the company's database.) PSP also offers The Wee One, designed specifically for juniors.
It's too late in the season to assess The Little One's potential for improving this writer's ball-striking, but it's definitely effective on the practice range: My pre-round warm-up has traditionally been devoted exclusively to physical flexibility, with little regard to quality ball contact. True, you can't remake your game minutes before heading to the first tee, but The Little One helps me concentrate on striking the ball solidly, not just a limber motion.
Ball of Steel. Even for the pros, the most common culprit in missing short putts is a tentative stroke. As a serial gagger, I can't wait to reap the benefits of Ball of Steel – Balls, to be precise, as the package includes three red balls, the same size as the regulation golf ball but five times heavier. Again, the concept is elementary: The heavier object's inertia forces you to make solid contact.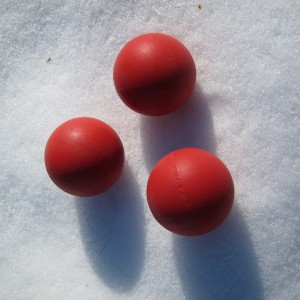 A product of Eyeline Golf , Ball of Steel encourages a rhythmic backstroke and acceleration through the ball. Pulls and pushes are instantly recognizable, reinforcing the importance of striking the ball on the sweet spot.
Unlike the Zoom Boom and The Little One, which have other short-game-improvement applications, the Ball of Steel is intended to improve your putting from six feet and in, not for lag putting or chipping. Also, when there's snow on the ground, as shown here, be sure to take it indoors.
# # #