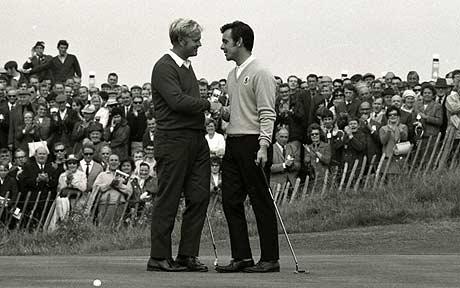 The story of "The Concession" is justly known to most golfers as the classy, uber-sportsmanlike gesture it was: Jack Nicklaus conceded Tony Jacklin's two-foot putt, thus ensuring a tie (with America retaining the 1969 Ryder Cup) in both their 18-hole dogfight and in the team score. It remains a part of the Cup's, indeed the game's, lore; just not the fresh kind.
That's what makes Draw in the Dunes, by Neil Sagebiel, a pleasant surprise for those of us who may be enthralled by the nail-biting golf of the Ryder Cup but could easily do without the accompanying jingoism. (The book's subtitle is The 1969 Ryder Cup and the Finish That Shocked The World.)
Thus, while the narrative doesn't stint on recapping particular matches, it's not like listening to your 14-handicap buddy's blow-by-blow account of his latest round; it never comes off as a paean to the event or even, overtly, to golf. If you're put off by the commercial enormity of this weekend's Ryder Cup, perhaps it will help to know how close the whole thing was to extinction, which is how Sagebiel begins his treatment.
But Sagebiel, whose previous book, The Longest Shot, explored Jack Fleck's Cinderella US Open victory, achieves an up-close-and-personal quality to the principals involved by interviewing them or reading the print accounts of others: Only about three minutes of the many hours of BBC-TV coverage were archived by rights-holder IMG.
So there's a bit of chest thumping about playing for one's country, but plenty more just-folks petty resentments and antagonisms. In fact, for fans who prefer the more colorful characters of bygone golf eras, versus the automatons of today, Draw may be cause to rethink the position. Ken Still, a Ryder Cup rookie on the U.S. squad, "might pause along the gallery ropes to kiss an attractive female spectator."
Some of the coverage Sagebiel quotes is similarly, amusingly anachronistic. Would anyone today write, "Hard to watch the golf with Frank Beard's wife, Patti, around"? One correspondent did, adding that she was wearing a miniskirt, red tights, and black boots.
You don't have to read Draw in the Dunes while this year's Ryder Cup is in progress, but the contrast between the rough-and-tumble 1969 version and this year's elaborately produced extravaganza is gob-smacking. The unsanitized approach makes the book, at 320 pages, an engaging combination of golf and sociology you won't get watching every minute of this weekend's wire-to-wire television coverage.
Foreword by Jack Nicklaus and Tony Jacklin, $26.99, Thomas Dunne Books.
[See Tom's piece on "Golf Fan Etiquette" and many more Ryder Cup stories at the 2014 Ryder Cup Issue of The Grain.]
# # #