Good tidings in the golf industry may be hard to come by these days, but they do exist. Two recent examples with special resonance for this writer reinforce the point.
Waubeeka Golf Links, in Williamstown, Massachusetts has been rescued from the real estate development block and continues to operate as the cherished layout it's been since it opened in 1966.
Purchased by Mike Deep, a businessman and golf fanatic from nearby North Adams, Waubeeka's long had a checkered ownership history. Before Deep stepped in, a 2007 sale to a Colorado-based investment banker led to a facelift that included redesign (by Mark Mungeam) of several holes and construction of a first-rate practice facility with a mountain backdrop, pictured above.
Having been a member at Waubeeka in the late 1980s and early 90s, it's always been to me what Aberdovey, in Wales, was to golf-writing luminary Bernard Darwin: a course whose charm surpasses its reputation and scale, a layout that seems more engaging the more you play it.
Waubeeka also embodies the elements frequently cited as key to the game's survival: playability, affordability, accessibility. At 6,368 yards, par 71 from the back tees, its defense is clever greens complexes, not length. It's a great walk, with two contrasting nines, in a quintessentially New England setting. And its golf-crazed membership – thrilled to retain their favorite track – are happy to welcome outside play.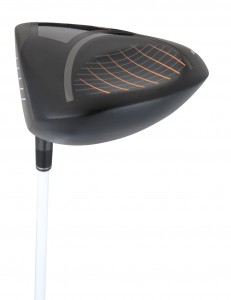 PowerBilt golf clubs. The first set of sticks my folks gave me were PowerBilts, quality equipment that lasted through my formative years and even accompanied me to college.
Part of the Hillerich & Bradsby brand, a family-owned outfit that includes Louisville Slugger bats and Bionic gloves, PowerBilt has made clubs since 1916 and has been used intermittently to win major championships; but the brand has languished in golf's evermore marketing-heavy sales environment in recent years.
Now led by Ross Kvinge, a well-liked and –respected golf industry veteran, PowerBilt's making a comeback. Touting what it calls Nitrogen N7 technology, its marquee product for 2014 is the Air Force One DFX Driver.
No metal woods can ever be as eye-pleasing as their persimmon predecessors, but the new PowerBilt model is pretty cool-looking. In my decidedly unscientific comparison – there's a reason you've heard of Iron Byron, never Rubber Byron – using the launch monitor at Golf & Body, in Manhattan, the Air Force One performance matched that of other major-brand models.
Good looks and performance undoubtedly account for PowerBilt's particular popularity with junior golfers. So some things, thankfully, never change.
# # #