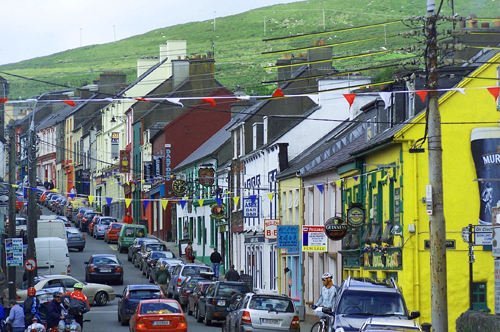 WJML/WJNL morning radio host Michael Patrick Shiels originated his St. Patrick's Day Show live from Ireland.
Shiels, 41, interviewed local Irish notables – parish priests, pub owners, musicians, historians and more live from Doonbeg Golf Club in County Clare.
"Many of Michigan's counties and towns were named for places in Ireland," Shiels noted during the broadcast. "Antrim, Wexford, Clare, the Irish Hills, and Detroit's Corktown are among those owing their heritage to the Irish. Of course, even Boyne owes its' name to the Boyne River north of Dublin, a very prominent spot in Irish history."
MPS's radio show included Irish music, heritage, customs and a bit of politics. Shiels, and author and travel writer, who is of Irish descent, frequently chats on his radio show with celebrities, superstar athletes, business executives and politicians. In fact, while running for president, Governor Mitt Romney joked about naming Shiels U.S. Ambassador to Ireland if Romney were elected.
"With a name like Michael Patrick Shiels, I'd say you have a very good shot at being named Ambassador to Ireland," Romney told Shiels on his radio show.
"My Michigan listeners adore hearing Irish voices and music on St. Patrick's Day and I was thrilled to have this opportunity to give them an authentic 'Full Irish' sort of morning show," said Shiels, who arrived in Shannon on Friday in cooperation with Tourism Ireland, Aer Lingus, Sceptre Tours, and Dan Dooley Car Rentals. "I have traveled the world as a journalist, but my visits to Ireland have always been far and away the most special to me."
Shiels, who featured Ireland on the cover of his latest book "Secrets of the Great Golf Course Architects," has also been filing daily radio reports back all week from Irish locations in Dingle, Tralee, Lahinch, and Connemara. He's reporting from Dingle Benners Hotel in County Kerry; the Doonbeg Lodge and Lahinch Golf and Leisure Hotel in County Clare; and the Abbeyglen Castle Hotel in Clifden, County Galway. Shiels also planned to visit the famed Cliffs of Mohr and play golf at Lahinch – Ireland's oldest golf course, as well as the Arnold Palmer-designed Tralee Golf Club, Greg Norman's Doonbeg Golf Club, and the wild, seaside links of Connemara.
The visit marks the 15th time Shiels has visited Ireland.
"St. Patrick's Day in Ireland"
March 18, 2009
Originally printed in the Talk of the North