Maybe I didn't technically set an official Guinness World Record, but my three-day diverse whistle-stop had to be an unprecedented combination of cities on consecutive days: Frankenmuth on Friday; midnight in Manhattan on Saturday; and Sunday in South Africa.
"Chicken is not a German dish," admitted general manager Amy Zehnder Grossi, who represents the fourth generation of a family that's served platters of it anyway, along with buttered noodles and Deustch treats, such as spatzle, sauerbraten, and schnitzel to 20 million guests since 1888 at Bavarian Inn. The costumed fraulein waitresses, glockenspiel, cuckoo clocks and covered bridge give the charming town and its' guestrooms a Disney-Epcot feel, but Frankenmuth is authentic – Michigan's "little Bavaria" was founded by pioneering German missionaries in 1845. The eight-acre campus of the iconic Bavarian Inn, with 360 guestrooms, is a beehive of activity spanning the Cass River including shopping, swimming pools and slides, live music, wine tasting, candy making, conference rooms and family fun.
The next night in New York I crawled through a cellar hidden beneath the swank midtown bar and restaurant called "21:" a Prohibition-era "speakeasy" turned "see and be seen" soiree. Bottles hidden below…models suspended above: vintage wines in the cellar and toys suspended from the dining room ceiling – both due to the luminaries who've haunted the halls since the days of Humphrey Bogart, Howard Hughes, Hemingway, and, hence, Harrison Ford. The pool cue Jackie Gleason used in the film "The Hustler" is steps from the booth Michael Douglas, playing Gordon Gekko in the "Wall Street," advised Charlie Sheen's Bud Fox to order the steak tartare – a sensible suggestion, still.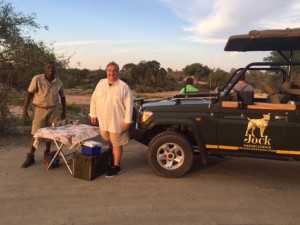 JFK to Johannesburg, 16 hours non-stop via South African Airways, put me just a puddle jump from "Jock Safari Lodge," a luxury encampment right out of central casting in the animal kingdom's Kruger National Park. Within an hour of arrival I was in an open-air vehicle on a twilight game drive within feet of roaming giraffes, a white rhinoceros, a swimming hippopotamus, baby elephants, a honey badger, zebras, baboons, and yes, lions – which would later have their dinner of fresh antelope disturbed by screeching hyenas, which were much bigger and more menacing than I had imagined. In the pink and red light just before dark, guide Lazarus Michonto pulled the jeep over, set up a table, and served gin and tonic "Sundowners" in copper mugs. It was a civilized moment in the wild.
Back safely later in my guest cottage at Jock's walled lodge, after a dinner that included antelope of my own, I took an outdoor shower, ducked through the netting around my bed, and fell into the sheets after two continents and three cultures in three days.
Visit BavarianInn.com, 21 Club.com, and JockSafariLodge.com.
Michael Patrick Shiels may be contacted at InviteYourself@aol.com or via TravelTattler.com His talk show can be heard weekday mornings in Lansing on 92.1 FM.