Celebrating? Or drowning your sorrows? Napoleon made no distinction between the two occasions when it came to champagne. "In victory one deserves it; in defeat one needs it," the battle-tested French Emperor declared.
Romantic visions of Napoleon's soldiers opening bottles of bubbly with the swipe of a saber from atop galloping horses are conjured up during a sunset "Sabrage Ceremony" under the Hawaiian sky each night at Four Seasons Resort Lana'i at Manele Bay.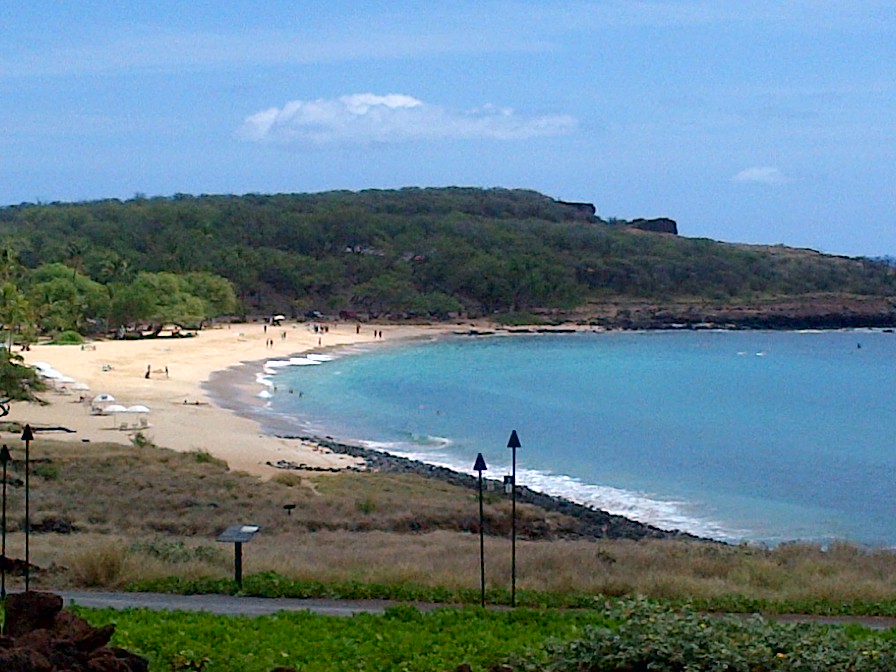 "It's a 200-year old tradition," the resort's Mohzani Mokhtar told a group of thirsty vacationers as his colleague, Jared Hamm, grabbed a bottle of Veuve Clicquot and drew the special saber. "The Napoleon story makes it more dramatic," Mokhtar told me in an aside. With that, Hamm, while holding the bottle in one hand, clipped the neck off by swinging the sword with the other, sending the collar and cork flying 15 feet. The gathered gasped and the champagne flowed. Soon they toasted each other in victory for a Four Seasons day well-lived poolside, on the expansive beach, snorkeling over the reef or challenging the scenic Manele golf course.
Mokhtar swears the dazzling, champagne sabrage is simpler than it looks and anyone could do it, even with a butter knife. That's secret number one: it's the dull side of the saber – not the sharp blade – which collides with the bottle.
"It's been estimated there are 500,000 bubbles in a bottle. That's a lot of pressure on its' two glass halves," said Mokhtar pointing to a barely visible vertical, sealed seem, as Hamm held the next bottle pointed slightly downward. Hamm slid the back side of the saber blade up and down along the seem, as if to warm it up and develop his rhythm, and then swiftly swiped the blade up the side, where it hit the protruding lip of the glass ring at the top of the neck and launched it, with the cork still encircled, off of the bottle and into the air. "The secret is the saber doesn't actually cut through the bottle. The blade stays on the bottle with a glancing blow. It's the pressure that pushes the top up and off. Any possible glass chips are blown clear by the pressure and very little champagne is spilled.
"It helps to put the bottle in the freezer for about 20 minutes to make it more brittle before the sabrage," Mokhtar revealed.
Don't try this at home? Sure, why not? With the Four Seasons as its' only resort, Lana'i, the "Pineapple Island," is easily the quietest of Hawaii's tourism islands, but guests will be long talking about their stay and maybe even showing off their sabering skills. Visit FourSeasons.com/ManeleBay/ for more information.
Michael Patrick Shiels may be contacted at InviteYourself@aol.com or via TravelTattler.com His talk show can be heard weekday mornings in Lansing on 92.1 FM and Fox 47 TV.