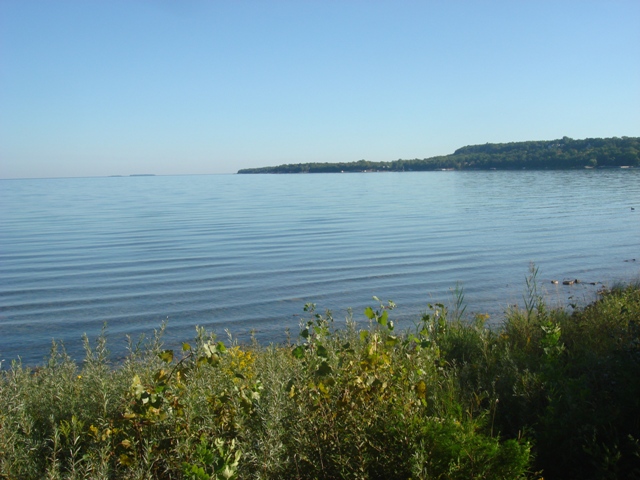 Even as a Midwesterner, I must confess that my perception of Green Bay stopped in the end zone of the so-called "frozen tundra of Lambeau Field," the football stadium that is home to the NFL's Packers. While it is true the sun rises and sets on the victorious Super Bowl champion Packers in the hearts of the locals, the glorious sunsets on the Green Bay in nearby Door County deserve just as much applause. The long, flowing Green Bay splashes softly against the 70-miles of shoreline and beaches between the pinky finger of the Door County Peninsula and "mainland Wisconsin" – 40 miles northeast of what the celebratory sign at the city's convenient little airport refers to as: "Title Town, USA." The bay and Lake Michigan – on the eastern side of this pinky finger of a peninsula – are always nearby and often visible from high bluffs along a Wisconsin scenic byway and sandy beaches…even during dinner.
Fred and Fuzzy's Waterfront Bar and Grill, an open-air, casual sunset spot along Little Sister Bay on the west side of the peninsula, offers local Wisconsin specialties such as cheese curds, fried lake perch, bratwurst and margaritas made with cherry juice. "Wisconsin is just behind Michigan in cherry production," says the amiable Jon Jarosh, with the Door County Visitors Bureau. I found the red potion initially tart and then swish-worthy! Visit FredAndFuzzys.com or phone (920) 854-6699.
More cultural cuisine is just a bit south, at the Old Post Office Restaurant, also facing west on the water, in the dry community of Ephraim. "Boilmaster" Earl Jones entertains fireside crowds with his humorous demonstration of a traditional Scandinavian "fish boil." Only hours earlier the whitefish were swimming in the lake as opposed to simmering in the cauldron with potatoes and onions in the "cooking amphitheater" outside the restaurant. Visit OldPostOffice-DoorCounty.com or call (920) 854-4034 for seasonal hours and reservations.
Cheese and wine tasting shops share the uncluttered, rural main roads with art galleries, pie stores and smashing scenery including lighthouses. Sailing, charter fishing, kayaking, swimming, theater-going, antiquing, bird-watching, camping, hiking, bicycling, tours, fall color tours, shopping, and the Peninsula State Park Golf Course among others, are just a few of the activities available for all ages. (The private Horseshoe Bay Golf Club offers access to guests who stay on property.) Door County's 11 lighthouses, five state parks and 19 county parks are dotted along 300 miles of shoreline and islands.
A wealth of charming inns, bed-and-breakfasts, lodges and cottages make Door County a haven for dream weddings. The Alpine Resort, in the picturesque harbor town of Egg Harbor – voted one the "Coolest Small Towns in America" – offers a main dining room with a sweeping waterfront view with a beach, 36 holes of dramatic, sometimes whimsical, cliff-side golf, and the satisfying, memory-inducing sound of a screen door slamming while you sit on the porch of your private cottage letting your mind, if not your boat, drift off into the bay. Visit www.AlpineResort.com or call (888) 281-8128.
Door County's absence of any chain hotels or franchise restaurants ensures a unique, diverse and fresh experience. Visit www.DoorCounty.com or call (800) 527-3529.
Michael Patrick Shiels can be contacted at MPSbigshow@aol.com or via www.TravelTattler.com