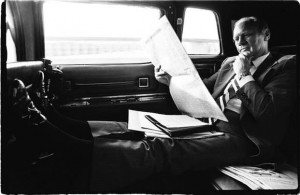 It may be cherry blossom season in Washington D.C. but one need only drive to Grand Rapids to get into the White House. The Gerald Ford Presidential Museum not only has a walk-in replica of the Oval Office but is also now exhibiting the behind closed doors, insider pictures taken by Pulitzer Prize winning photojournalist David Hume Kennerly.
"It is a privilege to bring these personal images to the home of President Ford. You've never seen an inside of the White House like these photos provide," said Kennerly, who was given complete access to Ford as official presidential photographer during his partial term in office – a job he says he almost turned down. "The night vice-president Ford became president, he asked me over to his house in Alexandria, Virginia. It was before the Vice-President had an official residence so they lived in a really modest, split-level place. As we sat in his living room I was thinking, 'I'm 27 years old, I'm a kid from Roseburg, Oregon, the son of a traveling salesman, and I'm talking to the President of the United States.'"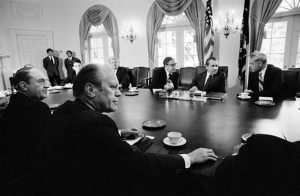 But Kennerly had already won the Pulitzer Prize for his battlefield work during the Vietnam War and had a great job at Time Magazine photographing big events like the Ali-Liston heavyweight title bout.
"So I told President Ford I would do it only if I reported directly to him and had total access to everything going on in the White House. He listened to my demands, stopped smoking his pipe and just looked at me. Then he started laughing and asked, 'What you don't also want access to Air Force One on the weekends, too?'"
Kennerly was relieved.
"I thought for a moment I was going to have to call my parents and tell them the president offered me a job and I told him to shove it!"
It is ironic Ford mentioned Air Force One given what would eventually (and infamously) happen to him while descending from the aircraft; a slip-and-fall he took in stride, according to Kennerly.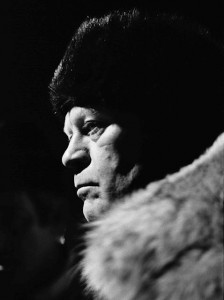 "President Ford would make jokes about missing that first step on Air Force One and falling into Austria with an unceremonious entrance," he said. "Ford was a modest man, he was an incredibly intelligent person, and he was a live and let live kind of guy."
Ford and his family members were active skiers and golfers known to travel to the Vail, Colorado and Palm Springs, California resort areas. One of the photos in the exhibit was taken of Ford at Grand Rapids Airport.
"It was right after he voted for his own re-election in 1976 and he stood in front of a mural they'd dedicated. It was a painting that showed his whole family. When he started talking about his mom and dad, he started weeping and everybody in the room broke down. It was the most emotional thing I think I've ever seen."
Thanks to the award-winning eye and shutter of Kennerly, visitors to the Gerald Ford Presidential Museum in Grand Rapids can see that moment and other personal peeks of Ford, too daily until 5 p.m. Museum admission is $8 for adults and $4 for children. Plan ahead at FordLibraryMuseum.com.
Contact Travel Writer Michael Patrick Shiels at MShiels@aol.com  His radio program may be heard weekdays at MiBigShow.comor in Lansing on WJIM am 1240 from 9-noon. His latest book is "I Call Him Mr. President – Stories of Fishing, Golf and Life with my Friend George H.W. Bush"