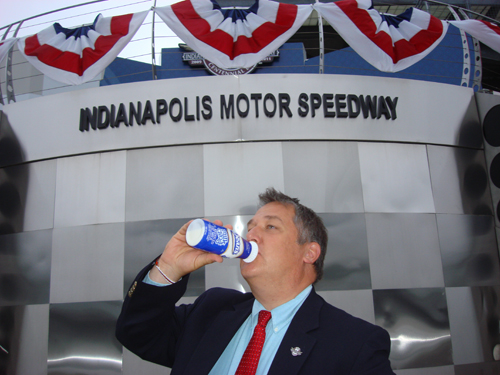 INDIANAPOLIS, IN – I made the four-hour drive from Lansing as fast as I could in order to make it in time for my appointment with race car driver Davey Hamilton at the Indianapolis Motor Speedway. Once I arrived, though, I was not certain just how quickly I wanted to be put into a race car! The noise, the setting, and the opportunity to be rocketed around the world famous, 2.5-mile track known as "The Brickyard," seemed suddenly to be a larger than life experience. While hundreds of thousands of people watch the Indianapolis 500 in person each May, and millions of people view the historic race on television, very few people get to experience the speed and thrill those 33 drivers do on race day. But IndyRacingExperience.com makes it possible for anyone to ride along with an Indy driver and feel the speed in an open-wheel race car on the very track that AJ Foyt, Mario Andretti, Arie Luyendyk, Al Unser, and, in the modern age, stars Helio Castroneves, and Danica Patrick, have put the pedal to the metal.
The experience, which costs $499.00, begins at a garage inside the oval along pit row, where you register by signing a waiver and writing down your emergency contact and your health insurance carrier. Then it is time to suit up. Yes, you will be outfitted in a real racing suit, boots, gloves, and racing helmet. Photographs in the snazzy suit alone are worth the price of admission – everyone looks glamorous and daring in them – but after a few warm and wooly moments of watching a short film about the history of the speedway in the heavy suit, I began to realize that the flame-retardant suit it meant for safety not comfort.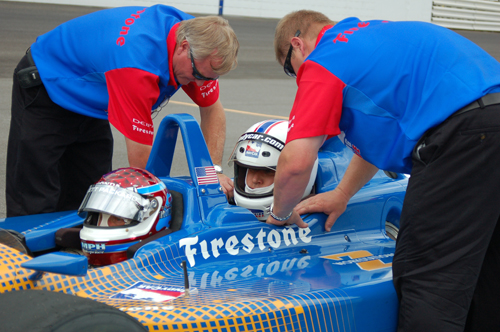 I was then introduced to Hamilton and Arie Luyendyk Jr., both of whom raced in this year's Indy 500, and would serve, on this day, as high-speed chauffeurs for riders in a special seat carved out behind the cockpits of their race cars.
The ripping sound of an engine starting rattled the garage and alerted me it was time to emerge from the garage. The panoramic vista of the venue for the world's largest one-day sporting event when I emerged left me awestruck: thousands and thousands of empty seats with the iconic viewing tower to my right rising above the surprisingly narrow track stretching into the infamous turn #1 to my left. This was gasoline alley. I snapped a couple of photographs before a cloth cowl and racing helmet were snapped onto my head. It was "go" time.
Folding myself into the low-riding, open-air back seat was like climbing into a kayak – not big on legroom, but very big on excitement. The engine was grumbling when the pit crew had me tilt my head forward so they could close and seal the head and neck brace around my shoulders after connecting the multi-buckle seat belt. There was a single, small vertical handle in front of me to grab onto.
"What's this red button marked 'ES?'" I asked.
"Emergency stop," were the last words I heard before Hamilton smoothly advanced the race car forward, out of pit row, and onto the track. The sensation was both unique and powerful because you sit so low and seem to slither along the track. In seconds I felt a sense of relief that this would be fun. Indy's turns are not highly banked, so we skimmed along the wall at the ends of the track. It was when we finally emerged from turns one and two that Hamilton rally hit the gas. The wind rushing through my helmet was refreshing and the left-hand torque through turns three and four was impressive. We then passed over the famed, brick-paved finish line in front of the winner's circle, and zoomed past pit row straight into lap two at 180 miles-per-hour. It was hard to believe that the true race speed is 40 mph more than we were zipping.
Two more laps and Hamilton pulled us back into pit row at a speed that would have garnered a ticket on Interstate 69 but he stopped on a dime. The pit crew freed me quickly, snapped my souvenir photo in front of the car, and suddenly I was mortal again.
Even more sobering was the sight of Luyendyk Jr. leaving the track in a simple gray Chevy Cobalt. (Don't they all drive glamorous sports cars!?)
Hamilton told me after we unsuited that he'd given so many Indy Racing Experience rides (as many as 40 in a day on one occasion) that he had an intimate knowledge of the track he felt gave him a competitive advantage in the Indy 500. Hamilton also used the rides to recover from a dramatic crash in Texas that threatened to end his racing career. I asked him how he endured a 500-mile race in that tiny machine.
"It may not be comfortable for you in that back seat, but my custom seat up front is form-fitted to my body. I could just about fall asleep in there," the diminutive Hamilton answered.
Indy also offers opportunities to drive the car yourself if you prefer.
Back at the Conrad Hotel in bustling Downtown Indianapolis, I celebrated with a cigar before a macho red wine and New York Strip dinner at the storied St. Elmo's Steakhouse.
You probably won't play golf at Augusta National, nor will you ride a three-year old thoroughbred down the stretch of Churchill Downs, and it's doubtful you'll ski jump like in the Winter Olympic Games, but an Indy Racing Experience is one easily attainable "bucket list" item. You can make arrangements for this and other Hoosier State adventures, including the annual Big Ten Basketball Tournament in early March; Brickyard 400 Nascar Race July 26; the U.S. Senior Open at Crooked Stick Golf Club July 27-August 2; the 2010 NCAA Final Four; and the 2012 Super Bowl, at www.VisitIndy.com.
August 2, 2009
"Indianpolis Motor Speedway"
Originally printed in the Lansing State Journal