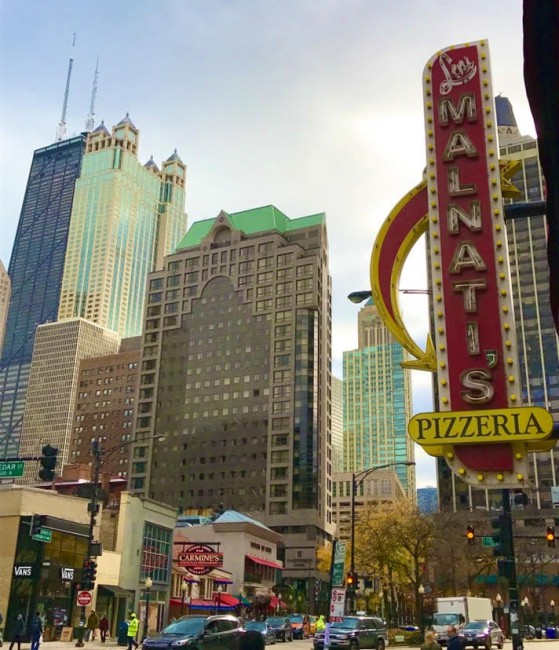 The NFL's Chicago Bears are coming across Lake Michigan to Detroit Thursday for the Lion's traditional Thanksgiving Day gridiron game at noon. The Monsters of the Midway hosted the Lions two weeks ago in the Windy City and sent them back to the Motor City with a 20-13 loss. But most Michiganders return from Chicago with bursting shopping bags and full stomachs after living in the lap of luxury on Michigan Avenue.
John Stack, of Chicago's Peninsula Hotel, situated on the Miracle Mile, is a football fan.
"These games with the Lions have been critical for both teams. Both teams play with a lot of pride. Chicago Bears fans are fans for life," said Stack. "The Bears are a tough defense and the Lions score a lot of points. That makes for good games."
The Peninsula Hotel is close to Bears games at Solider Field but the sports fans choose to stay in and enjoy in the comfort of their couch get a good view, too. "In our hotel the TV's are light and bright. Our rooms have 55-inch screens with surround sound and 24-hour, in-room dining if the game goes to overtime."
If the Bears aren't playing visitors can still get inside their home stadium and experience the field, visitor's locker room, famed colonnades and more with a tour via SoldierField.net.
Back across Millennium Park Peninsula's new Z Bar is on the rooftop with a terrace; and the hotel's "sky rink" (Chicago's only hotel skating rink), both offer a vantage of the annual holiday Miracle Mile Lights Festival. One million lights on 200 trees illuminate Michigan Avenue for the shopping season.
"It started 28 years ago and was developed to celebrate one of the great avenues of the world," said Stack. "Peninsula is surrounded by all the shops and boutiques and we have a house car service for our guests."
The two "Peninsula green" Mini Cooper's can fill up fast with packages, and there are plenty of memorable restaurants within walking distance. Gibson's Bar and Steakhouse is a favorite of celebrities – evidenced by the signed photos on the wall – and Gibson's draws a contemporary, professional bar crowd. The restaurant's snazzy art-deco interior is classic but lively thanks to plenty of big windows looking out onto Rush Street. Look across the street to see Lou Malnati's Pizzeria, a colorful, casual spot in which to consume the city's culinary king: the celebrated Chicago deep dish pizza. Classic Lou's thick but flaky buttery pizza pie crust is topped with gooey hot Wisconsin mozzarella cheese and lean sausage swimming in vine-ripened tomato sauce.
Chicago is a 3.5-hour drive from Lansing, and Amtrak runs trains to Union Station in downtown Chicago while Capital Region International Airport offers non-stop flights.
Contact Travel Writer Michael Patrick Shiels at MShiels@aol.com  His radio program may be heard weekdays at MiBigShow.com or in Lansing on WJIM am 1240 from 9-noon.