If ever a nation has mastered the art of living well, it's the French. Think Champagne, can-can, foie gras, haute couture, fairy-tale castles, Cognac and more. Sprinkled liberally with magnificent châteaux and famous vineyards and blessed with gastronomy second to none, the Loire Valley is a Francophile's dream. Add some outstanding golf to the mix and you've got a swinger's getaway with a delicious French accent.
Warning: If your idea of a golf holiday involves hanging out in a no-frills motel and eating a Big Mac for dinner, read no further. On this trip you'll wine, dine and sleep in royal style.
There are more than 30 courses tucked into the Loire Valley. You don't have to speak French: a green is a green, a slice is a slice, a birdie is a birdie. Unlike the North American "conveyor belt" mentality, golf here is an unrushed, civilized affair. Lunch is not a snack to be grabbed between nines. It's part of the experience. Expect gourmet fare and fine wines.
Rule #1: Walk don't ride
French golfers walk. Perhaps that's how they stay so trim after multi-course meals and buckets of wine. Don't expect to rent a cart. But don't fret. Most of the courses are relatively short by North American standards, approximately 6,000 metres, and the terrain is never formidable.
You know you've arrived at Golf de Touraine, founded in 1971, when you see the sign for the foie gras farm. Guests are warmly welcomed at this undulating parkland track with mature forests and meandering streams. It was designed by English architect, Michael Fenn.
The par-71 tract, measuring just under 6,000 metres is deceivingly difficult. Long hitters will appreciate the generous fairways, but look out for the tight and fast greens. From the elevated tees on the first par-five the lovely countryside unfolds. The par-three number ten tees are so close to the restaurant and patio you might be tempted to stop in for a quick beer. Make sure you've got enough club to clear that pesky stream in front of the green so the diners have something to cheer about. From the uphill 18th you'll have a lovely view of the 19th century château clubhouse. Note that French golfers take their lunch seriously. This is no place for a hotdog in a Styrofoam container; instead consider poached salmon and a bottle of chilled Sancerre.
Opened in the early 1990s, 6,174-metre, par-72 Golf du Château de Cheverny meanders around the ancient hunting grounds of the region just outside the postcard-perfect town of the Cheverny. If, like me, you suffer from "hydrophobia" watch out for the number one handicap tenth, requiring that your drive miss the lake on the left. Then it's up and over a creek and some efficient bunkers to make it to the green. Chevreny's most unique hole, the par-three 17th, calls for a drive from a pathway that bisects a large pond.
Hidden in the heart of the Loire Valley of the Kings, Sept Tours is your one-stop destination for challenging golf and a night in its castle. The 6,093-metre, par-72 layout is snail-like with the first 9 fairways running around the outside of the property and the back nine tucked into the middle. The terrain is relatively flat but the narrow forest-lined fairways and water everywhere create plenty of challenge. Bring out your camera for the 18th where the stunning chateau provides the backdrop for the green.
Rated one of France's most beautiful modern courses, Orléans Limère snakes through the dense Sologne forest and offers a lot of diversity, with several lakes, well-protected greens, 94 formidable bunkers and many dog legs. Opened in 1992, Limère has since hosted the French Professional and Amateur Championship several times. It's 6,221 metres long but certainly no walk in the park; expect to use every stick in your bag.Designer, Cabel Robinson's signature 18th is a short par-four with an almost-island green. After your round, go for a soak at Les Balnéades spa next door.
At Les Aisses, ranked in the world's top 100, I thought I'd made a wrong turn and had arrived in Scotland. It turns out that the owner's marching orders for architect Russell Talley of Hawtree Limited in Oxfordshire, England, were to re-create an old style course reminiscent and inspired by ancient heathland courses in the UK. Talley has sculpted the 27-hole heathland-style course with pine, oak, fescue, heather and gorse thanks to the well-drained sandy soil. Bunkers are craggy, deep and deadly.
Rule #2: Eat, drink & sleep in a château
Our hedonistic romp began at the Château D'Artigny, a Relais & Châteaux property in Montbazon. Inspired by Versailles, French parfumer, Francois Coty built D'Artigny with the royal treatment in mind. A spa occupies the former chapel. Two minutes down the road at Chef Olivier Arlot's La Chancelière, we savoured every morsel of his eight-course surprise menu. Back at the Château, we selected a nightcap from a staggering collection of vintage Cognacs.
Chateau du Pray five minutes from the Royal town of Amboise, is a cozy fifteen-room gem. The dining room overlooks a veggie garden tiered down to the River Loire. Sometimes I find that Michelin-starred restaurants can be a bit staid but here they combine flawless friendly service with fabulous food. Go ahead and have the duck in wine sauce, but save room for Chef Brisset's signature dessert, an ethereal blackberry soufflé.
At first sighting the Château des Sept Tours seems like a mirage. The 15th century architecture, set in the middle of nowhere, includes a fairytale roofline with seven towers and turrets. As we drove up the lane, a white swan positioned itself postcard-perfectly on the pond in front of the 18th green. At Sept Tours you get your golf, bed and dinner all in one spot. Reserve a table in the conservatory dining room for yet another gastronomic feast. Who has the willpower to resist the fois gras presented with an onion poached in local red Chinon wine, or the filet of beef served with truffle-studded mashed potatoes and a rich mushroom sauce?
Rule #3: Drink the wine
Stop at wineries all over the Loire and sample Sancerres, Chinons and more to your heart's content. Most don't charge for tastings.
Rule #4: Don't overdose on châteaux.
With over 70 diversified displays of grandiose architecture, the Loire Valley is classified as a UNESCO World Heritage Site. Where to start?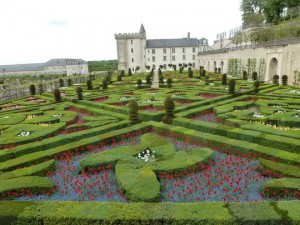 Villandry has a lovely château but its six Renaissance gardens (complete with a maze) are amazing. Marvel at the four themed love gardens (tender, passionate, flighty and tragic). The decorative vegetable gardens are truly works of edible art.
At the invitation of King Francois I, Leonardo Da Vinci spent the last three years of his life at the Château Clos Lucé in Amboise where he orchestrated lavish festivities for the court. The lower level is full of models of his inventions from catapults to clocks.
If it's feeding time, you might hear the howls of the hounds kenneled in the park near Château Cheverny, owned and still inhabited (in the right wing) by the Marquis de Vibraye who maintains the stag hunting tradition. His château is the most exquisitely furnished of them all.
See the largest château in the Loire with a private guide who will unlock secret doors and lead you down hidden staircases. Built by King Francois I, Chambord is a palace of paradoxes. With 400 rooms and 77 staircases, the place has been occupied a mere twelve years over five centuries. Francois I never intended it to be home sweet home, instead he wanted to flaunt his wealth and power.
Known as "the ladies castle" Chenonceau was dominated by a series of femmes fatales including Henry II's mistress, Diane de Poitiers, who was eventually ousted by his wife, Catherine de Medici. It sits prettily over the River Cher.
Rule #5: Hire Francois Bras
He owns France Golf Tours and will customize your trip.
Getting There
I flew Air France to Paris. At the airport I hopped a TGV train to Tours where I rented a car from Avis.