Build it and They will Come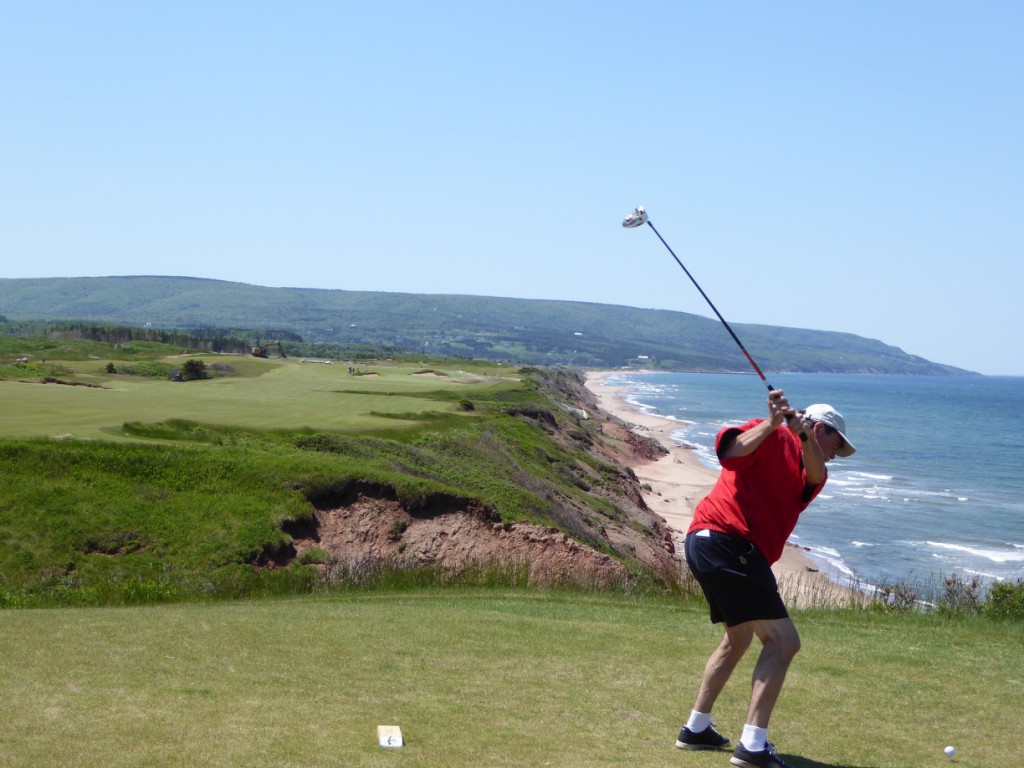 After a sneak preview of the new Cabot Cliffs last summer I vowed that if Cape Breton's newest seaside sensation wasn't ranked the number one course in Canada, if not North America, I'd eat my putter. Fortunately that wasn't necessary. Golf Digest awarded it "Best New Course in America" for 2015 and number 19 on its list of the Top 100 Courses in the World! This is remarkable considering that Cabot Cliffs was only six months old and did not officially open to the public until this June. Golf Digest has described it as, "The second coming of Cypress Point."
Well, I am just back from a travel journalists' conference in bonnie Cape Breton and I'm pleased to say that golf is booming on this ruggedly beautiful island.
I played Cabot Cliffs with golf professional emeritus, Joe Robinson, on a perfect summer day with a hint of a breeze and a few marshmallow clouds in a cobalt sky. The course by the acclaimed design team of Bill Coore and Ben Crenshaw has been described by Global Golf as reminiscent of "Pebble Beach on steroids."
Indeed, the fairways tumble and twist down from a forested glade high above the St. Lawrence. They meander up and over dunes, cross meadows and ravines and skirt ragged cliffs. There's an empathetic harmony between the golf course design and the rollicking terrain—an ebb and flow with endless sea views. And although there's no lack of WOW factor, a romp over Cabot Cliffs feels natural. There's a rhyme, a reason and a natural rhythm to this masterpiece.
In an era where golf, in most destinations, is in a slump, the folks at Cabot Cliffs can't keep up with the demand. They plan to build a new clubhouse to replace the temporary yurt and finish the driving range, but so many people want to stay and play the two courses at Cabot (Cliffs and Links) that they have to put their efforts into adding new rooms and villas. Their occupancy rate is an astounding 98%. Robinson informed me that Cabot Links employs more than 900 people as caddies, resort staff and construction workers. Not bad for the town Inverness that, until Cabot Links, was an almost abandoned coal-mining village. I'm told that real estate prices in the vicinity are soaring. Even with its 72 rooms and 14 villas, Cabot is still turning away bookings. Local inns and B&Bs are also benefitting from the influx of swingers.
When the sister course, Cabot Links, opened in 2012 it also caused a sensation in the golf world as Canada's first and only true links course.
Cabot Links is now even better due to new routing. Now the first hole offers a gentler handshake to your round and if you only want to play nine holes, you finish back at the clubhouse.
Unless you have a medical condition, you do have to walk both courses. You don't have to hire a caddy but I highly recommend doing so the first time playing both tracks.
At Cabot Links nothing supersedes the stellar golf experience. That said, guests enjoy well-designed rooms with floor to ceiling windows overlooking Cabot Links and the Gulf of St. Lawrence. The heavenly Beltrami bed linens are custom-made for the resort in Italy. Amenities such as walk-in rain showers, l'Occitane toiletries and Nespresso coffee machines all add up to a top-notch resort experience.
Everything on the Panorama restaurant menu is good but some dishes are outstanding. The award-winning chowder will never go off the menu. Some guests, including yours truly, request it for breakfast. The lobster ravioli is so rich and decadent it should probably be declared illegal. Go for it.
Panorama is the main restaurant, but now you may enjoy casual fare until the wee hours at the recently opened the Cabot Public House on the property. Specialties include thin crust Italian-style pizzas and local craft beers. Also new, The Downstreet Coffee Company on the main street of Inverness, serves baked goods, coffees made by baristas, soups, sandwiches and some specialty items such as truffle and olive oils. It's a great spot to mingle with the locals over a coffee and scone. Who could have ever guessed that Inverness, a former coal-mining outback would become a world-class golf destination with cappuccino baristas and truffle oil on its main street?
At the end of a memorable day on the links, tucking into some fabulous seafood in the Panorama restaurant, watching the sun slide into the St. Lawrence while the last golfers sink their putts on number 18, is about as good as it gets. The folks at Cabot Links deliver golf as it was meant to be played and life as it was meant to be lived.
Highlands Fling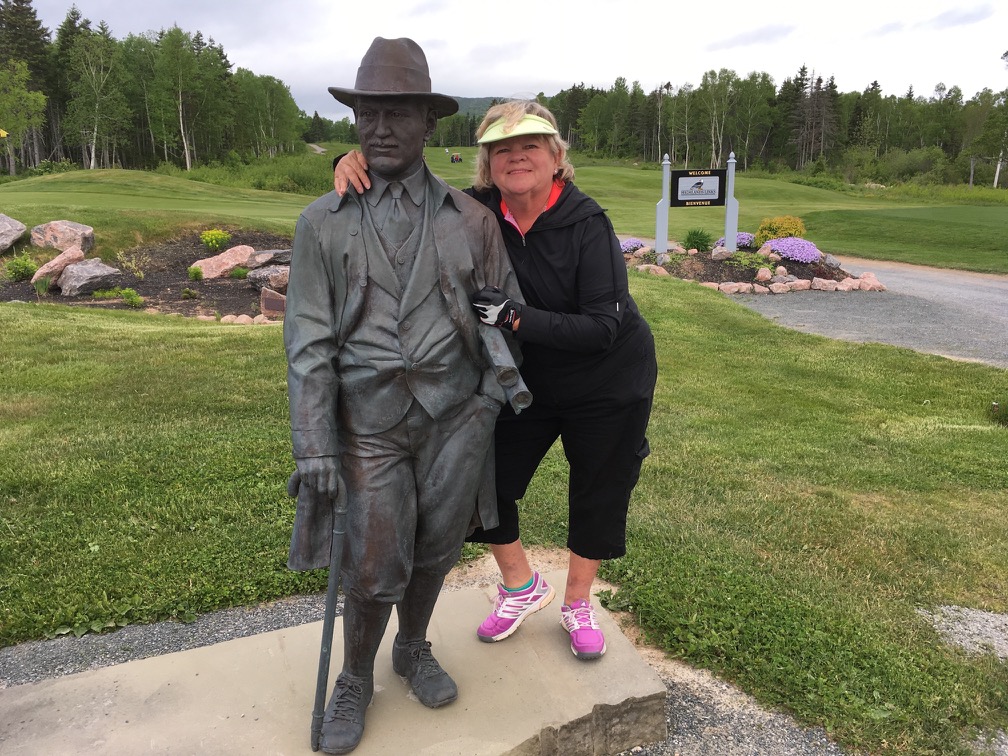 If you grew up in this countryside you'd be forever homesick for it, I mused as we entered Cape Breton Highlands National Park and followed the Cabot Trail—nature's masterpiece of windswept coastlines, rugged highlands, steep canyons and craggy cliffs. I was en route to Highlands Links (consistently rated in the world's top 50 courses). No golfer within driving range of Highlands should miss this national treasure, albeit not a true links.
The late Scotsman Stanley Thompson (also the architect of the Banff Springs and Jasper courses) claimed that God designed Highlands and that he merely discovered it. Highlands Links was the first Audubon Certified Course in Atlantic Canada, so don't be surprised if you spot a bald eagle overhead or a fox takes off with your ball.
When Thompson designed Highlands in 1941 the ocean was visible from twelve holes. Over the years, maturing trees blocked many of the sea views. But when GolfNorth was chosen by Parks Canada in 2015 to enter a 42-year lease to operate Highlands Links and its neighbouring Keltic Lodge, they invested more than five million dollars with the goal of making them their flagship properties.
Golf course designer Ian Andrews and the Highlands team have restored the course to its former 1941 glory. All bunkers and greens are back to their original size and shape. They cleared 250,000 trees. More than 22 tees have been leveled and resodded. The conditioning is superb. Black and white "before" photos of the course taken in 1941 posted on the tee decks show golfers how the renovation has truly brought the course back to Thompson's original design and vision.
Beside the golf course, perched high on a cliff stands the iconic red-roofed Keltic Lodge where you'll be greeted by a cheery fellow decked out in a kilt. Here too improvements are ongoing. Forty guest rooms and the wedding centre have been renovated and twelve new executive suites have been built.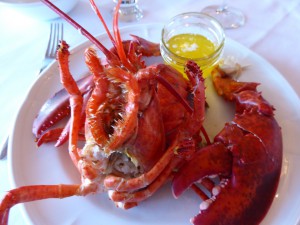 I enjoyed a fabulous dinner in the Purple Thistle dining room where Chef Darryl MacDonnell tempts with freshly caught butter poached lobster, oysters with a shallot vinaigrette and line-caught halibut. Save room for desert and Irish coffee.
There's More
Three more courses are worthy of your hit list. Le Portage, in between Cabot and Highlands in the French Acadian pocket of Cheticamp offers 60 bunkers, several ponds and delicious fresh crab and lobster sandwiches. At Bell Bay Canadian architect Thomas McBroom created four unforgettable finishing fairways plus spectacular views of the Great Bras d'Or Lakes and Baddeck where inventor Alexander Graham Bell and family lived. Near Sydney, The Lakes, by Graham Cooke, is also a merry romp over rollicking terrain.
Cape Breton has achieved such world acclaim that Kalos Golf, specializing in luxury cruises, will be offering a Canadian Maritime Golf Cruise that includes the Cabot and Highlands courses this September at a price tag starting at $10, 778 per person. The itinerary also includes stops on the Nova Scotia mainland, Newfoundland, New Brunswick and Prince Edward Island.
Cape Bretonners, or Capers as they call themselves, have plenty of reasons to brag about their remote and rugged island. But will all this fame go to their heads? Not a chance. You won't meet a more hospitable, down-to-earth, fun-loving, musical bunch of folks anywhere. The concierges at Golf Cape Breton will help you book tee times and hotels. Pack your clubs.