Rediscovering an Old Tom Morris Classic in Scotland's Outer Hebrides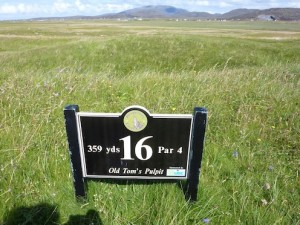 We golf fanatics love to add trophey courses to our brag and bucket lists. And while the Old Course, Pebble Beach and Banff Springs are obvious contenders, I've started a new list—obscure courses that most people have not even heard of.  And that is why I recently braved a narrow one-tract road about the width of a pencil with pull-over passing places and covered with suicidal sheep in the outer Hebridean island of South Uist. My destination? Askernish Golf Club.
Adjacent to a white shell beach on Uist's west coast Askernish was originally laid out by Old Tom Morris in 1891. Old Tom, accompanied by Horace Hutchinson, traveled to this Hebridean Isle via cart, train and steamer to lay out a course that he described as "second to none in the various elements which go to make up a really good golf course."
In case you need a bit of a primer on Old Tom…He was the most influential person to early golf pre the 1900s. Born in St. Andrews, Old Tom apprenticed under Allan Robertson, considered by golf historians to be the first golf professional. Morris left St. Andrews to become the keeper of the greens at Prestwick, a course north of Glasgow that hosted the first British Open in 1860. Over the decade Old Tom won four Open championships. In 1865 he returned to St. Andrews as greenskeeper and clubmaker until 1904. Morris was one of the first truly great course designers. A few of his masterpieces include Royal Dornoch, Muirfield, Carnoustie, Royal County Down and Crudent Bay—all worthy of your trophy list. So you will understand the thrill of playing the recently refurbished Askernish.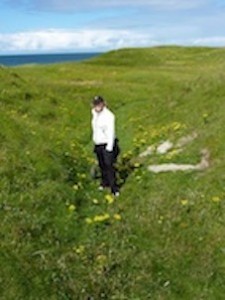 Golf here is a wild and woolly affair. In fact, during the winter you share the course with grazing sheep and cattle belonging to the local crofters. Initially these local farmers resisted the golf course because they suspected that the golfers were trying eliminate livestock from the machairland. This was entirely untrue, being as the club's aim is for the course to remain as authentic to its 1891 condition as possible. This  also includes the prohibition of all artificial fertilisers or herbicides, which has received great plaudits from environmental bodies who have branded Askernish "the most natural golf course in the world."
The local community of keen golfers with some financial  and technical aid from abroad have painstakingly brought Old Tom's vision back to life.  In fact, there's a Canadian connection: Gordon Stollery who owns Angus Glen Golf Club in Toronto invested some Loonies. When renowned golf course architect, Tom Doak, was asked what he considers to be the most innovative course design that he has ever seen, he replied "Askernish–it's innovative because all they did was mow the golf course and it's still fun to play." The official re-opening was August 2008; green fees are 35£ per day. A steal!
It was well worth the harrowing drive to play this classic. Most memorable is the 17th hole called Old Tom's Pulpit–a 359-yard par 4 with dogleg right approach shot to a green perched high on top of a looming dune. I can just see Old Tom smiling to himself on this one. Another gem is number eleven–a par-three requiring a tee shot over a deep gully to a completely blind large green. When you stand on the tee it looks like you are hitting the ball straight into the Atlantic Ocean—give it a bit of a slice and you are!