Gourmet Golf and L'art de Vivre in Bordeaux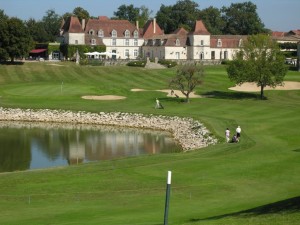 If ever a nation has mastered the art of living well, it's the French. Think champagne, foie gras, haute couture, fairy-tale castles and you think of France, right? But did you know that France also has 600 golf courses? That's more than the rest of continental Europe put together. You don't have to parler Français. A green is a green, a slice is a slice, and a birdie is a birdie. I've enjoyed golf and the good life all over France but there's one gem that comes about as close as it gets to living out the fairy-tale fantasy. And best of all, you can enjoy a Champagne vacation on a Chardonnay budget.
Tucked into the famous vineyards between Bordeaux and Bergerac, Château des Vigiers will wow you from the first glimpse. A white swan glides upon a lake beside the 18th green. Behind is the grand 16th century Château, nicknamed " le Petit Versailles." I knew I was in the heart of the Dordogne, famous for its foie gras, wine and truffles, when I spotted cases of goose liver and bottles of Château des Vigiers' own estate wine on sale at the pro shop.
Des Vigiers was the creation of Lars and Elisabeth Petersson who bought the (then) decrepit property in 1989. Lars supervised the golf course construction and château restoration while his wife proved her talents as the interior decorator. Her romantic and luxurious vision for the Château's interiors is the stuff of dreams. A sweeping staircase leads to beamed-ceiling bedrooms decorated with rich tapestries, Oriental carpets and canopy beds. Bathrooms are wall-to-wall marble. A fire burning in one of the salons tempts you to curl up with a book on the generous velvet sofa.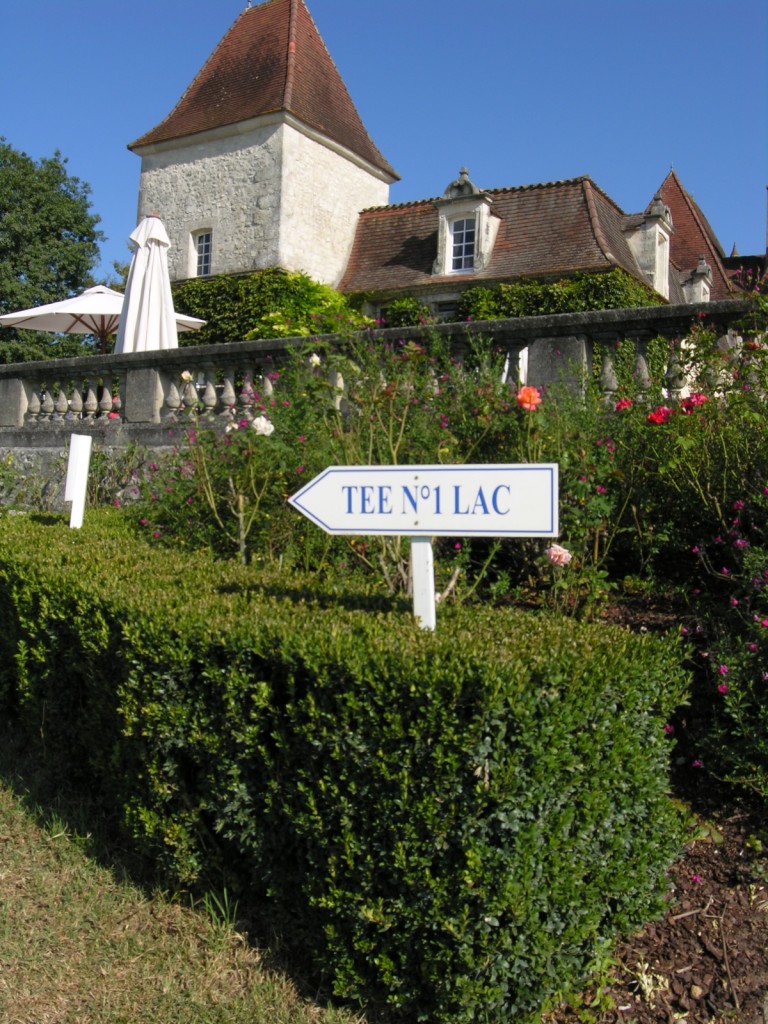 But I came to play golf. As befits such grand style, the 27-hole course (Les Vignes, 3,374 yards;  Le Lac, 3,212 yards; La Vallée, 3,403 yards) designed by Donald Steel, considered one of Europe's best "natural" golf course architects, radiates amongst the plum orchards, vineyards and forests, using the dramatic red-roofed Château and lake as its centrepiece. When asked by Golf World to name his favourite hole, Donald chose the 9th of Le Lac—a dogleg over a ridge for the second shot over the lake onto the green in front of the Château. Also tastefully landscaped into the tract is a driving range on which the distance flags are appropriately anchored into wine barrels, plus a six-hole academy training course.
I could happily have played 36 holes a day here but the charming concierge suggested some tempting outings. In the walled, medieval town of Saint-Emilion, a UNESCO Heritage Site, they arranged a tour of the cellars and a wine tasting at the prestigious Angelus winery whose vintages are found on some of the world's poshest wine lists.
Another day, I drove toward Bordeaux to the Les Sources de Caudalie, a unique vinothérapie spa where you literally steep in barrel of mineral water and wine extracts. Mathilde Thomas, daughter of the owners of the Château Haut Lafitte winery, has created a unique series of rejuvenating treatments using grape extracts and the estate's hot spring water. Where but in France would you indulge in a Crushed Cabernet Scrub or a Pulp Friction massage using fresh grapes and essential oils?
Back at des Vigiers the staff treated me like a long-time friend and houseguest. The chef gave me his recipes for scrambled eggs spiked with truffles and a fabulous fig and peach soufflé. The chap in the pro shop had my clubs ready on trolleys each morning. It was almost like being queen of the castle with my own private golf course.
Usually I'd play a round after a leisurely breakfast, go sightseeing in the afternoon and shoot a few holes before evening aperitifs. The cuisine was decadent and delicious and the wine outstanding and affordable. It was a lifestyle to which I could enthusiastically become accustomed. Aah, la vie en verte.