Off the beaten path to rustic luxury where you'll have 18 jungle and seaside fairways almost to yourself
I've chased the dimpled white ball over five continents and in my quest for the best I've played some grand golf. But if I had to name my absolute favourite course, it's El Tamarindo on Mexico's Pacific Coast. I give it a 20 out of 10!
My husband and I had our own thatched beach casita, one of 29 set in a 2,040-acre resort hideaway about an hour north of Manzanillo.  We weren't exactly roughing it. Our casita came with a private plunge pool, Jacuzzi, hammock, outdoor living room and a beach we shared with almost no one. 
We might as well have our own private golf course. The only human beings we encountered were minions of maintenance staff tending the already flawless fairways, our caddy, Jorge, and the waiter in the snack bar.
However, wildlife abounds. During our rounds we spotted wild boars strutting across the eighteenth green and coatimundis (like small long-tailed raccoons) begging for bites of our burgers. We heard tales of a crocodile who lives on number 17. Butterflies and wild parrots with exotic plumage flitted from tree to tree. Most spectacular was the bird's eye view of whales breaking the turquoise surf in the jagged cove below the cliffside ninth hole.
Robert Trent Jones Junior originally designed the course. However, owner and ex-banker Roberto Hernandez was so eco-finicky about saving all the trees that California golf course architect David Fleming was brought on site.
"When I started in 1993, it was really wild," Fleming recalls, "I was nicknamed Indiana Jones and we had amazing adventures with the jaguars, wild boars, sea turtles and parrots. But don't worry, the dangerous ones don't golf."
It took Fleming four months to get the lay of the land and figure out a routing for the holes so as not to disrupt the tree canopy. Each fairway, named after an indigenous plant or animal, is like a private stage. Twelve holes have elevated tees, many with outstanding ocean views.
When asked to name his signature hole, Fleming laughs. "There are about 17 of them."
"Numbers six, seven, eight and nine may be the best string of four holes in the world. Before dismissing this as an overstatement, try them," recommends Golf Odyssey Magazine.
Indeed, six is a stout 472-yard par-four from an elevated tee. On the challenging double dogleg par-five seventh you can try to cut off some of the first dogleg. The short eighth is pure magic, owing to its elevated tee, a long carry over a morass of wild bushes to the fairway far below and a bunker-lined green framed by the sparkling Pacific. The smiling waiter from the halfway house appeared with a menu as we sunk our putts and ordered our lunch. Number nine, a breathtaking par-three, plays from a precipitous perch down to a postage-stamp green jutting out over a rousing stretch of untamed, rocky coastline with crashing surf. I've instructed my husband that this is where I want my ashes sprinkled when my time comes.
At the halfway house we were given iced towels perfumed with lemongrass before devouring our burger and fish tacos and a couple of Coronas.
Unlike the "conveyor belt" mentality of many North American courses, this is stress-free, glamour golf. The management encourages you to have a swim between holes. (The pristine beaches are so deserted that even skinny dips are possible.) They'll also happily cater a picnic on the beach (with washroom and change facilities). Did you par that unforgettable ninth hole? Perhaps you'd like to play it again?
If all this sounds too good to be true, we can thank an elite group of wealthy landowners. At last count, the El Tamarindo real estate development had sold 27 plots of land to these multi-millionaires who pay the golf course maintenance pesos. The management doesn't really care if there are just a handful of players. In the high season, Martinez acknowledges that El Tamarindo might see 40 golfers "on a busy day." The day we played there were a total of nine swingers.
After our round, we followed a candlelit path to the beachside La Higuera restaurant. We sat under a huge wild fig tree and ordered a couple of margaritas, flavoured by the tart tamarind fruit for which the resort was named.  We tucked into a bucket of steamed shrimp and contemplated a few more days of playing Tarzan and Jane in this exotic jungle.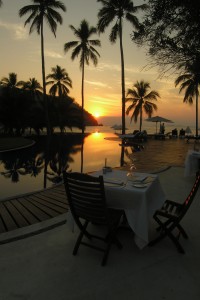 El Tamarindo, a member of Mexico Boutique Hotels, is located about 48 kms north of Manzanillo International Airport and 209 kms south of Puerto Vallarta. Once you turn off the highway at the sign, follow the cobblestone road though the jungle for about 20 minutes. Don't give up; there really is paradise at the end of the road.