I left my toxins in paradise. On a private island off the west coast of Malaysia where I soaked in a bath strewn with frangipani and rose petals. My hair was lathered with banana shampoo and slathered in coconut cream. Every muscle in my body had been oiled, massaged, stretched and heated with sachets of lemongrass and pandan leaves.
I shared paradise, spelled Pangkor Laut, with mischievous monkeys, and flitting butterflies in a 130-million year- old equatorial rainforest. Palm studded white sand beaches dot the dramatic coastline.
Sensual. Exotic. Luxurious. I could bankrupt my vocabulary trying to capture the essence of this hedonistic heaven.

It starts with a yacht ride over the clear green Straits of Malacca. As you approach Pangkor Laut the most striking feature is the string of Sea Villas, modeled after fishing huts, set on stilts over Royal Bay. Peacocks strut. Hornbills swoop. We were greeted with chilled towels scented with coconut and a Roselle cocktail made from hibiscus flowers. We strolled past fountains, pools and tropical gardens, then along the wooden bridge to our Sea Villa. So as not to compete with nature, the décor is handsome and minimal with dark timber and woven bamboo paneling. Our bath had been filled with flowers and the shutters were opened to reveal a sampan on the jade horizon.
This newest part of the 300-acre island resort is called Spa Village. Harpers & Queen magazine awarded it "Best Resort Spa, in 2002."  Artfully tucked between sea and jungle are eight treatment pavilions, three healing huts, a wrap house, two bath houses, spa huts, nap gazebos, a herb garden, lap pool, Fisherman's Cove restaurant, Jamu Bar, a library and a boutique. Malaysia, is a melting pot of Malay, Indian and Chinese nationalities and the philosophy here is to share the ancient healing arts of these diverse cultures.

The daily bathhouse ritual exemplifies the multi-cultural mix. Start with a soothing Japanese footbath and an invigorating foot pounding, previously only enjoyed by the concubines of feudal China, I'm told. Then walk through the cool Malay pool under showers of cascading urns to a breathing area where you inhale potions for passion, calming, uplifting and detoxifying. After a Japanese "goshi-goshi" back wash and a soak in a heated pool you are treated to an exfoliating Shanghai scrub. Sip a cup of calming tea and you're properly prepped for your spa treatments.  During  my three-day extravaganza I was determined to experience "the works."
Smoked, poked and suctioned Chinese-style
I began my Chinese day with a consultation in Dr. Liu's herbal healing hut. He poured me a cup of ginseng tea, told me to stick out my tongue and took my pulse. So long did he have his fingers on my wrist I was beginning to wonder if I was in grave health. But no, it seems I am a little more Yang (hot) than Yin (cold). The ideal is to be balanced. Dr. Liu's diet prescription included eating less hot foods and more cold ones. I should cut down on all the things I love—spicy food, beef, red wine—and ingest more watermelon juice, celery, green tea and fish. (This is a partial list.)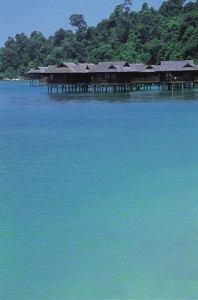 His written prescription also recommended spa treatments. I began with an ancient body smoking using incense to rid my body of negative energies. Purified, I then underwent a deep acu-point massage using Fire and  Earth Element Oil under Dr. Liu's fingers of steel. To remove "heat and wind" from my body he then "cupped" me using two glass jars, their rims heated to create suction when placed upon my back. I know it sounds like a torture treatment from the dark ages but I can honestly say that after about twenty minutes I started to feel cool—remarkable considering that the average temperature in Malaysia is about 34° Celsius!
Dr. Liu probably wouldn't have approved of the spicy beef vindaloo I ate for lunch, but I did wash it down with fresh watermelon juice.
The afternoon's pampering included having my hands soaked in milk and honey and a facial mask of crushed pearls and ginseng, another secret of those concubines of Imperial China!
Wrapped in a batik sarong, (included with the treatment) I floated back to the pool to find my husband Bill, glowing after his papaya wrap.
The only pressing decision we had to make was where to dine after a sunset cruise on the resort's Chinese junk. At Uncle Lim's the chef creates a menu based on your whims and the catch of the day. An Indian buffet tempted at the Royal Bay Beach Club, as did Malaysian cuisine at the Sumudra. We were feeling so mellow, we decided to dine on our deck.  We ordered a Steamboat, a Malaysian-style fondue of fish, meat, veggies and noodles cooked in a spicy lemongrass broth. Dinner was lit by a silvery moon with lapping waves and a choir of cicadas providing the night music.
Oil in every orifice the Ayurvedic Way
Doctor Kumar could have taken my pulse forever as I stared into his dreamy brown eyes and answered questions about my bowel movements and sleep patterns. After a private Yoga session with him, I was having my Ayurvedic consultation, No doubt I'm not the only one to be captivated by his calming charisma. Ayurveda, meaning "science of life" originated in India. The world's oldest form of medicine involves defining your constitution, and following a diet and oil treatment regimen to purify and strengthen. It's also supposed to help defy the aging process, so sign me up.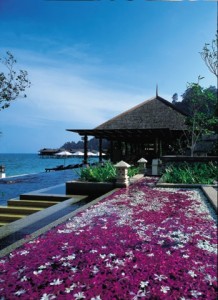 Dr. Kumar also diagnosed me as "hot stuff."  In Ayurvedic terms, my predominant body type is "Pitha," made up of fire and water. He too recommended eating more cool foods, ditching my black wardrobe for cool shades of sky blue and white, even choosing cool scents such as rose and jasmine. When he told me to avoid hot, rainy climates I giggled at the irony. What kind of imbalances was I inflicting upon myself here in a steambath climate where curry is served for breakfast? Ideally, I should be sitting on some iceberg munching celery!
Then came the 105-minute Dinacharya to cleanse my sensory organs. I finger-brushed my teeth with a bitter powder, then Beena greased my hair with coconut oil and dabbed ghee under my eyes. I was given more oil to sniff and gargle and yet more was dripped into my ears. I lay on a wood cot as she slathered my body with sesame oil and began a two-handed massage involving long, rhythmic strokes. The loincloth was long gone and all modesty cast aside.
Malay Princess for a Day
I wasn't surprised when my masseuse told me that after his first Campur-campur, George, the normally staid Swiss food and beverage manager at Pangkor Laut, started writing love letters to his family and friends. The spa's signature treatment combines the best of traditional Malay kneading and Thai stretching massage techniques using oil mixed with turmeric, cinnamon, garlic, onion and citronella. It ends with the pressing of steaming sachets, filled with lemon grass and pandan leaves, over your body's meridian points to increase circulation, flexibility, energy flow and remove nasty toxins. After my treatment, I soaked in an aromatherapy bath filled with flower petals and slices of lime. Following a facial with wild ginger and turmeric, I'd meet Bill for lunch on Emerald Beach on the other side of the island. Maybe do little snorkeling then take a siesta under a wild fig tree. Does it get any better?
There's just one problem here in paradise. I don't want to leave.