"If you can survive six days at Arizona Cowboy College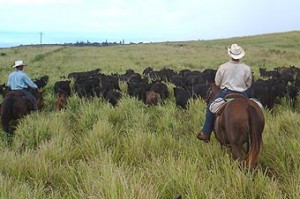 in Scottsdale, you can do anything," says Rocco Wachman, your "whip ass" instructor. Rocco, and college owner Lori Bridwell have been putting wannabe broncobusters in saddles for more than 20 years—everyone from "head honchos" of major corporations to a "Barbie doll" afraid of breaking her nails.
You spend Monday and Tuesday at the Lorill Equestrian Center where Rocco will teach you how to catch, groom, saddle and shoe your horse. You'll walk, trot, canter and rope until Rocco thinks you're ready for some genuine cowboy work. This is no dude ranch experience. On Wednesday the group (six is maximum) packs everything up in trailers and heads to a real working ranch about 80 miles north of Scottsdale, dubbed the west's more western town.
There's no set agenda; you do what needs to be done—searching for strays, branding and castrating cattle, mending fences. After a grueling day's work enjoy Rocco's Dutch oven dinner cooked over coals, a few cowboy songs and then it's time to spread out your bedroll and sleep on the ground under the stars. It's more of the same until Saturday when your group heads back to the Equestrian Centre for a final steak dinner, lots of bragging rights and a certificate to prove you really can do what you thought was impossible.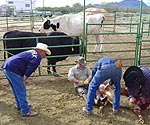 Rocco figures the secret to Cowboy College's success rate is threefold:  put together a small group of folks who've never before met; have an expert teach them new skills; scare them to death on a daily basis.
"That's what makes memories and builds friendships for life. You'll never find a better team-building experience," says Rocco. "And if you're not sore when you leave here, then I haven't done my job."