What will they think of next?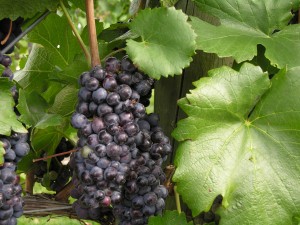 Calling all oenophiles! With almost 200 wineries and myriad gastronomic indulgences, the Okanagan Valley is ripe with temptations—and more than a few surprises.
Crystal Clear and Cold
With the opening of Sparkling Hill Resort last May, now you can add some bling to your Okanagan fling. Owned by Mr. Gernot Langes-Swarovski (patriarch of the Austrian crystal family), the state-of-the art facility, carved into a hillside overlooking award-winning Predator Ridge golf course, is unlike any other destination spa resort in Canada. For starters, the organic, airy interiors are embellished with $10 million worth of Swarovski crystals—from chandeliers in the shape of maple leafs to cleverly illuminated "fireplace" sculptures beside the deep soaker tubs.
The resort's KurSpa, the largest in Canada, consists of rose, crystal and salt steam rooms, three saunas and multi-"fauceted" showers. The aqua area features a hot tub, indoor and outdoor salt-water pools and a Kneipp waterway to stimulate your circulatory and lymphatic systems.
But the KurSpa's signature treatment is the Cold Sauna, the one and only in North America. It's supposed to be good for whatever ails you—from alleviating joint and muscle pain and inflammation to curing depression. Whole body cryotherapy works by cooling the body, which shrinks blood vessels, which increases blood flow, thus reducing inflammation.
When you ender the chamber, chilled to -110 degrees Celsius, the key is to keep moving but don't touch the walls. (Remember when you got your tongue stuck to a Popsicle when you were a kid?) While you're in the  "deep-freeze" professionals are monitoring you. You can escape anytime you want but the goal is to endure three minutes.  If "the big chill" doesn't sound like your idea of spa bliss, consider a warm mud wrap and a massage.
You won't have to venture far from Sparkling Hill to discover more of the Valley's sybaritic temptations.
Pyramid Power
Although I found all those involved in Okanagan's wine industry to be passionate and creative, the quirkiest of them all is Summerhill, Canada's largest certified organic winery.
Owner Stephen Cipes gave up his real estate business in New York and started planting grapes here in 1986. In 1991 Cipes' Gabriel won the gold medal at the Chardonnay du Monde event, beating French Champagne. This year, Cipes Brut sparkling wine took the Double Gold at the Canadian Wine Awards.
But what sets Summerhill apart from any other winery in the region (and possibly the world) is the eight percent scaled down replica of Egypt's Great Pyramid, where all of the wine is stored for 30 days. Our guide informs us that the "sacred" or perfect geometry of certain three-dimensional geometric shapes, such as domes, arches and pyramids, have enhancing effects on liquids. In blind tastings over a three-year period testers preferred the wines stored in Summerhill's pyramid over those stored traditionally. "Mind you," cautions our guide, "not even pyramid power can turn something like Baby Duck into a fine vintage."
Mission Accomplished
No visit to area's wineries would be complete without a trip to the west side of Lake Okanagan to Mission Hill Family Estate. In peak season Mission Hill sees over 100,000 visitors, our wine educator Ingo Grady informs us, as we pass under the Roman arch and rose gardens and gaze beyond to a 12-storey bell tower and grassy amphitheatre where summertime concert, jazz and opera performances are held.
In its February 2008 issue, Travel + Leisure magazine named Mission Hill Family Estate's Terrace Restaurant "one of the top five winery restaurants in the world." The lovely al fresco dining room overlooking the lake serves more than 30 different wines by the glass to accompany such dishes as wild halibut carpaccio, local lamp loin with cassis and pommes dauphine and locally produced cheeses.
Mission Hill is the brainchild of Anthony von Mandl, a pioneer of viticulture since 1981 in the Okanagan. In 2004, tasters at Wine International, one of the United Kingdom's leading wine magazines, awarded Mission Hill's 2001 Oculus, the winery's signature Bordeaux blend, a score of 99 points out of one hundred, and the accolades keep rolling in.
Mission Hill's newest of its numerous tours is The Ultimate Oculus Experience, a behind-the-scenes discovery of how their signature wine is crafted from vineyard to bottle. Each guest receives one of the coveted vintages to take home.
Satisfaction
Not to be outdone, Ex Nihilo, one of the newest wineries in the Okanagan Centre region has partnered with Celebrity Cellars and The Rolling Stones to produce Sympathy for the Devil Riesling icewine ($125). Yes, the label features Mick's voluptuous red lips.  Ex Nihilo, which ironically means "out of nothing" in Latin, is owned by Jeff and Decoa Harder. Their 2007 Riesling took the Gold Medal at the Riesling Du Monde awards in 2009.