We keep hearing that the golf industry is growing and that the bottom of the near-decade-long downward spiral has been reached. Not according to the latest numbers.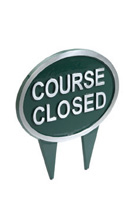 The National Golf Foundation, in a press release, announced that 13.5 new golf courses (defined as 18-hole equivalents) opened in 2012 while 154.5 courses were shuttered. This is the seventh year in a row that more courses closed than opened in the United States.
The NGF said 8.5 daily fee layouts opened while 130 more went out of business. On the municipal side 1.5 opened and 8.5 closed, meaning a total of 139 public-access courses failed. Two of the daily fee layouts that opened were at the Streamsong (Fla.) golf resort and spa with its Ben Crenshaw-Bill Coore and Tom Doak designs. Green fees are $175 a round not including cart or caddie. Hamburgers in the restaurant are $17.
On the private side, 3.5 courses opened, and 15.5 ceased operation.