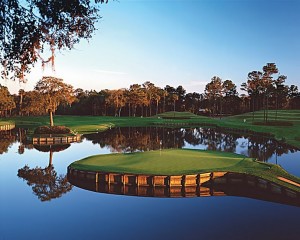 I got an email the other day from a European friend. She and her husband plan to be in Florida in February, and his birthday falls, romantically enough, on February 14. Where could she take him, she asked, for a celebratory golf getaway? She wanted a place with at least two good courses.
It's hard to drive to a grocery store without seeing a golf course in Florida. I suspect it has more courses than other state. But great two-course golf destinations?   I had to  think. I eliminated a few places—PGA National,  Disney World—that I haven't played. I eliminated hotels with only one course, letting out, among others, Bay Hill and the Gasparilla Inn. With regret, I eliminated some outstanding daily fee courses, like Old Corkscrew and Falcon's Fire, because they aren't part of resorts.
Here's my Top Five:
1. TPC Sawgrass, Ponte Vedra Beach
This is where Pete Dye proved that it's possible to make a great golf course, the Players Stadium Course,  out of very unpromising terrain—a flat piece of swampland.  He did it by building challenges into virtually every shot; I can't recall a moment when I put a addressed my ball and didn't have to stifle thoughts of where I didn't want to hit it.
Dye created a remarkably varied routing, in part, I imagine, because his patron, former PGA Tour commissioner Deane Beman, wasn't insisting that certain parcels of land be set aside for houses. The course has long holes that demand power. It has short holes that require accuracy, finesse, and good judgment. No two consecutive holes play in the same direction, so gauging the wind is a constant issue.
Then there's the closing trio of holes where the Players Championship generally winds up being decided. The short par five 16th is much tougher than it looks on TV; if you emulate most pros and decide to go for it in two, you're looking at hitting a 3-wood through the eye of a needle onto the green. But there's no easy place to lay up, either; the logical spot is guarded by water and a very intrusive tree that the pros just fly over. No. 18, to me, was a little easier than the pros make it look—maybe because I played from a tee well ahead of the one they use. I hit a merely decent, straight drive that wind and firm ground rewarded with an extra hundred yards of roll. I had a sand wedge in.
I had reason to dislike No. 17. I am an advocate of Donald Ross's measured, restrained use of water hazards, in which only truly bad or truly reckless shots get wet. No. 17 seemed both extreme and contrived. And it is.
But if one gauge of a great golf  hole is its ability to induce memorable shots, then 17 is a great hole. Playing from a tee set at 119 yards, I pondered club choice for a long time. 9-iron or pitching wedge? Hesitantly, I picked the shorter club, the pitching wedge. I struck it purely, and for a couple of lovely seconds thought I had hit a career shot. Then the ball clipped the railroad ties on the back edge of the green and disappeared into the lagoon. I had badly misjudged either the breeze at my back, the adrenaline in my system, or both. The four-letter oath that I shouted involuntarily is, to my shame, probably still echoing in the pines that frame the hole. But I will always remember that shot, and I am a fan of No. 17.
The second course at TPC Sawgrass is called Dye's Valley. Like a lot of siblings of great courses,  (i.e., the New at St. Andrews, the Cashen at Ballybunion) it doubtless would be more highly regarded if it were located somewhere else. It's a good course and a good warmup for the big test. People who play the Stadium Course will probably wind up playing it, because Stadium Course tee times are generally available only as packages bundled with a tee time on the Valley and a room at the Sawgrass Marriott. But if I had my choice of places for a second round in Ponte Vedra Beach, I would head up the road a bit to the Ponte Vedra Inn and its Ocean Course, a 1928 gem that happens also to have an island green.
2. Innisbrook Resort, Palm Harbor
Innisbrook, near Tampa, is a sprawling golfers' haven, built on land that once produced oranges. There's no big, central hotel here. The accommodations are low-rise condos with generic furniture. Guests get from place to place by jitney. The resort has been spruced up in recent years by a new owner, Sheila Johnson. There's a big new spa and, if her track record with other properties is a predictor, a lot of luxurious, tasteful upgrades in store.
Innisbrook has four golf courses, two of which are ordinary. But the better two, the Island and the Copperhead—are superb. Copperhead hosts a PGA Tour event each March. By Florida standards, it's got some dramatic elevation changes, all of which were put to good use by the architect, Lawrence Packard. It's got plateau greens and greens that nestle in valleys; it's got downhill tee shots and uphill tee shots to blind landing areas.  Copperhead meets one of the best tests of a golf course: even though it's been a while since I last played it, I can still see every hole in my mind's eye.
3.     World Woods, Brooksville
Only by stretching the definition can this two-course, Tom Fazio-designed complex in the boondocks north of Tampa be called a resort.  For years, the ownership of this complex has been talking about building a destination hotel. It hasn't happened. There are a couple of one-story villas for rent, but that's it.
And so what? If you want a pure golf experience—and a bargain—World Woods has what you need. The Pine Barrens course reminds many of New Jersey's Pine Valley, perennially the top ranked course in the country.  It's penal, target golf. Rolling Oaks is a more traditional parkland course. Both feature Fazio's challenging greens complexes.  The operation also boasts one of the world's great practice areas.
4. Hammock Beach Resort, Palm Coast
 I don't know how the developers of this resort south of St. Augustine found a half mile of Atlantic coastline to put a golf course on, but they did, and because of proximity to the sea, Hammock Beach makes my list. Jack Nicklaus got the opportunity to design the layout, and he did an excellent job. You don't often see the beach as you play the final holes, thanks to a barrier dune. But there's something viscerally satisfying about the combination of sea breeze, salt air and golf. And you're definitely thinking about the ocean as you play the 18th, a par four of more than 400 yards. Put the wrong spin on the ball and you're playing out of one of the world's largest lateral hazards.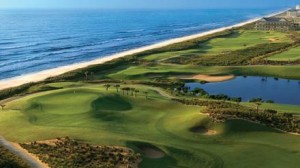 I haven't played the second course at Hammock Beach, a 2006 Tom Watson design called The Conservatory. It's well inland—you'll need a vehicle to get there. You'll also need your A game. It stretches to more than 7700 yards from the back tees and has a USGA rating of 78.2