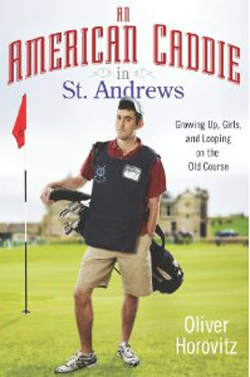 At least since Michael Murphy's Golf in the Kingdom in 1972, the Yank-goes-to-Scotland-and-discovers-himself tale has been a flourishing sub-genre in the literature of golf. We've had Michael Bamberger's To the Linksland and Lorne Rubinstein's  A Season in Dornoch among many good and entertaining riffs on the theme.
And why not? The raw material is all but irresistible.  Any story with golf, a subtle, mysterious  links and the charming eccentricities of the Scots would have to be poorly written indeed to fail to entertain on at least some level.
And Oliver Horovitz, the young author of An American Caddie in St. Andrews: Growing Up, Girls and Looping on the Old Course  is a talented writer. So it's not surprising that his book is amusing and engrossing.
To sum up: Privileged young American gets only deferred admission at Harvard. Plan B is a gap year at the University of St. Andrews, definitely not a hardship for a kid with a 1.8 handicap. He decides to hang around for the summer before Harvard, making ends meet by working as an Old Course caddie. And he keeps coming back, all through his Harvard years and beyond, because he's smitten with everything he finds in St. Andrews, from the endless intricacies of the Old Course to the vulgar humor and complex code of conduct in the caddie shack.
Some of the entertainment value in American Caddie  comes simply from listening to the caddies talk.  There's a good chapter in caddie slang, which is in some cases simply a variant dialect of the jargon on the American side of the pond.  In St. Andrews,  a badly pulled tee shot is referred to as an Abraham Lincoln. (A dead Yank, get it?) Hereabouts, I've heard it called a Thurman Munson. (Another dead Yank.) But perhaps only the Scots could come up with the term "Salman Rushdie" to describe a putt that's impossible to read. And you'd have to be British to know that a "Sally Gunnell" refers to an Olympic athlete known for her speed rather than her beauty. On the Old Course, a "Sally Gunnell" is a shot that is ugly, but runs.
Horovitz is also good at describing the way the Old Course seems to enhance the emotional links between golfers. He's got a passage about two American golfers who hit a ceremonial third ball down the tenth fairway in honor of their friend Ernie, who died before he could make the trip. He loops for a group that includes David Lema, whose father Tony won the 1964 Open Championship on the Old Course, then died in a plane crash two years later, when David was four. David putts out on the last hole and then yells "I love you Dad!" to the darkening sky.
Horovitz is also good at working engaging sub-plots into his narrative. Will the caddies cooperate with his assignment to do a documentary film for a Harvard film course called VES 51b? Will he score with one of the Model Caddies, a group of beautiful British students who set up a summer caddie program in Scotland, much to the disdain of the St. Andrews regulars? Will he live happily ever after with Sylvie, the French actress he meets, directs and falls for during a spring semester in Paris? Will the finely honed networking instinct that leads him to join, in mid-round, a foursome that includes Larry David lead to an offer to work for David in Hollywood? Will his charming, octogenarian great uncle Ken, a St. Andrean, still be tending his beloved flowers when Oliver finally finds his place in the world?
I won't disclose the answers, because to do so might spoil a good read. I opened this book one evening and finished the next day on a long flight. It made the experience of air travel quite a bit easier, which is high praise. I only wish the publishers had brought it out for Christmas instead of releasing it in spring. It might be just the thing for a cold winter night by the fireplace, when snow covers the reader's home course.