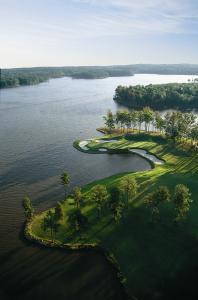 I was standing over my tee shot on the par-3 17th at Great Waters with a 7-iron in hand, thinking about the yes-and-no approach to target-building that is such a hallmark of Jack Nicklaus course designs. The architect was giving me very little in the way of depth, but to compensate there was all the width in the world to handle bailout shots. And with the pin cut far left, and concern aplenty about clearing the water but not going long, I hit the thin, slightly blocked iron shot he probably could have predicted from a bogey golfer. But hey, I was on the putting surface.
On the previous hole, No. 16, it was a similar devil's bargain, only the green was narrow and deep, not shallow and wide. The 16th is also a water-guarded hole, once you get down to your approach. In this case there is the added subtlety of the slope, which is toward the water and thus psychologically working to shrink the landing area in your mind's eye. No. 18, also guarded by lake water in front, provides lots of width, some depth, but also a diagonal bias of the green's centerline. No. 11 (shown in photo) protrudes longitudinally into lake waters, with bunkers that echo the green shape logically.
Using water and the lengthy rectangle idea of green shape, Nicklaus can come up with variations on this theme for basically a career. It's a motif that keeps him from having to contour the greens dramatically, which by all means is his preference. In other places, under the names of other architects, you will find big, square-ish, trisected, sod-farm-like greens, some even with Biarritz-style half-pipes running through them. Nicklaus goes in disciplined fashion the other direction, and basically has perfected that approach.